IFEX calls out international leaders over press freedom
A new campaign imagines what would happen without journalists to hold politicians accountable.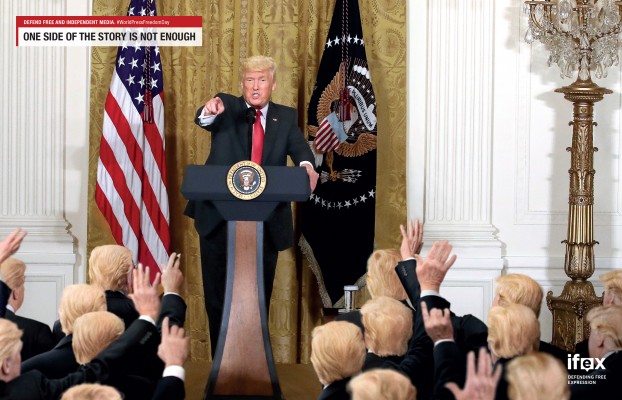 The latest campaign by non-profit freedom of expression organization IFEX tackles growing threats to press freedom around the world.
The awareness campaign, created by Juniper Park/TBWA and launched as part of World Press Freedom Day on May 3, imagines a world where the likes of Donald Trump, Vladimir Putin and Kim Jong Un are left in charge without journalists and whistle blowers there to hold them accountable. Campaign elements include print, out-of-home and social.
According to Elizabeth Rivera Rivas, communications director at IFEX, the goal of the campaign was to highlight the importance of having press in the room to ask the tough questions. She adds that dramatizing the issue helps  more obvious for people who are not necessarily close to the topic.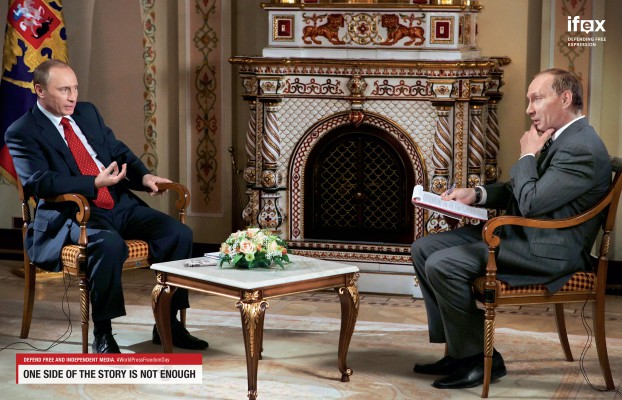 "With this campaign, we're not aiming to change any policy or bring about a dramatic change – just have everyday people talk about press freedom," she says.
IFEX is an international organization encompassing over one hundred NGOs fighting for freedom of expression. Other causes the organization works on include gender and sexual diversity, impunity, freedom of assembly and censorship. The organization has never shied away from bringing shock value to its causes, as it did in its "Don't Let Their Memory Fade" campaign, also by Juniper Park/TBWA, which highlighted the 2009 massacre of 58 political activists in Ampatuan, Philippines.
However, Rivas says that this is the first time that IFEX has launched a campaign of this sort for World Press Freedom Day.
"Considering that press freedom has been under a lot of threats – and these come mostly from leaders – we thought it would be a good opportunity to bring that out of the human rights forum to the everyday people," she says.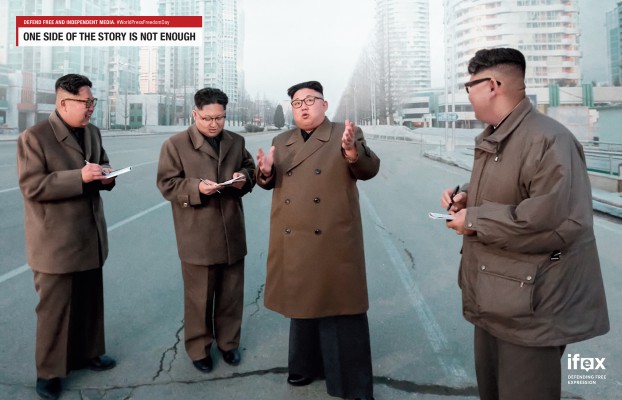 The campaign highlights the the ongoing threats to press experienced in the U.S. under President Donald Trump, who has famously labeled all unfavourable news "fake news," in Kim Jong Un's North Korean totalitarian regime and in Russia, where a growing number of news outlets are controlled by the State under President Vladimir Putin.

According to the Reporters Without Borders 2018 World Press Freedom Index, there is a growing distrust of journalists among the general public, which is exacerbating the ongoing threat to democracy suppression of the press presents. Of the countries depicted in IFEX's campaign, the U.S. ranked #45 out of 180 countries for its level of press freedom. Russia ranked #148 and North Korea came in last, at #180. Meanwhile, Canada came in at #18 and Norway was #1.

"[The campaign is] not about specific countries, it's not about specific leaders, it's something that's been going on for a long time – the suppression of press – but now it's taken on a whole new level and it's a worldwide problem," Rivas says.

Although it clearly depicts the controversial leaders, Rivas says the campaign has not yet received push-back from the governments depicted.