Old Blood Gin creates its own story
To stand out in a category dominated by older spirits, the challenger brand tells far-fetched tales about its origin.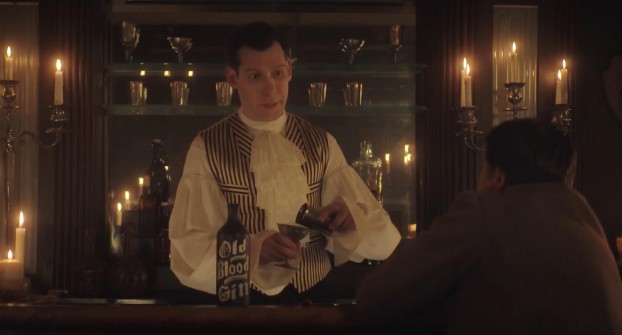 The spirits category is filled with brands that are old, and proud of it. Their marketing and positionings are built on heritage and their long history of craftsmanship and quality. So what do you do if you're a new entrant without a story to tell, looking to make a mark in the category?

Old Blood Gin made up its own story – several of them, in fact – in the "#orisit" campaign by Cheil Canada. In a series of online videos and TV spots, a bartender – dressed in a style that matches the kind of bar or pub he is in– tells the story of Old Blood's origin. But the story changes every time, with its original distiller ranging from Tibetan monks to vikings to "fancy pirates." The stories might not be true, but they are interesting.

Old Blood is the launch product for Rivalry Spirits, a company based in Toronto and Singapore that plans to own and distribute spirits brands that "challenge the status quo" in the Canadian and Asian markets.

John Clark, partner at Rivalry Spirits, says that nearly every alcohol category has become heavily saturated over the last 15 years between established brands and new entrants. When it comes to spirits and gin, the brands tend to be ones with decades, if not centuries, of history – or else made to "look old" with its packaging and brand design.

"There might be some conversion of consumers from other categories, but if we gain any amount of market share at all, it's at the expense of the big brands," Clark says. "So we thought we should turn what they do on its head and do what we would like to do."

Clark believes consumers will "get a kick" out of seeing a familiar trope turned on its head. The idea of differentiating from other market players also extends to packaging, with its black bottle's chalkboard-like texture standing out from competitors that largely use clear bottles.

On top of the videos, Old Blood Gin sent its product to bars without a label but with a piece of chalk, asking bartenders to draw their own label or write a personal message on the bottle. The brand not only encouraged bartenders to share their creations on social, but crafted an opportunity for barkeeps to spark a conversation with their patrons around Old Blood. The brand has plans to release the blank bottles in retail at some point, but Clark says going to the bartenders first was especially important for a new product.

"If you put something in a store, unless it has something about it people already know, it's not going to fly off the shelf," he says. "It's not enough to have cool packaging anymore, you also need people to talk about it. You can do that through a tasting at retailers, but you can also have it at a bar or restaurant. There's no better person than a bartender to come up with their own cocktail, tell a story and let people have fun. Having bartenders out there pouring it and talking about will help get your story going."

Rivalry also has plans to launch a new Canadian rye whiskey, as well as deals to represent and distribute other brands in the Canadian and Asian markets.