Havas opens AI centre in Montreal
The hub will find applied uses of the tech for the holding company's clients around the globe.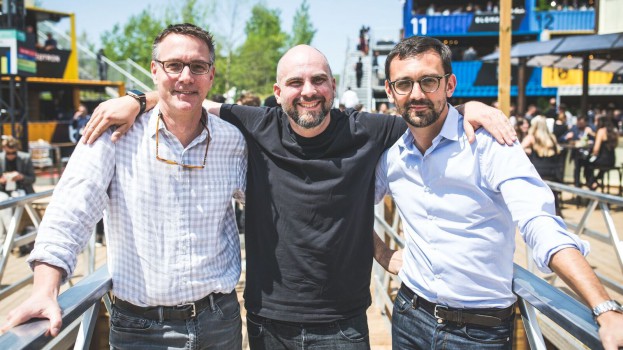 From left to right: Marc Blanchard, global head of experience design, Havas New York; Jan-Nicolas Vanderveken, president and CEO, Havas Montréal; and Olivier Vigneaux, CEO, BETC Digital.

Havas has opened a new artificial intelligence research centre in Montreal that's aimed at applying the technology to the holding company's clients on a global scale.

Announced last week during C2 Montreal, the centre is focused on using AI to improve the customer experience through intelligence about the consumer journey and predictive, automated experiences.

The centre is not only going to serve Canadian clients, but those across the Havas network. While based in Montreal, the centre is a joint effort between Havas Montreal and sister agencies Havas New York and BETC, both of which will provide their own expertise, as well as connections to clients in the U.S. and Europe. (Havas New York has been working with the network's Cognitive technology division on AI for about five years.)

The centre soft-launched in January and it currently has a team of roughly 10, though the plan is to expand that to 60 staff by the end of 2020.

The development of the innovation centre is being overseen by Jan-Nicolas Vanderveken, president and CEO of Havas Montreal, and Pierre-Benoît Lemieux, who was previously creative director and has now been named VP of client experience.

Vanderveken avoids calling the innovation centre a "lab," as research is not going to be a priority. Rather, it is focusing on applied AI solutions that directly address client needs and challenges. That addresses a "tipping point" that he says has occurred over the last year. Previously exploratory, proof-of-concept work has now become more central to what clients need, says Vanderveken.

"We're really not about driving new R&D or inventing the next Alexa," he says. "It's about creating solutions for clients."

That's why, Vanderveken says, having the centre based in Montreal makes sense. Having become a hotbed for AI research in North America in recent years, the city has reached a critical mass of talent and offers proximity to established companies and research labs. Vanderveken says Havas could collaborate with other companies, integrating their research and technology into its work, while still making sure it is tailored specifically to what clients need.

Lemieux says Havas is already working on projects that are more internal and client-facing, but overall the idea is to apply artificial intelligence to any area that might enhance the customer experience.

"We're keeping the focus on both [client- and consumer-facing work] because we don't want to be pigeonholed in what's still a new and evolving market," Lemieux says.

Photo credit Mikaël Theimer.