The&Partnership grows across departments
New CDs and its first director of people and operations are among the recent additions at the agency.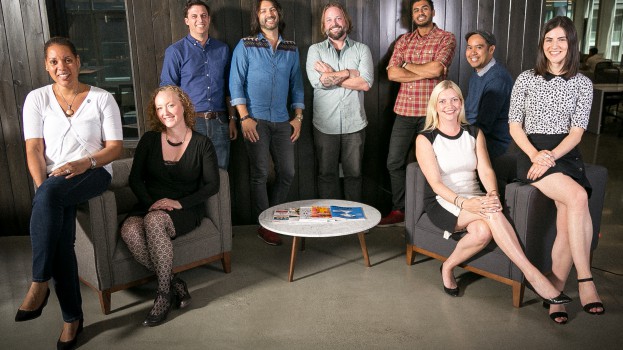 Some of The&Partnership's recent additions in Toronto, from left to right: Jolette Samuel, Shawna Dressler, Zach Simbrow, Peter Gomes, Dave Pigeon, Shayan Hak, Ashleigh McEwan, Noreel Asuro and Ana Blloshmi.

The&Partnership has made a number of hires across departments and offices.

Leading the new staff is Shawna Dressler as the agency's first director of people and operations.

A new role at the agency, Dressler will be responsible for "everything relating to people and operations," including recruitment, staff development and company culture. Based in Toronto, she will also join the senior management team, reporting directly to president Christopher Andrews.

Dressler has previously held similar roles at other agencies including Rain43, Zulu Alpha Kilo and Blammo.

Andrews emphasized the importance of people and culture in a press release announcing Dressler's hiring, noting that creating the role was especially important given the growth the agency has experienced over the last year.

On the creative side, the agency has also recently hired creative directors Peter Gomes and Dave Pigeon in Toronto. Last year, the pair moved from Havas to DenstuBos, where they worked on clients including Lexus and Manulife, the latter of which began sending some of its business to The&Partnership last year.

Gomes and Pigeon join following the hiring of fellow CD Noreel Asuro. Joining the agency in November, Asuro spent the previous seven years at Leo Burnett working with clients including Bell, IKEA Canada and P&G.

In the Vancouver creative department, the agency has also hired copywriter Jarred Powell from Australian agency Coordinate and art director Sam Richardson from Sony Interactive's internal creative team in London.

The&Partnership has also made senior additions to the client services team. Marie-Josée Cadorette has been hired as group account director, spending the last year at Juniper Park\TBWA on its Capital Group account. Ashleigh McEwan has been hired as account director on the Telus account, having most recently been at Bensimon Byrne, but also bringing client-side experience from Metro and Indigo. Shayan Hak has also been hired as an account supervisor from Publicis.

In Vancouver, group account director Nick Cronk joins after five years at Taxi.

On the strategy team, Zach Simbrow, previously marketing manager for Heineken at Molson Coors, has been hired as a strategist, while Eric Little has been brought on as an analyst from Gale Partners. They join strategist Ana Blloshmi, who was hired from market research firm Europanel in November.

Rounding out the recent additions is Jolette Samuel, who was hired as production business affairs manager in February from Zulu Alpha Kilo.

In addition to Manulife, The&Partnership has also picked up new work from Sleeman  and Chico's during the last year.