WestJet hacks the future of air travel
Working with tech partners like Facebook, Google and Amazon, the airline aimed to signal a move toward a more tech-focused future.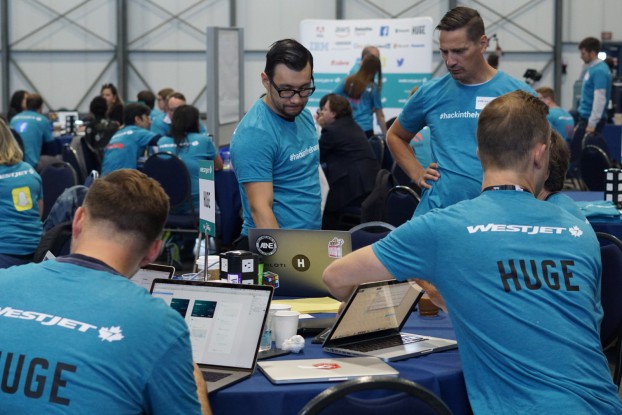 WestJet took innovation to new heights this week, hosting its first hackathon, with tech giants like Facebook and Google in attendance.
The event, nicknamed "#hackinthehangar," took place June 18 at the airline's Calgary campus, bringing together nearly 200 people on a mission to find digital solutions for the future of air travel.
According to Alfredo C. Tan, who joined WestJet as chief digital and innovation officer earlier this year, the hackathon was executed in response to the need for a more seamless and frictionless experience for the airline's premium travelers.
For Tan, the hackathon was all about embracing the digital future of flying.
"There are certain parts of the business we want to act more like a tech company and less like an airline, so having this hackathon [lets] people know this was our path forward," he said. He added that a priority is addressing the road bumps that come up during travel, such as having to show ID when entering an airport lounge or trying to figure out when to leave your house based on traffic patterns and whether your flight is on time.
"If you think about travel today, you've got a lot of friction points," he said. "How do we apply all the great technology that's available today to solve some of these problems that have been solved in other industries already?"
Hackathons have been popularized across the tech sector as a way to quickly create viable solutions for design and development related problems, and have since been adopted by companies across industries.
Close to 120 designers, creatives, engineers and software developers from tech were joined by corporate travelers and members of WestJet staff.
With a background at Facebook, Instagram and Yahoo!, Tan knew exactly who to call.
"It was a combination of technical horsepower [and] creative horsepower from the outside industry with some of the talent we already have on our teams," Tan said, adding that a total of 17 companies took part in the hackathon, with heavyweights like Adobe, Amazon, Facebook, Google, Snapchat and Twitter all jumping on board.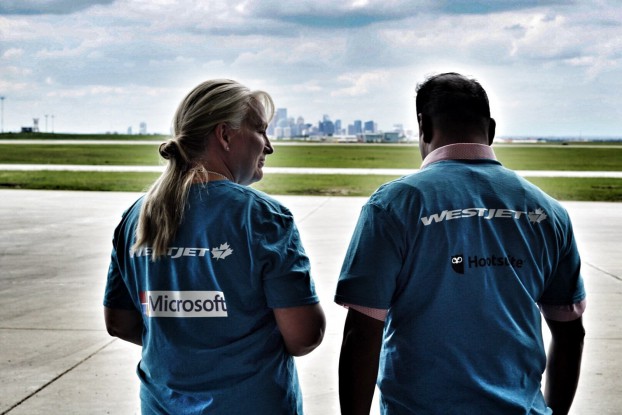 Other contributors included Deloitte Digital, Hootsuite, Huge, IBM, LinkedIn, Media Experts/IPG, Microsoft, Panasonic Avionics, Sabre, Salesforce and ServiceNow.

"If you fast forward 36 months from now, I think more and more the guest experience of travelling, or the travel experience as a whole, is going to be increasingly digital," he said, rhyming off a future that may involve a lot fewer humans, like going through automated airport security rather than interacting with a guard, or even entering a lounge with a cellphone or facial recognition.

Now that the company's first hackathon is over, the next step, according to Tan, is to sift through all of the day's ideas and figuring out which hacks make sense for the WestJet journey.

Footage from the day will be packaged for company use and recruitment.