Dell makes public art out of would-be ocean plastics
The installation aimed to highlight the company's mission to be more sustainability and environmentally minded.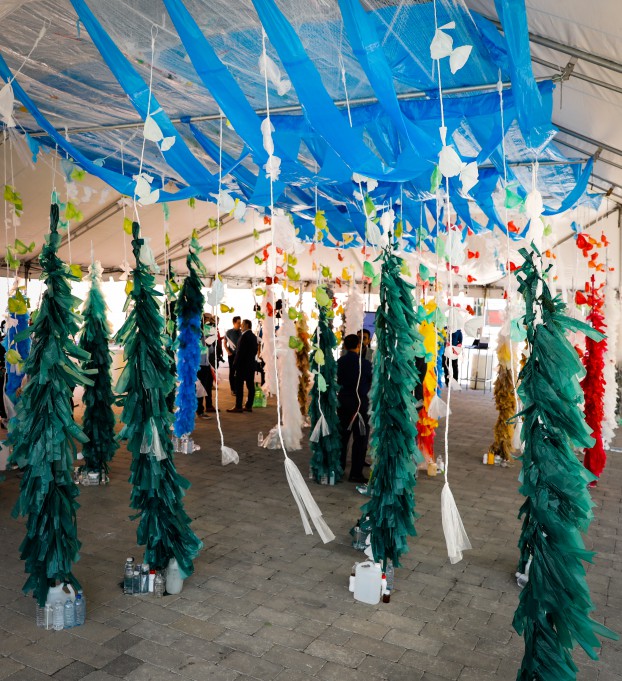 Dell Canada recently aimed to show just how vital it is to get plastic out of the world's oceans by making a massive public art installation.
The company enlisted Anya Mielniczek, a Toronto-based artist who uses sustainable materials in her work, to create the art installation out of plastic and other products. The piece mimicked an "under the sea" experience to drive home the impact discarded plastics are having on the oceans. The installation used 2,200 square feet of plastic trash liners, 2,200 plastic shopping bags and enough braided plastic to cover five and a half football fields.
The installation, located at Toronto's Harbourfront Centre, debuted on World Oceans Day on June 8 and was open to the public through June 10. Proof, which worked with Dell on the activation, had brand ambassadors on-site to talk to visitors and give them more information about the installation and the issue it was created to address. Over 3,000 people visited over the course of the weekend, spending an average time of eight minutes engaged with the installation.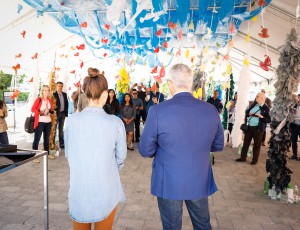 "We thought immersing people into the gravity of the situation would be really important in terms of getting the message out," says Mike Sharun, president at Dell EMC Canada. "Anya want far and above what we even thought she was going to do. If you look at the scale of what she created and the feeling you got when you were standing within it, it was a really powerful way to realize all the things we are doing to the environment."

From here, Dell will be bringing parts of the installation with it to events – such as trade shows, technology conferences and corporate seminars – to continue to highlight the issue and get the word out to more people.

Dell has what it calls its "2020 Legacy of Good Plan," a CSR commitment to putting its technology to work where it can do the most good in the world. Its goals – which are tracked online – are broad, but on the environmental front include reducing its greenhouse gas emissions, sourcing electricity from sustainable sources, using sustainable materials in its products and packaging and diverting the waste produced by its facilities from landfills. Dell is also one of the founding companies involved with NextWave, a collaborative initiative between several companies – such as Dell, General Motors and HermanMiller – to find new ways to incorporate ocean plastics directly into products.

Sharun says environmental causes as a whole and ocean plastics in particular are major areas of focus for Dell because, as a company in the technology sector, it creates "a tremendous amount" of waste material. He says that within the last 12 months, the company has begun to be more vocal about those issues, both because results from its action plan are beginning to become apparent, and some of the technology it has invested in to help achieve those goals are beginning to pay off.

"Our company's mission statement is to build technology that's driving human progress," Sharun says. "World Oceans Day and the problems associated with it go hand in hand with our objectives as a company, and we want to be associated with causes that are helping the world. This is a way to really highlight some of the things we're doing in terms of recouping some of those plastics that are going into the ocean."

Dell also had its XPS 13 laptops on display, which are packaged with 100% recycled plastics, 25% of which are ocean plastics. Roughly 70% of the people who stopped to take in the installation also took time to look at the laptops and inquire about more information.

"People are buying technology regardless, whether its laptops or smartphones or any of the other products on the market," Sharun says. "It's important for people to understand that we're trying to do the best thing for the environment with our products. If they're buying something and they're making a choice, maybe they should choose a company who is more environmentally conscious and is championing that."