CoolWay embraces being guilt-free
The low-calorie, high-protein ice cream launches a pair of humorous spots for its first campaign.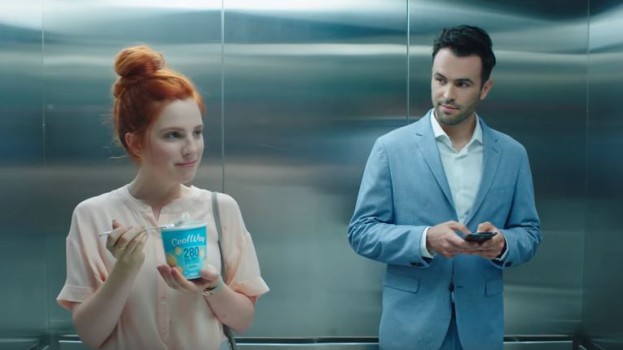 Being first to market was an important part of CoolWay's strategy when it hit shelves in March, having rebranded from CoolWhey to offer Canadians a low-calorie, high-protein ice cream option that appealed to more than the workout crowd.
At the time, co-founder Benjamin Outmezguine told strategy that timing was critical, as a slew of competitors – including the buzzy U.S. brand Halo Top – were keen to enter the race in Canada. Halo Top landed in Canadian ice cream aisles in late February, mere weeks before CoolWay's rebrand, and other brands, including Nestle's GoodNorth and Breyers' Delights, are now vying for a piece of the healthier-frozen-desserts pie.
As competition in the "guilt-free" ice cream space continues to increase, CoolWay has launched its first marketing campaign. The goal is to raise awareness of the brand and help it stand out by connecting with customers in a playful and memorable way, says Outmezguine.
Led by Ogilvy Montreal, the "No Need to Feel Guilty" campaign includes two spots, "Elevator" and "Cat." Both make the argument that there's no reason to feel guilty, whether you're letting the doors of the elevators close on a colleague (giving you sole access to the cute guy in the elevator) or letting your cat knock over a trophy that is cramping the style of your apartment.
Outmezguine says the commercials are meant to help CoolWay differentiate from some established competitors who have more of an "old-school" approach to their marketing. The goal, he says, is to appear more "hip" and as a leader in the space.
The ads are being pushed on Facebook and YouTube and are playing in Cineplex movie theatres in Ontario and Guzzo theatres in Quebec. The cinema play gives CoolWay the chance to connect with consumers at a moment when they are feeling more indulgent and thinking about snacks, according to Outmezguine.
In February, Chapman's Ice Cream launched a campaign to help consumers differentiate between what it considers "real" and "fake" ice cream products, reminding consumers that its products are made of 100% Canadian dairy.
But marketing spend remains comparatively low for many players in the ice cream space. Halo Top, for one, handles marketing internally and activates primarily through digital and social channels. Outside of CPG ice cream brands on grocery store shelves, Toronto-based chain Sweet Jesus has expanded to 15 locations while spending next to nothing on marketing.