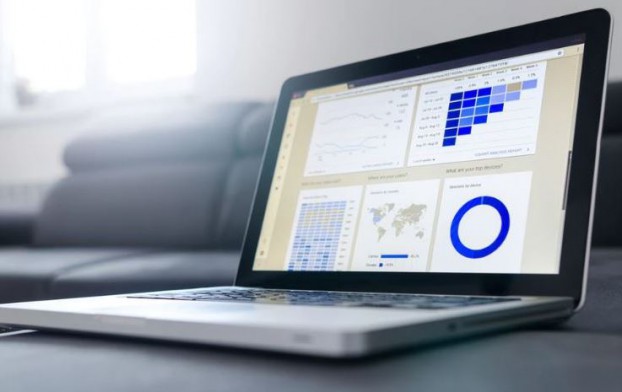 While C-Suite executives recognize the need to use data to engage with customers, streamline operations and identify new opportunities, doing so requires breaking down "the silos" between the marketing, commerce and supply chain functions, according to a new survey by the CMO Council.
During the second quarter of 2018, the council surveyed 165 executives (47% of which were from Canada) holding roles in either marketing (24%), supply chain and operations (24%) or commerce (19%). The results, compiled in a report called Doing More with Data, suggests marketers are in a "data rut, aspiring to do more but struggling to make substantive change."
The report notes that the feeling extends across various aspects of the customer engagement strategy and delivery. For example, among all those surveyed, data was identified as a "cornerstone" of the business strategy, yet one in four said there is simply "not enough time, budget or patience to unlock all of data's potential."
Thirty nine percent of respondents described their organization's access to customer data as "hit or miss, at best," and 41% noted that they have only partially integrated "third-party intelligence" into their systems, meaning data is often incomplete even when data can be accessed. For 47% of respondents, the issue is that there are "just not enough hours in the day to address all of the transformation projects that are needed to activate data."
The silos appear less significant to marketers, who said organizational partners have become their top sources of data, including CRM (74%), insights from marketing automation and campaign systems (63%), social media (59%), service and support (49%), and finance and transactional data (46%). However, while 20% of respondents in marketing said they have adequate access to data, far more (30%) said the data is "is more hit or miss."
The graphs below break down where each function sees the most opportunity for data and highlight the challenges faced in using these sources to enhance customer engagement.
How executives rank internal data sources that are most relevant to their ability to improve customer engagement and streamline operations: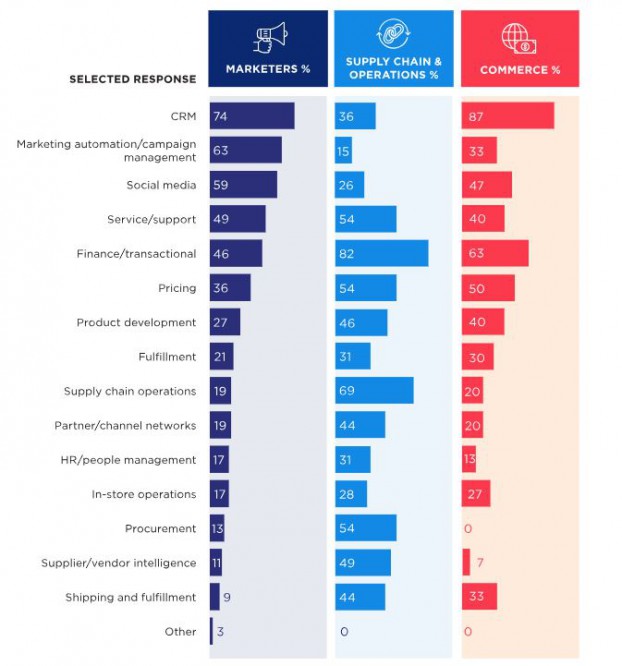 What executives view as their biggest obstacles to extracting value from internal data assets: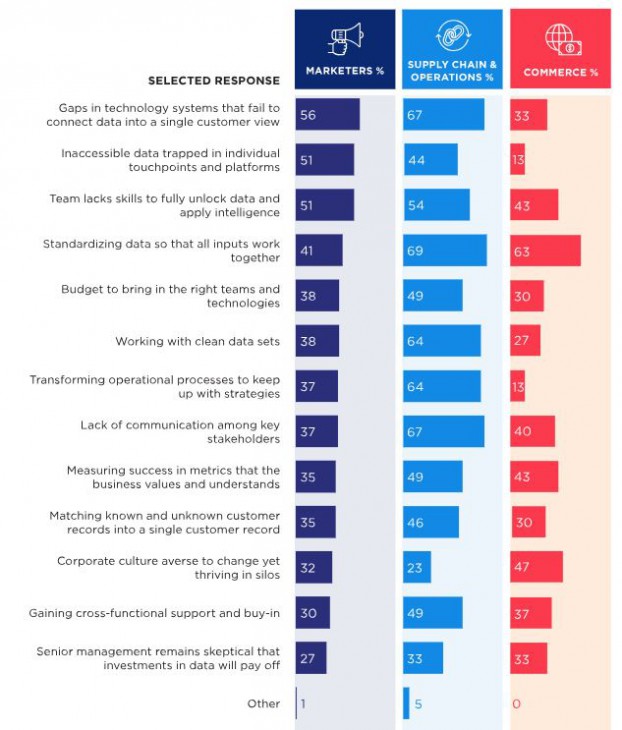 Source: Doing More with Data. CMO Council, 2018.