Ultramar taps influencers to co-create social content
To connect with a younger crowd, the gas company and agency Lg2 worked with funny personalities on a series of videos.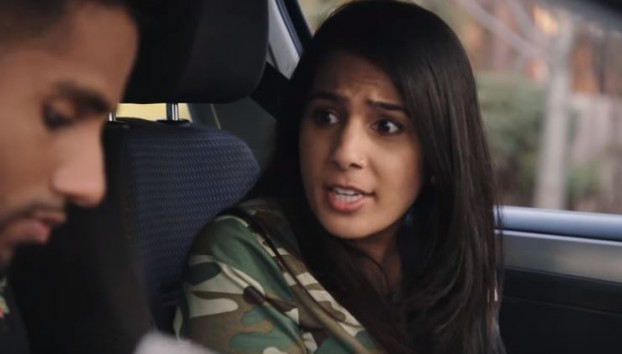 Brampton natives Jaz and Harjit sit at an Ultramar gas station, bickering over whether eating chocolate fondue in a parked car is romantic or just plain odd.
Clearly Harjit is game, protecting his eyes from hot cocoa splashes with goggles as he digs in. Jaz squirms in protest while Harjit force-feeds her melted chocolate apple slices. It's a cute and comical exchange, nothing that would sound the marketing department alarms of a brand that sits in a pretty staid category, where ads typically revolve around gas station convenience store promos and deals.
Good thing the YouTube personalities prefer good ol' fashioned clean fun, because gas brand Ultramar and its agency Lg2 had to go outside their comfort zone and hand the script-writing duties for a series of seven spots over to the influencers if they wanted to work with the YouTwoTV duo. Luckily, the creative shop had already collaborated with the in-real-life couple on a previous Bell campaign, so CD Alexandre Jourdain knew to trust their creative judgement.
"They have such a big following, I guess they know what they're doing," laughs Jourdain.
Scripts were passed back-and-forth until both parties came to an agreement on the creative treatment of the videos that revolve around car rituals: eating while parked outside a gas store, packing for a road trip, practicing how to park for a drivers' test, scrounging for a phone that was swallowed up in the ether between two car seats, and so on.
The creative maintains the web stars' personalities while aligning with the brand's messaging: Ultramar is an entertaining brand that wants to (and knows how to) engage with youth. "Ultramar wanted to create content for social, they wanted to talk to a younger crowd," says Jourdain. "For a gas company, when you get a younger client, they can be loyal for the rest of their life."
The videos co-created by the YouTwoTV characters are meant to help Ultramar break further into English Canada. While it's considered one of Quebec's larger gas companies, Ultramar is much less of a household name in Ontario, which Jourdain says the brand will continue to develop with another campaign in the near future. For now, the seven social videos run will sit on YouTube and Facebook, with some 10- and 15-second pre-roll, arranged by Carat, teasing people with a couple of zingers from the full 30-second-plus videos.
The plan has been to release a video one week, and then release a meme that throws back to the content the next week. Only those who viewed the spot the week prior will see the targeted posts, says Jourdain, and each meme will pose a question that encourages tagging in an effort to grow organic reach.
As for the French market, Jourdain says the brand went a little more edgy for videos in Quebec. This time it worked with up-and-coming stand-up comedian Rosalie Vaillancourt to take a similar collaborative approach for nine more videos that will roll out every other week until the first week of September. "We worked on the same [car] insight, but they take it in a different way. Rosalie's style and humour is different, it's a little more provocative with some nonsense jokes," adds Jourdain.