Kenneth Cole opens first standalone store in Canada
The VP of licensed brands for Haggar Canada honours the past while looking to the future.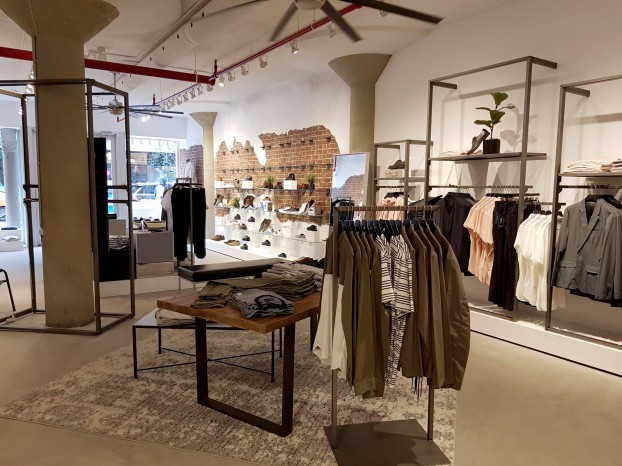 Why would a brand bother opening a splashy flagship store on one of Canada's priciest retail streets in this day-and-age?
For Daryle Perrin, VP of licensed brands for Haggar Canada, opening the first Canadian free-standing Kenneth Cole store on Toronto's Queen Street West is as much about having a sleek physical space for customers to shop as it is about branding. Since 2016, when Haggar signed an expanded agreement with Kenneth Cole Productions to manufacture, market and distribute men's and women's apparel, as well as distribute its footwear, Perrin has been focused on upping the visibility of the Kenneth Cole brand this side of the border – his latest effort is to highlight the company's urban roots with the flagship store.
While space on the trendy Queen West strip is not cheap, renting for about $110-$140 per square foot, according to CBRE, it's worth it to Perrin.
"We think Queen Street represents what the modern lifestyle is and it works backwards to what people think of Toronto, the link back to New York and what people think of Kenneth Cole, that urban lifestyle and a modern street front," says Perrin. "We like the action that it represents. It's the right kind of place… So we feel good about it. It's the right place to start to show the whole world of Kenneth Cole to the consumer, all in one spot."
There are plans to open a second standalone store in the Vaughan Mills outlet mall near the outskirts of Toronto, and based on the performance of those two stores there might be more store openings to come, says Perrin.
The Queen Street store was designed in-house by the Kenneth Cole team in New York City. The inspiration for the Canadian flagship was the New York flagship, which is a large, industrial-style building with features such as exposed brick, explains Perrin.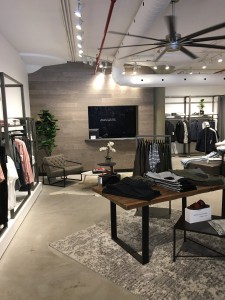 While Perrin is hesitant to say he's targeting a certain age range he admits current efforts are around reaching downtown dwellers, such as those who live near the new Toronto flagship.
"I guess if you want to look at demographics… it's a mobile, urban person… I really think as a brand we have a pretty broad reach," says Perrin. "I think we can hit that millennial [demographic] and I think we can get the 40 year old-plus customer, too."
American designer Kenneth Cole started his eponymous company in 1982 in New York City and over the years, the brand became known for its edgy and socially conscious advertising campaigns. Here in Canada, many of its items have been sold in stores through a partnership with Hudson's Bay, as well as at specialty stores such as Town Shoes. And this fall, a new Kenneth Cole sportswear "store within the Bay store" will open, also helping to create more brand exposure, notes Perrin.
While Kenneth Cole items can currently only be purchased by Canadians via the American website there are plans to open a Canadian ecomm site too. Ultimately, Perrin says he believes in a bricks-and-clicks model. Two economists in a 2016 Harvard Business Review article argued the way forward in the hyper-competitive retail space is to offer consumers both bricks-and-mortar stores and online stores. Online retailer, Amazon, for example, has infamously opened bricks-and-mortar stores in the past few years, as has previously online-only eye-wear stores Clearly and Warby Parker. And despite stereotypes, one study found 70% of millennials prefer shopping in a physical store.
"There's no question that ecommerce is the buzzword of the day and rightfully so. It's growing leaps and bounds," he says. "But I think there's a place for bricks-and-mortar as well. I think what the consumer is looking for today is all options available to them to see it, touch it and feel it and experience what the brand looks like in a proper environment such as the Queen Street store. [Yet consumers] also want to have the convenience of the mobile device to click and learn as well."
On top of increasing the presence of the Kenneth Cole brand via physical stores, as well as through online channels, Perrin has focused efforts on being part of events, such as Pride Toronto.
Kenneth Cole, the person and the brand, have long had strong ties to the LGBTQ community via its strong advocacy for several issues important to that community. In the 1980s when many brands did not want to be associated with the burgeoning HIV/AIDS crisis the Kenneth Cole brand put out high-profile ads supporting the non-profit, amfAR.
In 2017, the brand strengthened those ties with the community here in Canada by having a number of street-level activations during Pride celebrations, notes Perrin. This year, the brand did a small capsule collection for the Bay, including T-shirts, hats and a shoe bearing a bright rainbow-coloured stripe down the back of the shoe. 
While the brand maintains its link to the LGBTQ community the focus this year has been on launching standalone stores, says the VP.
As the brand continues to grow in Canada under Perrin, the VP has been thoughtful about celebrating the 35-year legacy of Kenneth Cole Productions that already exists. The Queen Street store is the perfect example of blending the old with the new: there are nods to the brand's New York City roots, but also more modern-day touches that introduce contemporary design trends, letting Canadian consumers know that it's aiming to become more rooted in the Great White North.