$124 billion at risk for companies that fail to remain relevant: study
New research by Accenture outlines the steps companies can take to stay relevant.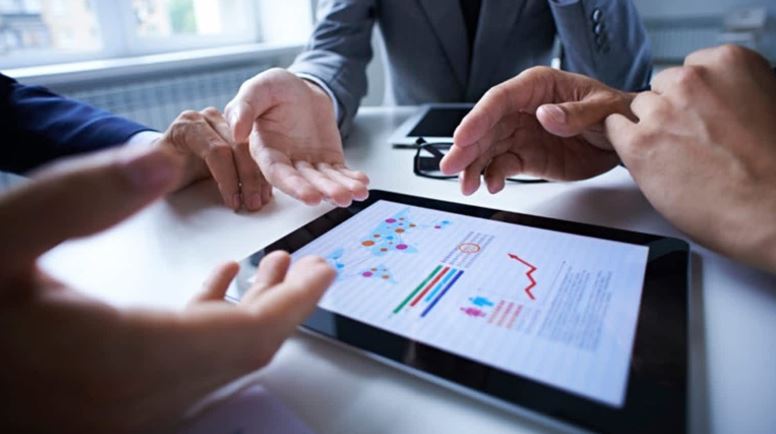 Failing to remain relevant could cost Canadian companies $124 billion in revenue, as customers seek out alternative brands. And once lost, a third of those customers are unlikely to return, according to new research by business consultancy Accenture.
The firm surveyed 1,099 C-Suite-level executives from around the world, including 32 from Canada, between March and December 2017. Compiled into a new report called "Living Business," the research shows what companies must do to remain relevant with consumers and achieve sustainable growth.
When companies no longer meet their needs, 61% of consumers switch companies, according to Accenture. What's more, 45% of consumers are frustrated by companies that do not use their personal information to improve the customer experience.
On the other hand, companies that do succeed in being more responsive to consumer needs can reap substantial rewards: the report found that those businesses are four-and-half times more likely to achieve "above-average revenue and profit growth."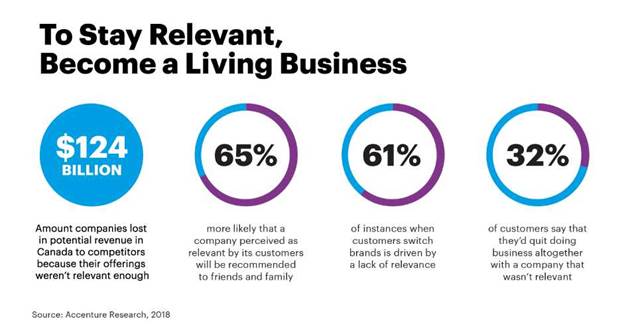 In order to become "living businesses" and remain relevant with their customers, Accenture's research suggests companies must first develop a deep understanding of customers' changing needs; this can help them "identify areas ripe for disruption and growth," and lead to initiatives that the firm suggests could be funded by maximizing efficiencies elsewhere.

Globally, the report notes that 94% of "high-performers" plan to invest in areas beyond their core business over the next three years, compared to 73% of all respondents. And 93% of those high-performers believe those capabilities will be "highly important" to them over that time, compared to 66% of all other respondents.

According to Accenture, firms must also "scale a broad set of ecosystem partners." Collaborations can give organizations an edge by enabling them to create new customer experiences with speed and efficiency. Moreover, working with a range of partners that each offer something unique, such as a new customer base or technology, can benefit all parties involved.

Globally, 92% of "high-performers" found partnering with organizations outside of their usual boundaries to be "highly important" (compared to 66% of all respondents), with 28% of them saying they had engaged with a new partner over the last year. According to the report, that number was 13% among lower-performing companies.