Two brewers take on the buck-a-beer challenge
For Ontario breweries with no marketing budgets, it may be the cheapest way to raise awareness.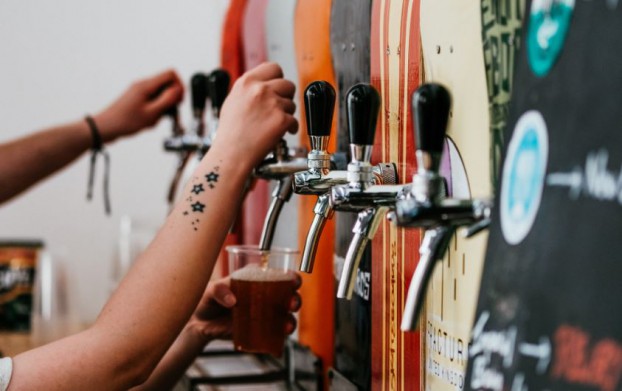 The Ontario provincial government's decision to launch a "buck-a-beer" challenge last week sparked criticism from some members of the craft beer industry, as many brewers declared it unfeasible in light of the rising costs of production, marketing and distribution.
In protest, Ottawa's Dominion City Brewing even launched its own "Buck-A-Beer" blonde ale  – noting that "we can tell you unequivocally that it is impossible to sell a beer for a dollar without compromising quality" – with the proceeds being donated to refugees in Ottawa.
Yet two Ontario brewers have taken the province up on the challenge, sensing the benefits outweigh the costs. They say participating in the challenge means raising mass awareness without increasing their next-to-no marketing budgets.
Prince Edward County's Barley Days Brewery was the first to sign on. It is currently brewing a special Loon Lager that will be available in select LCBOs on Aug. 27, ahead of the Labour Day long weekend. While the margins on the product are thin, Barley Days general manager Kyle Baldwin says the "no-brainer" decision to participate was a matter of marketing strategy.
In short: it's a low-cost opportunity for a company that has no dedicated marketing resources and a minimal social media presence.
By the weekend, Baldwin had been interviewed a few dozen times by the media; however, he has also needed to hire PR help to assist with "blowback" from the industry, he says.
When it opened in 2007, the brewery was one of the first in the county, according to Baldwin. By the time it changed ownership in 2013, four or five craft breweries had opened up in the area, and the company saw its customer base "shrinking pretty drastically," he says. As a result, it has needed to scale production back in recent years and now only delivers directly to customers as far as Kingston and Peterborough.
That will change thanks to the "non-financial incentives" the government has promised the brewers who participate in the program, through the LCBO. While the details have yet to be ironed out, Baldwin says Barley Days will be "forced into every LCBO store in Ontario," with additional perks such as prefered shelf space and free advertising in LCBO flyers.
"All these things cost money and it's going to be absolutely free for us in every LCBO store," he says, "so that's a big advantage."
In addition to brewing enough Loon Lager to meet the initial Aug. 27 deadline for the challenge, the company is working with contract brewers in order to ramp up distribution in additional LCBO stores by the first week of September.
As the second brewery to announce participation in the challenge, Toronto's Cool Beer Brewing is larger and also has a dedicated marketing and social media lead, Andrew Costa. Its product can already be found in beer stores and around 200 LCBOs.
Still, dropping the price of its four-pack Cool Lager comes with the opportunity of drawing significant attention to the brand and its quality – it won a gold at the Ontario Brewing Awards last year – and to drive trial, according to Kevin Meens, corporate development officer at Cool.
"It's not a cheap opportunity," he says. "But if we went out and spent $100,000 changing packaging and running a radio advertising campaign, that's not going to guarantee that I'm going to get trial, either."
Participating in the challenge will see its $1 per beer offering be fed into its existing network of LCBOs and beer stores.
"It won't be everywhere," says Meens, adding that it would take at least two months to ramp up production. "It's impossible for a brewery of Cool's size – any small brewery, really – to be everywhere."
According to Meens, the advantage for Cool is that its beers don't require the more expensive ingredients that make heavier, hoppier craft beers. He estimates that specialty hops could add four or five cents per bottle in costs, pricing out some smaller craft brewers.
Ninety percent of consumers are still looking for "refreshing, affordable, everyday drinkable beers," he says. While the craft industry is growing, he says it still accounts for less than 10% of the marketplace.