Pharmaprix tests Zone Marche concept
The Quebec arm of Shoppers Drug Mart will begin selling up to 750 fresh-food items in 11 stores.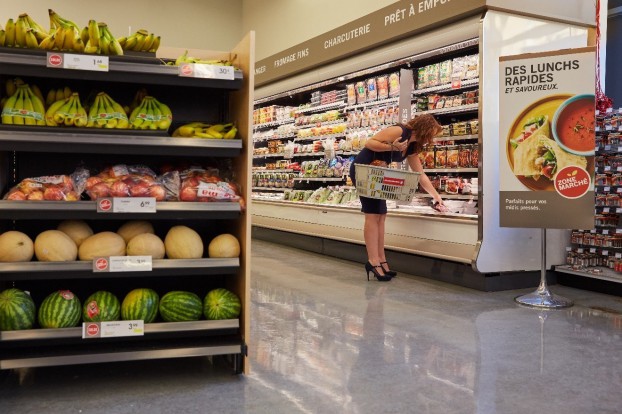 The Quebec-arm of Shoppers Drug Mart is testing out Zone Marché sections in several of its Montreal Pharmaprix stores.
The pharmacy chain is testing out the concept with 11 stores within its existing locations in Montreal, which will sell a range of up to 750 fresh-food products, including everything from apples to cheese to quiche.
"The market is constantly evolving and so [are] our customers' lives," says Denis Roy, director of merchandising and marketing at Pharmaprix. "The idea became clearer for us to add fresh food offerings in our stores and I think the major objective is obviously to make life easier for our customer."
The chain, which was bought by grocery behemoth Loblaw Companies back in 2013 as part of a $12.4-billion deal, is targeting busy urbanites in dense areas with the pilot project, says Roy. The logo and the marketing material for Zone Marché was designed by Pharmaprix's internal creative team.
Shoppers Drug Mart first tested out selling fresh food in its stores in 2014. At the time, the idea of buying your bananas along with your body wash was seen as, well, a little bananas. But the concept has proven popular since it first launched in Toronto four years ago, with 58 stores now selling fresh food across Ontario, B.C. and Saskatchewan, according to its website.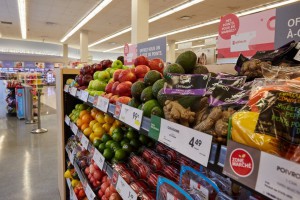 Today, shoppers can get fresh food at lower prices from several Loblaw competitors, such as Walmart. Pharmaprix will directly compete with the big-box stores, offering "highly competitive" pricing, says Roy.

The pharmacy chain is promoting the new concept via flyers. Roy calls the flyers "quite aggressive," explaining there will be a flyer wrap to celebrate the opening of each Zone Marché. And there will also be weekly flyers inserted within the main Pharmaprix mailer, along with others highlighting deals in the Zone Marché sections of the stores. All purchases will also be part of the popular PC Optimum points program – which merged the PC Plus and Shoppers Optimum loyalty programs earlier this year.

Before launching the pilot project, Pharmaprix execs studied the successes and failures of Shoppers' fresh food offerings in other markets and from those learnings, it adapted the concept for the Quebec market.

"It's absolutely a different market. Obviously the language is one thing, but the taste profile for the Quebec market is different," says Roy. "We wanted to make sure to choose the correct brands that are known in the hearts of Quebecers. It took a while to look at every category and every product [to] make sure that what we have on our shelves is what's according to our Quebec customers and their taste profiles."

While each Zone Marché will offer a different selection, current offerings in some of the stores include Quebec-grown strawberries, hand-rolled bagels from Montreal's St-Viateur Bagel and Saputo dairy products.

More stores are set to be rolled out by 2020 following the Quebec pilot project, and will mainly target high-density urban areas in La Belle Province.

As the concept expands there will be a second, larger marketing push, though the details have yet to be worked out, notes Roy.

Pharmaprix worked with Quebec-based Citoyen Optimum on PR.