Ottawa's Mad Radish to open in Toronto
The chain looks to capitalize on fast-casual health food trends with a chef-driven menu, in-store pickup and cashless check out.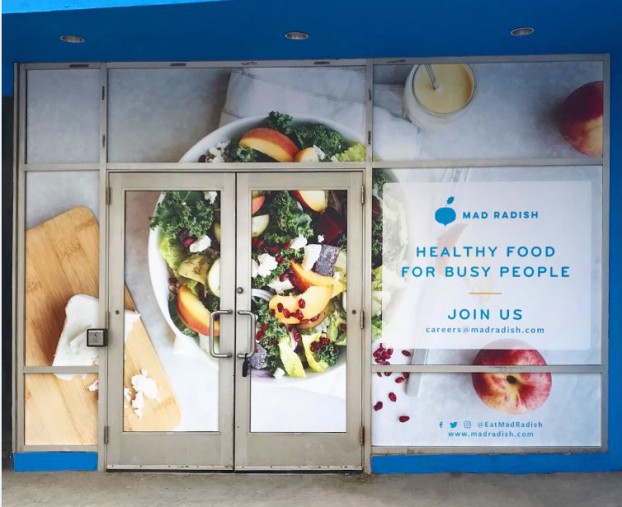 Mad Radish, a chain of salad shops launched in Ottawa last summer, will open the doors to its first retail location in Toronto later this year.
The restaurant chain, which has three locations in the Ottawa area, will be establishing a presence in Toronto through a new store near the city's Yonge and Eglinton intersection in October. As with the locations in Ottawa, the store will serve lunch and dinner options on-site and through take-out. Customers can also order in advance through a Mad Radish app and have orders ready for them when they arrive.
Mad Radish offers a "chef-driven menu" that includes fresh salads and warm bowls, as well as healthy snacks, sides and desserts in an effort to capitalize on what company co-founder Stephanie Howarth sees as growing demand for fast-casual health food – one of the fastest growing segments in the industry, she says.
On the menu are a lot of high-protein foods and plant-based foods: ginger chicken salad, "smoky caesar" salad, butter cauliflower curry and spicy chickpea hand pies. Led by chef Nigel Finley, the store's menu rotates to align with seasonal ingredients, says Howarth.
The Mad Radish concept was conceived by Howarth and co-founder David Segal (who both left DavidsTea in 2016) to help satisfy demand for "crave-worthy, healthy food" among time-pressed consumers. Howarth says that customer demographic has so far included a lot of students and professionals on the hunt for healthy meals on the go (everyone from the "health nut" to the person just "dipping their toes in healthier eating").
The co-founders decided to test the concept in Ottawa before bringing it to the much more densely populated city of Toronto. Doing so led to the introduction of a few lower-price point items, including some ready-to-go options in what it calls the "Mad Radish Pantry," in order to make its food more accessible (that ginger chicken salad comes at a cost of $12.75).
While Mad Radish has put a lot of emphasis on creating a welcoming customer experience, according to Howarth, it has tried to create efficiency in-store by going completely cashless. Payment is one of the more low-value interactions customers can have with staff, she says, and there's a much bigger opportunity to enhance the customer experience during meal prep and presentation, for instance.
"The payment is the last step in the transaction and we think that having that efficiency frees up more time for talking, so that [employees] don't have to be focused on the cash register and counting change," she says.
Mad Radish has also implemented 100% compostable packaging, which leaves customers pleasantly surprised not to find trash bins in store, she says.
The company has local partnerships with Community Food Centres Canada in Ottawa and The Stop Community Food Centre in Toronto. Mad Radish provides the food centres with one serving of fresh produce every time an order is placed through its app or website.
Promotion of the story is leaning heavily on word of mouth and a PR push, says Howarth. It has also made "beautifully styled images" a "pillar in our marketing strategy, because in order to the change the perception of what a salad is, you need to show people."