Nissan shifts focus in support of student-athletes
For the fifth year of the "Nissan Kickoff Project," the brand directly recognizes players who make a difference.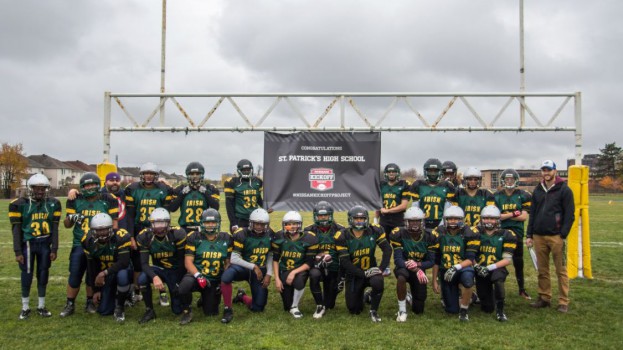 As Nissan launches into its fifth year of a program aimed at helping young Canadian football players, it has shifted its focus away from school programs and more towards the players themselves.
The automotive brand's "Back in the Game" initiative launched in 2014 as a way of funneling typical advertising spend into a program aimed at bolstering school football programs with funds for equipment and training – and by extension, burgeoning football talent across the country. Despite remaining relatively consistent in its execution, in its second year, the program became known as the "Nissan Kickoff Project," a name it has maintained ever since.
This year, however, it has taken a different approach to supporting the game. Players, friends, teachers and family members are being asked to nominate a high school football athlete who demonstrates what Nissan is calling "TITAN" values (toughness, innovation, tenacity, ambition and notability, an acronym that is also the name of the automaker's line of pickup trucks). Then, it will choose a group of 70 student-athletes to represent their team as part of a "TITAN team" during an exhibition game in Edmonton taking place on Nov. 23, ahead of the 2018 CFL Grey Cup finals.
"This year we've evolved the program a bit to reach out to individual athletes," says Steve Rhind, director of marketing at Nissan Canada.  "We're trying to identify strong athletes, who are good athletes but also have an impact on their communities."
Changing things up this year was a combination of wanting to keep the program fresh, but also to bring more awareness to the program, says Rhind. Whereas the brand's previous program was more "behind the scenes," this time it can promote it more on a national level by encouraging people to nominate players. "It allows us to do a little more promotion in terms of getting more people involved in the program, whereas before, it was a little bit more grassroots."
Over the next few months, promotion will consist mostly of a digital and social push (with a microsite and digital banners on cfl.ca and team sites), leading up to the Grey Cup game, says Nathalie Quesnel, event and sponsorships manager at Nissan Canada. That will culminate with an activation during the Grey Cup finals in Edmonton aimed at given athletes a once-in-a-lifetime experience, she says.
While the details are still being ironed out, Quesnel says players will be invited to stay in Edmonton for the weekend and will possibly get to meet  professional players.
In terms of ROI, Nissan has been measuring the program's success based on consumers' perception of the brand, says Rhind. Over the last five years, research has revealed that whenever people learn about the program, both sports fans and non-sports fans alike show increased favorability and consideration for Nissan.
Experiential and creative is being led by The T1 Agency, with OMD on media and Edelman on PR.