J.P. Wiser's takes user-generated content offline
The whisky brand has been collecting "toasts" from Canadians and delivering them publicly under its "Hold It High" campaign.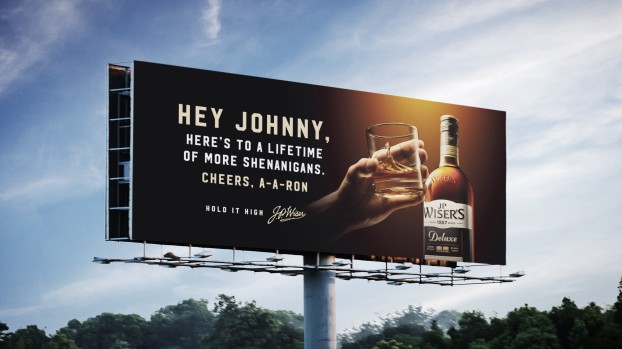 J.P. Wiser's celebrates the bonds of friendship with a new national campaign that features hundreds of real Canadians toasting their closest friends.
The heartfelt messages are appearing across the country through a variety of out-of-home, transit posters, street columns, superboards, online, as well as 80 different radio spots, under the ongoing tagline "Hold It High" that debuted a year ago.
"Last year we highlighted what makes J.P. Wiser's a great whisky by showing more about how we make our whisky and the people behind it," says Sam Jacobs, brand manager at the brand. "Now we want to shift the conversation from our people to all Canadians."
This year's campaign, by agency No Fixed Address, is the first user-generated campaign of this scale for J.P. Wiser, says Jacob. On its site, Holdithigh.ca, the brand is asking Canadians to make a "toast" (which can posted to social or downloaded for email or text) to their friends to let them "know what they mean to you." A total of 165 unique toasts in English and French were then selected from more than 1,000 submissions and used in radio spots and OOH.
"We had no idea about the kind of toasts we would even receive at first," says Jacob. "There was a massive leap of faith taking a fully user-generated campaign and applying it to traditional media."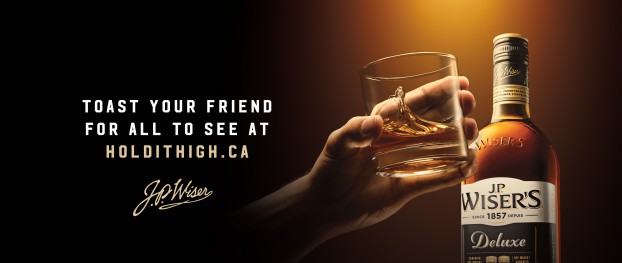 The "toasts" are all deeply personal and the tone varies from humorous to emotional. For example, one post reads, "Hey Tina, this one's for all the last minute save-the-day missions, the laughs, and the hundreds of other ways you pour yourself out for others. Love ya, Jenn."
The brand personalised the experience even further with customized boards for some of the submissions. For example, after receiving a "toast" from a person proposing to their boyfriend, the brand worked with them to have it placed on a board near the home of the toastee.
"The campaign is really a mass toast to the effort that goes into great relationships – just like the effort that goes into the making of J.P. Wiser's whisky," says Dave Federico, CCO of No Fixed Address. "We wanted to help Canadians tell their closest friends what they mean to them in an exciting way that they probably couldn't have before."
In addition, the brand is also hosting an experiential booth at special events that allows people to record video toasts, as well as a live, simultaneous toast to the American-Canadian friendship, involving 50 people on both sides of the border in Detroit and Windsor, the home of the J.P. Wiser's distillery. "There are about 11,000 trucks and 15,000 cars that cross the Windsor border daily, so they heavily rely on each other's support," says Jacobs. "The Windsor-Detroit friendship angle was really a toast to the old-age friendship shared between the two cities that they've shared from the beginning."
Agencies working on the J.P. Wiser's campaign include No Fixed Address (AOR, creative and strategy), Media Experts (media planning and buying), Methodify (testing and optimization), and Deck Agency (public relations & experiential).