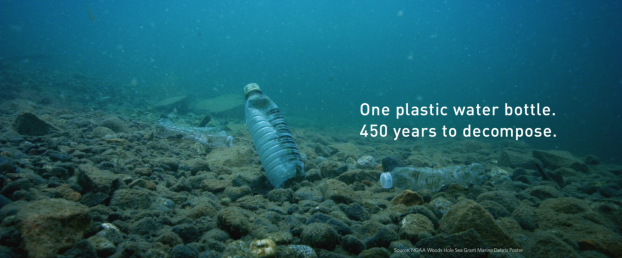 Forty percent of the world's oceans are covered by swirling patches made from billions of kilograms of plastic. Plastic bottles are a dominant pollutant, with the global population consuming 20,000 plastic bottles per second, and less than half of it actually being recycled. One plastic water bottle takes a whopping 450 years to decompose.
Keeping these daunting figures in mind, Brita Canada's new campaign has rolled out an action-oriented campaign, "The Beauty Beneath."
The minimally designed video spot, containing gripping underwater views shot across Canada, does a great job in "pulling the rug out and creating a shock value," says Travis Cowdy, ECD, VP at DentsuBos. "We wanted to position the brand as an effective solution to combat plastic waste and we were able to invoke the connection Canadians have with the nature."
The objective of the new campaign is an evolution of its sustainability theme that Brita Canada focused on last year.
"At Brita, we really stand for cleaner, great tasting water," says Matthew Kohler, VP of marketing. "The brand is targeting those in-home bottled water occasions and trying to reinforce the idea that you shouldn't have to choose between a healthy you and a healthy planet." The idea, according to Kohler, was to narrow the message down so consumers can wrap their head around simple statistics about plastic pollution and give them the baton to make a choice. The goal for the brand is to convert bottled water users to choose Brita,which claims each of its filters can replace up to 300 500mL plastic water bottles.
Cowdy notes that "several brands want to say and save [a lot of things], but picking a lane and being focused on one issue is the need of the hour." Focused on household penetration, the brand is seeking to reach women between 25 and 64 years of age who control purchases, as well as consumers looking to live a healthy lifestyle.
Brita Canada unveiled this spot as a part of its omnichannel campaign on Sep. 17 which will run primarily on TV and social media channels up to June 2019. To compliment this, the brand has also collaborated with influencers to talk from the angle of environmental concerns of plastic and do outreach via PR campaigns. This work will continue alongside their ongoing mission of drilling wells in Kenya in partnership with ME to WE, providing one year of clean water by selling one Brita product.