Going hands-on with House of Vans
The skate and shoe brand will host performances, markets and clinics based around creativity and culture.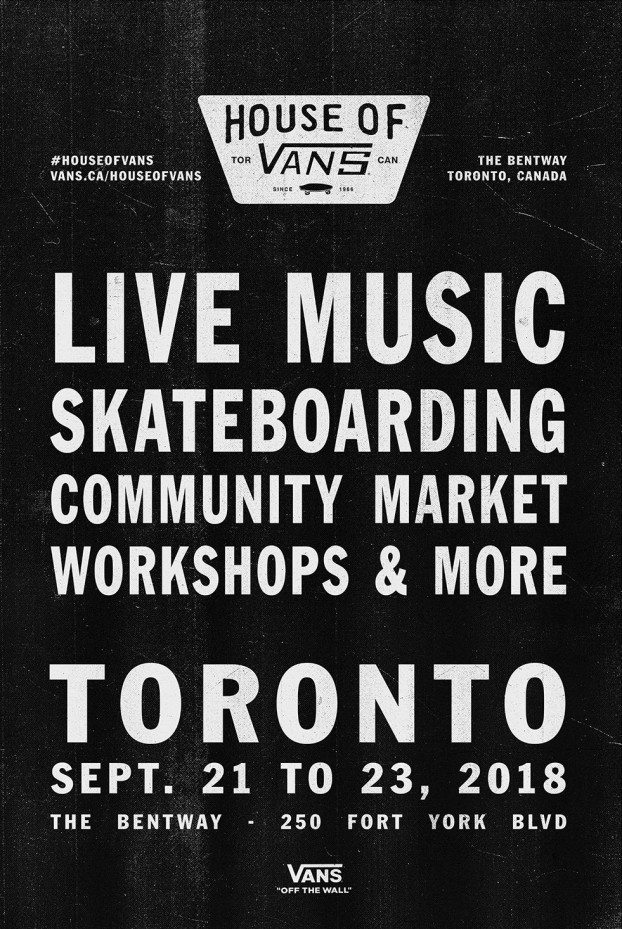 Though getting its start in skateboarding, Vans' brand now has ties to nearly every facet of creativity and culture. And it's giving its fans the opportunity to go hands-on with all of them at this year's House of Vans.

The third Toronto edition of the House of Vans opens to the public tonight and runs until Sept. 23. Located at The Bentway near the city's waterfront, this year's House of Vans will host a community market featuring vendors from Toronto's creative community, clinics and workshops on everything from customizing shoes to photography to zine making, a cook off hosted by chef Matty Matheson and a show from hip hop artist D.R.A.M. It will also feature numerous skateboarding-centric activities, such as a free skate, best trick competition and Get On Board, a skate clinic focused on young girls.

"Everything Vans stands for, you can experience at House of Vans," says Alex Auchu, marketing manager for Vans Canada. "We decided to do a pop-up version to create good energy moments for the brand and for the consumer to be able to experience what the brand has to offer."

The skate and shoe brand previously created permanent House of Vans locations in cities such as London and New York, and first brought it to Toronto as a multi-day pop-up in 2016. That execution was focused primarily on a series of performances from high-profile musicians with skate demos in between, but has since evolved to include things that cover a broader range of culture and more hands-on experiences.

"That's how we've been evolving this concept, really trying to give more experiences to our consumers," Auchu says. "That face-to-face connection is very important. We also stand for creative expression. Our DNA is rooted in skateboarding, but we have built on that foundation to other parts of culture, be it art or music or fashion. That's what our brand is today and what our consumers expect from us."

Vans again worked with BICOM on this year's House of Vans.