Advertising Week 2018: Catching up on diversity
Supporting minorities was a frequent topic on the first day of the conference, though some are further along than others.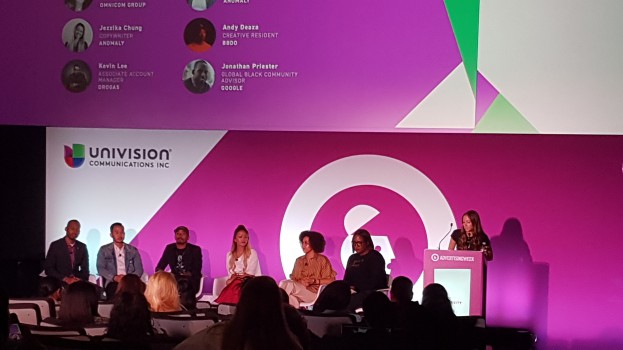 "At this point, we're all in agreement that diversity is a business imperative," said Jezzika Chung, a copywriter at Anomaly during a panel on Monday at Advertising Week New York. "It's agreed upon, everyone understands that."

The panel was moderated by Tiffany R. Warren, founder and president of AdColor, a U.S.-based organization and awards show program that aims to recognize the positive impact of diversity in creative industries and work towards ways to help people of colour thrive. She was joined by several former recipients of "Mr. and Mrs. AdColor," a distinction that recognizes young people of colour making an impact in the industry.

Diversity and inclusion were frequent topics at the conference's first day, and for good reason. But what Chung's words brought into stark focus is that not everyone in the industry has the same level of understanding about it or how to create real change.

The day started with a panel about the Unstereotype Alliance, a joint effort between the United Nations, Unilever and a host of other clients and agencies to improve gender representation in advertising.

The discussion made the case for more diversity in advertising and the industry as a whole, with Aline Santos Farhat, EVP of global marketing at Unilever noting that people likely won't buy from a brand if they don't see themselves represented in its content and advertising. The panel also discussed having diverse people not just be more visible, but better represented in ads in a way that actually reflects them and doesn't create stereotypes.

And they still felt the need to point to businesses with more diverse staff and leadership having better business results. Farhat said that gender-balanced campaigns have resulted in 25% more brand impact, 18% higher purchase intent and 21% more credibility among consumers for Unilever's brands.

Many of the ideas and thoughts brought up during the Unstereotype panel were accepted as basic truths at the AdColor panel, where topics included how society's impact on advertising can give people of colour the "cultural currency" to hold brands accountable; as well as the need to look beyond recruitment to address retention (Andy Deaza, creative resident at BBDO, described there being a "massive drop-off rate" for people of colour staying in the industry).

The fact that so many senior executives and business leaders are still grappling with concepts that the next generation of leaders have already accepted and are building upon should be cause for worry.

But that's not to say the CPG giants and agency holding companies of the world have not taken adequate steps to address the issue.

Unilever's Farhat says the brand has begun using AI to ensure its hiring practices are more diverse. And on the low-tech side, she said managers are given a scorecard on diversity that is visible to the whole company, bringing more transparency to the issue. IPG CEO Michael Roth referred to the fact that diversity and inclusion goals are treated much like any other KPI at IPG agencies, tieing them to executive pay and giving them the financial motivation to treat this issue with the severity it deserves. At the AdColor panel, Michelle Almeida, an account executive at Anomaly, pointed to her agency's "Last Silo" initiative, which has integrated insights about Latinx populations and women into all of its work, instead of separating it out as a distinct practice.

"It's only efficient when you systemize the company, when you change it and make this something that permeates the decisions you make," Farhat said. That is also something that Google's Black community advisor Jonathan Priester echoed later in the day, saying diversity initiatives need to be given "the same rigour" any other business objective might.

IPG's Roth pointed out that diversity initiatives need to come from the top down, because otherwise, it is hard or impossible to implement the systemic changes that needs to happen. Which means either CEOs are behind the curve when it comes to issues they are supposed to be leading, or those leaders are seeing that executives still need to have the basics explained to them before their diversity and inclusion initiatives have any real impact.

- StrategyDaily editor Josh Kolm is at Advertising Week New York and will spend the week filing reports on the most frequent and hotly debated issues and industry trends as they arise.