Advertising Week 2018: What to do about data
Attendees at the conference are nervous about compliance. Is being more consumer-centric the answer?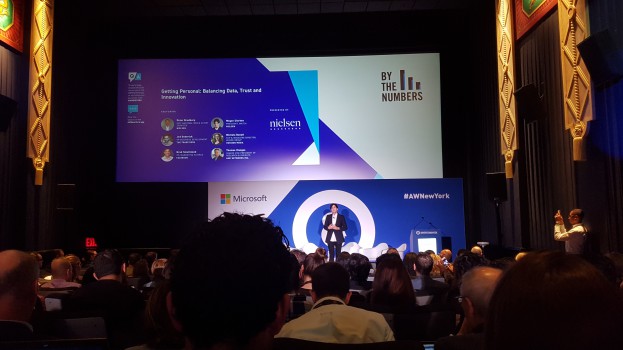 Want to know a sure-fire way to pack a theatre at New York's Advertising Week in 2018? Put "data," "trust" or "GDPR" in the title of your session.

In Canada, we've seen several studies show that consumers are willing to give up their personal data in exchange for some kind of reward or benefit over the years. One of many sessions aimed at soothing uncertainty and nervousness in the industry about new data privacy regulations being implemented in the EU, California and across the world, suggested taking a different approach to the same principle: educate consumers better on what their data is actually worth.

"People are used to free products and don't see the value they get for the advertising," said Glen Ames, chief product officer of U.K.-based digital advertising platform Captify. "I don't think you can expect individual publishers or companies to solve that on their own. It's an industry-wide problem that needs to be solved. If we can bring that value back, people will be much more okay with 'opting in.'"

"Opting in" and "getting consumers to raise their hands" are phrases that have been coming up a lot, based on the idea that there is a way to make consumers want to give up their data. Thomas Pasquet, CEO of Ogury, suggested on that same panel that one way to make the value of data perfectly clear would be to give users a monetary reward for it. In Canada, we've seen platforms like Butter base itself on this principle, giving users a cash reward in exchange for data about the services they subscribe to. It is also refreshingly open about that fact, rather than the status quo of hiding data collection and sharing policies inside the "terms and conditions." Pasquet said that kind of model not only educates users, but empowers them. After all, many consumers are well aware that companies are collecting data on them, but are vague on the details of what that data is or how exactly it is being used; the only way to make them more comfortable with that fact is to put them clearly in control of the transaction.

The other way to prove value is by providing a more rewarding experience for the customer, and not just by doing more effective or relevant targeting (the common sentiment through all the days' panels was that really good targeting was not only a bad way to ensure consumer trust, but the least interesting thing a company could do with its data).

During a panel comprised of digital publishers, Andrew Saunders, head of global brand strategy at TasteMade, said his platform was using its data on consumer food trends to work with Subway on its business and product transformation to provide products that are more appealing to its customers. Suzy Deering, VP and CMO for eBay North America, said during a panel on balancing brand building with performance that the important thing was to create more separation between the data and consumer, and understanding that any experience based purely on information is going to lead to inaction.

"We have, in some cases, so much information, that we become paralyzed in some regards," she said. "As a consumer, how you act changes so drastically from day to day and moment by moment. The one thing we have to be careful of is not putting data as the first way in. Let the data inform the customer, don't go the other direction."

The frustrating thing about the data and compliance conversation is that, while panelists and experts have been bringing up good points, none of this is totally new. Marketers have known how important transparency and consumer-centricity are for some time, both when it comes to trust and creating experiences consumers will actually enjoy. It seems that it took new regulations to get marketers to come back to one of the most basic principles of marketing and business: the customer comes first.

- StrategyDaily editor Josh Kolm is at Advertising Week New York and will spend the week filing reports on the most frequent and hotly debated issues and industry trends as they arise.