Advertising Week 2018: The brand balancing act
When it comes to purpose and their place in a consumer's life, brands need to be aware of when they are overstepping.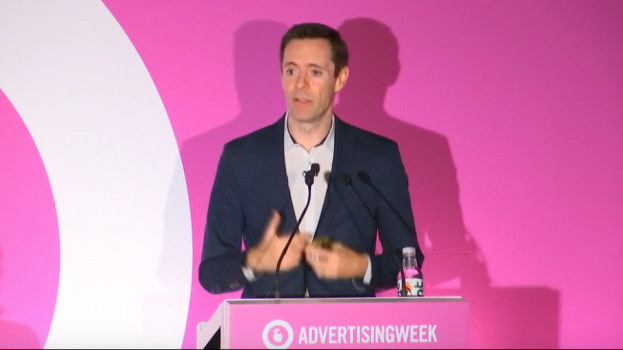 The importance of being a purposeful brand that isn't afraid to take a stand has been mentioned a lot during AdWeek, currently taking place in New York.

Venables Bell and Partners president Paul Birks-Hay (pictured above) said that being brave, despite its ubiquity as a guiding principle in recent years, tends to go against everything marketers and advertisers are taught to do: keep your head down and don't risk upsetting any potential customers. But it's necessary today, said Birks-Hay, since the only way to create an enduring relationship that can survive new competition is by doing things that show the brand can be vulnerable, brave or "more human." These are things like KFC's "FCK" ad, created to apologize when the QSR ran out of chicken; or Nike deciding to take a stand with Colin Kaepernick.

But there's also a need to resist the urge to be all things to all people, and when it comes to acting with purpose, brands need to consider if they need to reign it in a bit. Nike's Colin Kaepernick ad has been lauded by multiple panelists at this conference alone, but there's still the embarrassment of Pepsi's Kendall Jenner "protest" ad fresh in people's minds. Brands like Wendy's get praised for being cheeky and speaking more like a human on social media, but less attention is paid to the times a brand has posted an ill-advised "RIP" message for a recently passed celebrity and is met by criticism from their fans. That's not to say companies shouldn't take a stand on social and moral issues, but they should be a bit more realistic about how welcome their brand might be in such a forum, or the good they are actually doing.

"The world expects you to take a stance," said Dana Treseder, CMO at GE Ventures. "It's about figuring out the points, using the data we have, to see what matters to our customers and being smart about what we talk about. We can't talk about everything, but we want to chase the things that are authentic to our brand."

Spotify's director of social impact Kerry Steib said that while its music streaming platform is set up to facilitate rapid response to topical causes and events, it had to take a step back and ask questions about what it could do to help, resulting in things like fundraising efforts or using its data and access to fans to help artists amplify their own initiatives. One of HP's long-term causes has been environmentalism, and chief sustainability and social impact officer Nate Hurst said part of the reason is because the brand has environmentally friendly manufacturing processes to back it up. The company has also been pushing business partners and suppliers to adopt similar policies.

But this conversation extends beyond social causes. Much of the data conversation this week, from media agencies to data firms to publishers and marketers, have been about using data and information not for more effective targeting, but for creating better customer experiences: the kind that will build trust, provide value and feel less intrusive. Orchid Richardson, VP and managing director of the IAB's data centre of excellence, pointed out that one reason direct-to-consumer brands have been so successful is that they use data to build a lifestyle experience and continuously justify why they have a place in a customer's life, instead of forcing their way in.

The overall lesson is this: chill out a little. Don't intrude on your consumer's life, and don't insert your brand into causes it has no relevance to, because there is a limit to how much it will be welcomed.

- StrategyDaily editor Josh Kolm is at Advertising Week New York and will spend the week filing reports on the most frequent and hotly debated issues and industry trends as they arise.