Koho recreates a 1950s love story through brand partnerships
How the fintech company used an Instagram series to evolve the money conversation.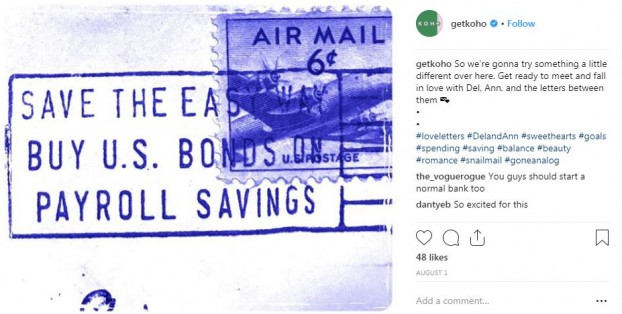 Through the unveiling of a new brand identity and campaign this summer, fintech player Koho has tried to evolve the way Canadians think about finances, so that they can feel more at ease saving (and spending) their hard-earned dollars.
As for some digital-only banks, millennials constitute a big part of its target audience. At Koho, the goal is to partly change perceptions of millennial habits. As Julia Cooper, content strategist at the company, puts it, her demographic has often felt "talked down to" when it comes to money, as though "all of my spending is reckless and that any purchase of a latte is taking food out of the mouths of my future children."
Given that Koho's brand promise is to "Restore Balance" in the financial world, one could be forgiven for questioning the strategy behind its recent weeks-long Instagram content series exploring the 1950s love story of Del and Ann, who find themselves in a long distance relationship. The narrative unfolds through 84 handwritten letters, in which Del chronicles the people, places and things that he sees during his time at Yale and in New Jersey. Money, however, is not its primary focus – love is.
Cooper, who found the letters on eBay, says purchasing them "was a bit of a gamble, because we didn't know if they were going to be any good. But it seems that we landed on a bit of a gold mine." In fact, they allowed the brand to test a new storytelling approach, while partnering with local brands and entrepreneurs who served as content collaborators – and whom Koho views as a part of its customer base.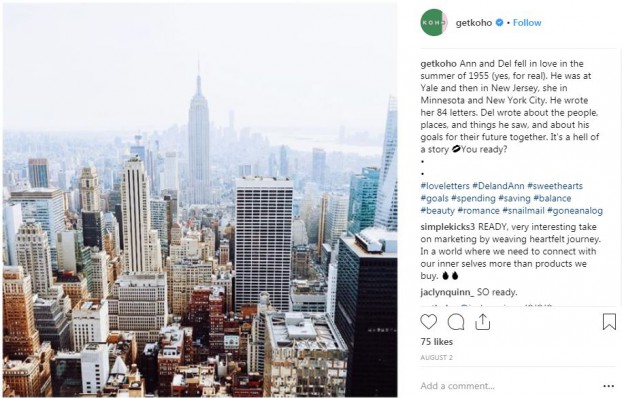 Despite living in a vastly different time, Del and Ann's concerns were very much aligned with those of millennials today: they worried about money, but wanted to travel and were setting up their first apartment together. While the plan was to tell their story through daily posts spanning several months, Cooper says Koho was careful not to "wed ourselves to a multi-month plan that couldn't be changed or couldn't be adapted."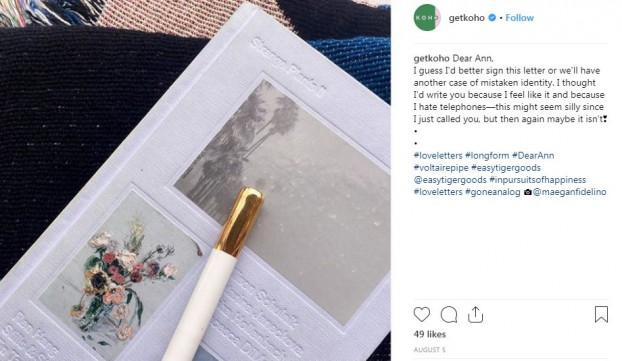 Moreover, it realized that a good storyline would not suffice to keep people engaged on Instagram. So it turned to Canadian entrepreneurs and brands to help on the visual front.
For example, during the week of Sept 23, Koho featured photography by Norquay, a maker of handcrafted artisan-painted canoe paddles, whose visuals were thematically related to the content of the letters. Then, on the last day of the week, it helped its followers visualize what it would take to save up for the featured item using the Koho app. At the end of each collaborator series, screenshots of Koho's goal-saving feature were superimposed onto photos of the items.
At around $385 per paddle, Norquay's products might seem out of reach for many millennials. But Cooper says it aligns with the way the segment is shopping today. For example, the founder of one of its other Instagram partners, Easy Tiger Goods boutique in Toronto, told Cooper it resonated with her customers, who are looking for purchases that are more expensive but meaningful (and, by extension, less frequent).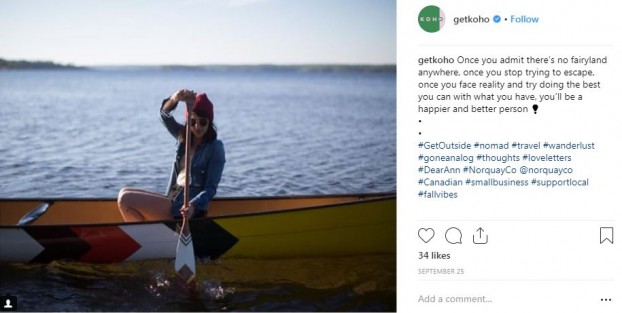 "Maybe it seems like a lot of money [to spend], but if you break it down into daily savings – which is what the Koho app does – then it isn't reckless to buy that or it doesn't necessarily have to be a splurge," says Cooper of the message behind the campaign. The partnerships aligned with what Koho sees as a large part of its user base: people who have "side-hustles" and who might be working on their passion projects on the side.
In developing the campaign, Coopers says the brand chose to focus all its efforts on a single channel, allowing it to be more creatively ambitious and nimble. It landed on Instagram which tends to see higher engagement, even though it meant potentially reaching fewer followers.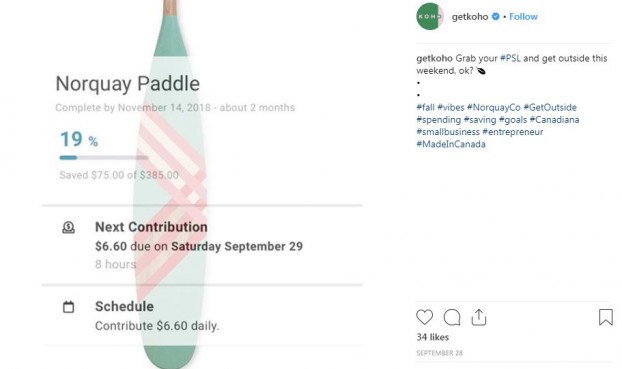 Over time, the brand realized regular posts recapping Del and Ann's story were needed to help guide new or recent followers, and that engagement was higher when using Instagram Stories (which it began deploying later in the series) than with its static posts. It is now in the process of preparing video-based content based on those insights.
Since December, the brand's Instagram following has grown from 250 followers to more than 2,500, according to Cooper, with a "big bump" following the launch of its "Dream Thieves" campaign in mid-July.