Weighing traditional marketers against 'CMO collaborators'
Research by Accenture Interactive explores the benefits of C-Suite collaboration.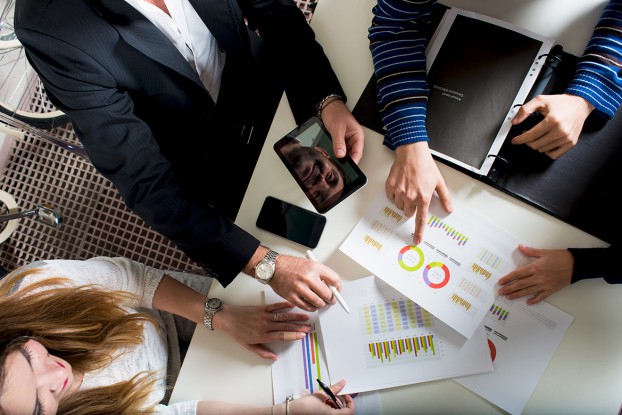 North American chief marketing officers can deliver better customer experiences by taking on greater responsibilities as collaborators among the C-suite and their agency partners, according to new research commissioned by Accenture Interactive.
Published last week, the "Rethink the Role of the CMO" study includes responses from 250 senior marketing leaders across Canada and four other markets between July and August 2018, as well as in-depth interviews, which were conducted by Forrester Consulting.
Broadly speaking, it calls on CMOs to take on the role of "CMO Collaborator," the title it gives to those who serve as the "connective tissue between different lines of business." They are defined as "individuals who encourage their teams to work across the company, departments and locations, and who instil a new culture that fosters collaboration across the lines of business." Compared to traditional marketers, they are able to bring together partners within and outside the organization.
Nearly 87% of organizations agree that customers are no longer satisfied with traditional experiences, according to the report, which has opened up an opportunity for CMOs to deliver enhanced customer experiences by going beyond traditional brand advertising and communications. Those who do so successfully stand to benefit by as much as $10 to $100 million in annual revenue for each one-point increase in customer experience score, according to previous Forrester research.
The research finds that 95% of leaders who collaborate believe their customer experiences surpass those of competitors, compared to only 68% of traditional marketers. Moreover, 90% of them say they are "ready to execute a customer experience strategy," a number that falls to 77% among traditional marketers. And the latter are more than twice as likely than their counterparts to lack support from their CEO.
"CMO Collaborators" are also more inclined to view partnerships as a strategy to stay ahead of their competitors. Overall, 83% of them have implemented this strategy, compared to 60% of traditional marketers. Ninety-one percent identify external and third-party partners as a "critical part of their customer experience strategy."
To help become better collaborative leaders, the report recommends focusing on "customer obsession" over campaign creation and by hosting cross-disciplinary initiatives to communicate the need for greater customer experiences. It also recommends aligning technology decisions with customer needs and looking externally for innovation when it cannot be achieved internally.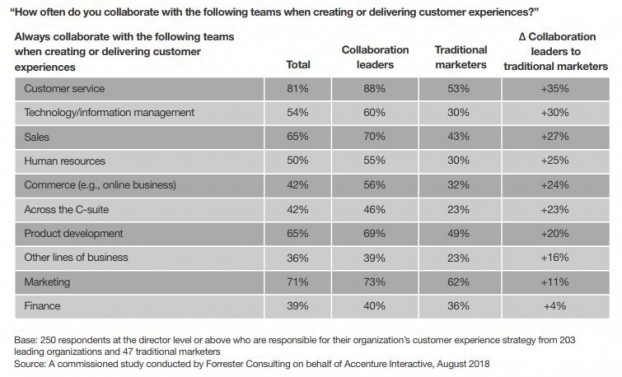 Source: Rethink the Role of the CMO, Forrester Consulting on behalf of Accenture Interactive, Aug. 2018.