How to capture consumers with branded podcasts: column
Eighty-Eight's Fatima Zaidi offers words of advice for how to make sure consumers actually listen to your content.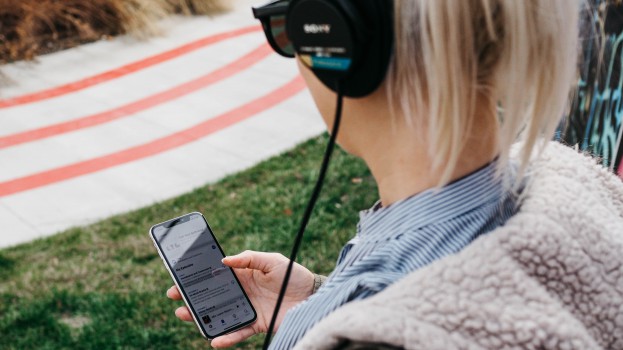 Podcasting is continuing to grow steadily – both in terms of production as well as consumption. Monthly listeners of podcasts increased from 11% of the population in 2008 to 26% in 2018. Combine that with an impressive 86% YOY increase in U.S. podcast ad revenue in 2017  and it's clear that brands are starting to see the value of using podcasts as a channel to reach out to potential consumers.
Not only are brands utilizing various techniques like sponsorships and affiliate marketing to monetize podcasts, they're also increasingly finding other ways to get involved with this booming trend. Some companies are producing their own branded podcasts as a way to grow their consumer base and build brand awareness in an authentic way.
Jean-Marie Heimrath, CEO of Podcast Exchange, highlights a great example of a branded podcast done right in Dell's own podcast "Trailblazers" with Walter Isaacson, exploring digital disruption: "They never once try to sell any product. This is storytelling at its best: without interruption, with lasting brand influence. This, along with other storytelling podcasts that are not exclusively underwritten by a brand, use host-read ads that are very engaging and appeal to a whole new audience that wants messages that are thoughtful and respectful."
While it will certainly take some time before branded podcasts attain the same scale as other types of branded content, the fact that more and more companies are jumping to take advantage of them indicates an awareness of how effective this medium can be for enhancing consumer engagement, as well as drawing in new customers.
However, one of the biggest challenges in branded podcasting is articulating a message and call-to-action without coming across as overly promotional and propagandistic. It can be challenging to find a narrative that really connects with your intended audience in a way that stands out from the myriad of other content available.
These four tips can help brands who are thinking of starting a branded podcast or who want to take their branded podcast to the next level:
Identify your target audience to figure out if it's worth it
How does your target audience consume media? Do they even listen to podcasts? These are important questions to address before getting started in this space. If your target consumers are not digital natives, then you're jumping on the wrong bandwagon and the great content you put out will not target the right demographic base. According to Edison Research, 30% of Americans between the ages of 12 and 24 and 32% between 25 and 54 listen to a monthly podcast, compared to just 13% of those aged 55 or older.
Engage listeners, and do it early
The major challenge of branded podcasting is capturing your listeners' attention and retaining it to the very end of the episode. Research has shown that only 35% of listeners will listen to the entire podcast, with 5% listening to only the beginning and up to 12% of users stopping or switching podcasts halfway through. To compound that, 42% of podcast users claim they find ads disruptive. So what does this mean for companies? Refrain from bombarding your listeners with blatant ads and brand announcements right from the get-go; instead, seek to provide content that is valuable and educational to your audience. Try to wait until your listeners are fully engaged, and aim to balance content with story-telling in a dynamic way without veering into unduly promotional territory.
Heimrath affirms this: "Host-read podcast ads are often hidden in the context of a show  –  making them more organic and minimizing any disruption to the listener experience. Hosts who deliver ads as part of their show lend brands an added level of authenticity from the rapport they have built with their dedicated audience."
In addition, try to make sure the beginning of each podcast is interesting, relevant and concise, so as to enable you to draw in new listeners. One of the best ways to confer an elevated brand to your podcast is to establish yourself or your company as a thought leader and subject matter expert within your industry. Consumers will then trust you as a go-to resource in that particular space and actively seek out your podcasts.
Work with the right talent
Don't be fooled: creating novel, one-of-a-kind, engaging, creative podcast content is a full-time job. You need to retain listeners for not only the length of the episode itself but, if you're hoping for repeat listeners, for extended periods of time each week or month.. If you want to keep increasing engagement, then it might be worth bringing in external experts, from dynamic hosts that can provide entertainment and authenticity to creative copywriters and producers who can take your podcast to the next level.
Utilize influencers to make their audience your audience
Influencer marketing can be one of the most effective ways of growing your audience and listenership, budget permitting. Whether you choose to work with major celebrities, micro-influencers or industry leaders, bringing on well-known guests and tapping into their networks can be a game changer. In some cases, you can strike a mutually beneficial partnership with influencers by offering and integrating cross-promotional advertising into your podcast.

Fatima Zaidi is VP of business development for Eighty-Eight, a Toronto-based creative communications agency.