HSBC gets opera singers to pitch you its services
The bank is trying a new strategy to "cut through the clutter" and make financial services less mundane.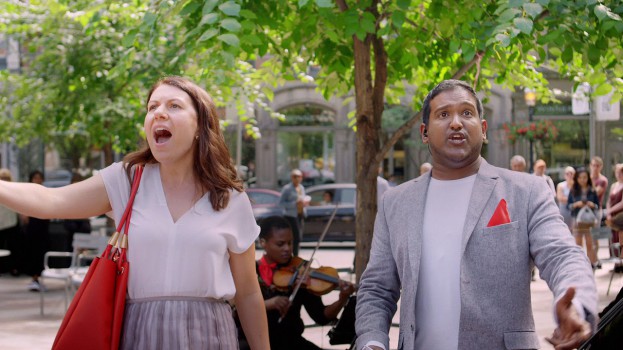 HSBC Canada has "composed" a musical piece for professional opera singers to explain the financial services offered under its HSBC Advance account.
A new video spot, created by agency J. Walter Thompson Canada shows two Royal Conservatory–trained opera singers performing this piece live in Berczy Park in downtown Toronto and captures the reactions of passersby. This campaign was launched to spread awareness about the offerings under HSBC Advance account, which is a no-fee account with a minimum balance of $5,000. The goal was to tackle a dry and confusing subject like banking in a fun manner.
"The strategy we had in mind was to cut through the clutter and noise of the existing messages about personal banking, finance and reach the millennials in a way they can understand," says Cindy Wong, regional head of marketing at HSBC Canada. "The financial opera describes features and disclaimers of the services. We found that music was the best way to connect to our target."
The activation launched on Sep. 10 and will continue to run on radio, print, digital and social media channels until Nov. 30.
HSBC Advance is not a new service, but the opera activation is an attempt at revitalizing it. A previous campaign called "Together we Advance" was done four years ago. The minimum balance then was $25,000 and the digitally-focused campaign had display banners focused on the functional benefits of the account. But HSBC found that it was a hurdle to maintain such a high account balance and used customer feedback to implement changes to the account. In comparison to that Wong says that "the current campaign is a completely new offering and all about telling the people that it is not the same old account." As a part of this activation, the bank is offering up to $450 as a welcome bonus for new customers until Nov. 30.
"What makes us stand out with respect to competing banks in the market is that the $5,000 minimum balance can be held across any or all accounts like savings, chequing," says Wong. Wong says this activation is one of its highest performing campaigns, resulting in over 400% increase in new-to-bank clients. "So far the accounts have been more than double the expectation and triple compared to previous year," says Wong. "Within the first week of the launch we had three to four times increase in sales in all the history of Advance accounts." It worked with Touche for media.