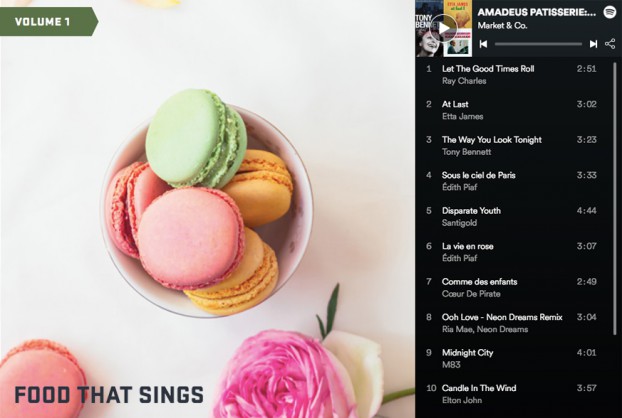 Upper Canada Mall recently launched an artisanal food market dubbed Market & Co., and it's keeping shoppers engaged while they nosh by streaming music to extend the culinary experience – using AI to ensure the music picks stays fresh.
Agency partner Union and Spotify created a series of 20 playlists inspired by each vendor and eatery located within Market & Co., which are accessed by using the Spotify app to scan a Spotify Code affixed to products (Spotify Codes are a QR code-like pattern the streaming music platform created last year that now appear on things like album art within the app to allow for faster sharing of music recommendations and playlists between friends).
Products from Pier 87 seafood market features songs like "Swim Good" by Frank Ocean, "Hungry Heart" by Bruce Springsteen and "Waterfalls" by TLC. Scanning a frozen treat from Sweet Jesus will bring up "Cold as Ice" by Foreigner and "Milkshake" by Kelis. The playlist for Midici Neapolitan Pizza features "Spice Up Your Life" by The Spice Girls and "Blow at High Dough" by The Tragically Hip.
The playlists can also be accessed on Market & Co.'s website.
While the initial playlists were hand-curated to reflect different genres and time periods, Union's innovation team developed an AI-powered algorithm that will be making playlist "sequels" to keep shoppers coming back to check for new playlists and to keep that offering from getting stale. The algorithm will be taking keywords about each merchant's product and ingredients and cross-reference them with song titles and lyrics to decide which songs to curate.
Officially opened last month, Market & Co. is a 40,000 sq. ft. space within Upper Canada Mall in Newmarket, Ont., that houses 20 upscale food merchants and eateries. Billed by the mall as the first food market located within a Canadian premium shopping centre, merchants include (in addition to the ones mentioned above) Amadeus Patisserie, Humble Roots Organic, Ma's Best Quality Soups, Our Farm Organic Bakery, Seed to Sausage Meatery, Starbucks, The Wine Shop and Tasting Room and Village Juicery. It also contains Kitchen & Co., a demonstration kitchen that will play host to events and cooking classes.
The idea behind the "Food That Sings" project is not just to enhance the retail experience at Market & Co., but extend its brand and those of its merchants outside of the mall with music that invokes their products and the fresh ingredients they use.
"[The brand identity] is all about simple and fresh fare and ingredients," says Lisa Cosentini, marketing director for Upper Canada Mall. "This was part of a launch campaign and a much bigger story. The focus was obviously on overall brand experience, but we wanted to make sure we were hitting all the touchpoints. The overall vibe and music and cooking all goes hand in hand, so we really wanted to tap into that."
"Food That Sings" is part of a broader integrated campaign and branding project for the Market & Co. launch led by Union. It also includes creative in print and outdoor, social and digital content, and featured a seven-week tour of a Market & Co. truck to generate buzz for Market & Co. prior to its opening. The truck – which carried a scaled-down version of Market & Co.'s selection – toured high-traffic areas in Newmarket where Upper Canada Mall is located, as well as in nearby areas, including Richmond Hill, Ont., and Barrie, Ont.