Using VR to make an extreme sport within reach
CMH wants to bring "heli-skiing" to a wider market by immersing viewers in a trip to the top of a mountain.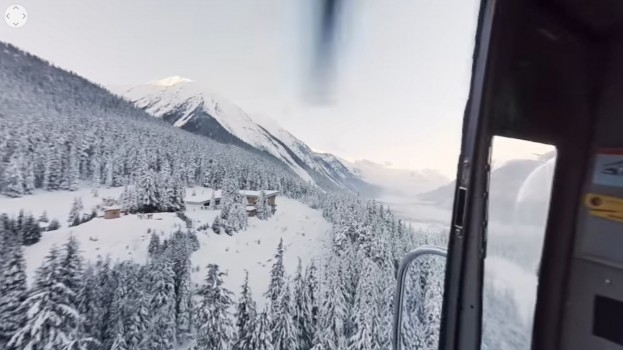 If the slaloms and hills at your regular skiing spot have gotten a bit mundane, maybe this is the winter you try "heli-skiing," where a helicopter takes you to the top of a remote mountain that can't be reached by a regular lift and meets you when you manage to find your way to the bottom.

If that feels a bit too extreme for you, CMH Heli-Skiing & Summer Adventures has a VR experience that it hopes might change your mind.

Filmed at CMH's Cariboos lodge in British Columbia, "Lines of Sight" follows "heli-skiers" from the start of their excursions to the end – from gathering their equipment, to flying up in a helicopter to gliding down the side of whatever remote part of the mountain they have been dropped on. And then, they do it again.

CMH worked with Whistler, B.C.-based production house Sherpas Cinema and Google's internal AR and VR team to develop the experience.

In addition to the online version, the experience will be going on tour to reach more "conventional" skiers and snowboarders to show them what heli-skiing can offer. During the next two winter seasons, the experience will be housed within a helicopter at the base of six mountain destinations across Canada and the U.S. All of those resorts are part of Ikon Pass, a season pass for skier and snowboarders that covers dozens of skiing and snowboarding resorts across North America.

VR has been touted as an opportunity for those working in travel and tourism to inspire consumers with destinations they might not otherwise have pictured themselves in, and CMH is taking that idea and applying it to an exotic activity, instead of a location (although the sights from the mountain top are certainly part of the sport's appeal).

Between the far-flung locations, dropping out of a helicopter and the skill required to do to it, "heli-skiing" could be seen as a very niche "extreme" sport, but the goal with the experience is to show that the excursions are achievable for the average person. Julia LoVecchio, director of marketing at CMH, says the VR technology used to create the experience will also allow the company to bring heli-skiing to a wider market.