Crave rebrands to reflect move into premium content
Bell Media's SVOD service gets a new look, supported with a mass campaign, to signal its evolution into a premium offering.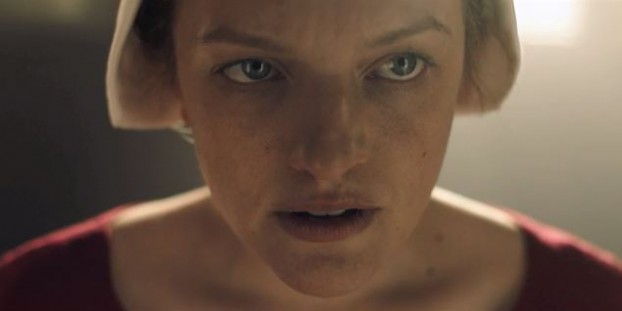 Crave has rebranded and launched a new mass campaign to help inform viewers of its move into the premium content space.
On Nov. 1, Bell Media updated its Crave offering (formerly known as CraveTV) through the creation of a two-tiered subscription system, ending its TMN brand and opening online-only access to premium programming. To reflect those changes, Crave has rebranded with an updated logo, new brand colours and campaign assets rolling out across broadcast, radio, out-of-home, digital and social.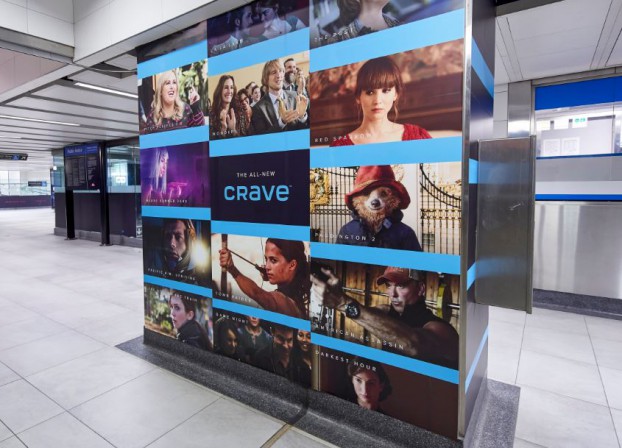 The original CraveTV was positioned as a must-have for TV lovers, says Jon Arklay, SVP of brand, creative and marketing at Bell Media Agency. The offering originally launched as a value brand in the space and was anchored with a lot of second-run content, he says. It then evolved to include more first-run shows, including content from Showtime.
Now that Crave includes TV, movies, original content and shows from premium networks like HBO and Showtime, the brand is "positioned as the entertainment destination for premium content in Canada," he says. "The addition of movies and HBO to the mix really was the content anchoring for that transition to a premium brand." The new premiumized offering is reflected in the logo and colour scheme (blue over the former orange), intended to convey that Crave is "sophisticated, but still fun and approachable."
The campaign includes print, online and TV content, with creative inspired by the theme of content "mashups." Each 30-second spot – there are around seven in market now, with others in development – playfully cast vastly different characters in spots organized around a certain theme. For example, "Crave Moms" includes the other woman from The Affair, the wonder woman in Wonder Woman, and the women in red from The HandMaid's Tale. Others focus on the relationships, make-ups and hook-ups, well-known to Crave viewers.
"Some unlikely bedfellows sharing a space in the spot… in a bit of an unexpected way, that's the vehicle that were using to get our message across," says Arklay. The creative intentionally places an array of characters from premium movies and shows, emphasizing the brand's evolution.
In addition to 10-, 15- and 30-second promos airing nationally on TV, Bell Media is running billboards across major markets (Toronto, Vancouver, Halifax and Calgary). Beginning Nov. 23, the ads will be featured alongside movie trailers in more than 50 theatres across the country, including Toronto, Vancouver, Calgary and Edmonton. Moreover, the media company's Toronto location at 299 Queen Street West has been covered in building wrap and a hand-painted mural overlooking the corner of Queen and John streets.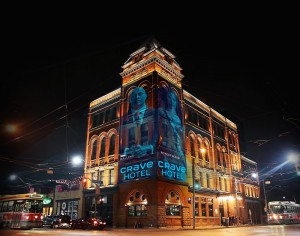 On Nov. 19, Crave assets took over Toronto's Union Station in a take-over push including posters, murals, screens, wrapped stairways and pillars, and video screens showcasing the new creative and content. The company has made a large transit shelter play, taking over more than 900 bus shelters in Toronto, Vancouver, Winnipeg and Victoria.

These efforts follow an exclusive, one-night experiential activation called Crave Hotel on Nov. 15. For the evening, Crave took over one floor of Toronto's Broadview Hotel, allowing guests to experience original programming, with rooms and spaces themed after popular shows and movies, including Westworld, Game of Thrones, Letterkenny and The Shape of Water.

Seeing as Crave is available to consumers direct or through a traditional cable subscription, Bell Media developed its media strategy to reach both consumer segments, says Arklay.

The campaign and branding were developed in-house by Bell Media Agency, with some involvement from BSTREET Communications and Leo Burnett.