Grocery shoppers are hot on self-checkout, cold on buying online
A survey shows what Canadian consumers are looking for from their stores.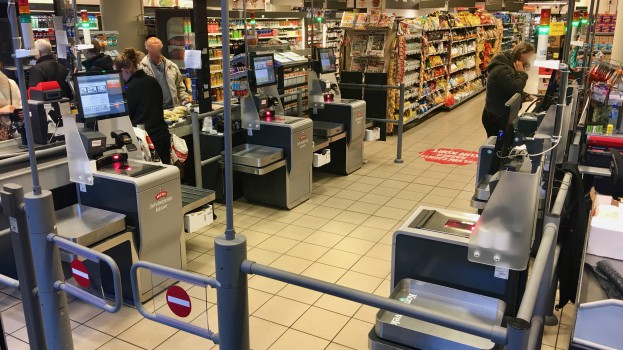 Canadian consumers prioritize quality, price and customer service when they shop for groceries, and don't think buying their food online is something they'll try any time soon, according to a new report.

Compiled by researchers at Dalhousie University, the Grocery Experience National Survey Report is based on a survey of more than 1,000 Canadians conducted over three days last month.

Only 14.8% of respondents in the survey already used a meal kit or think they might eventually. Nearly half said they have not bought groceries online and weren't planning to, with 56.2% saying the same about "click-and-collect" services. On the flip side, 54.7% believe self-checkout lanes are a good idea, with 66% saying they utilize them at least occasionally.

Those consumer sentiments seem to contradict the investments large grocery chains have made into things like click-and-collect and delivery of online grocery purchases. Loblaw first launched grocery delivery through a partnership with Instacart in Toronto. Loblaw has continued to expand the service since then, and the company said it is available to roughly half of Canadian households when it brought the option to its Real Canadian Superstore banner in Winnipeg last month. Walmart recently bought Cornershop, a grocery delivery app operating in Mexico and Chile, and plans to launch in the Canadian market early next year. However, Walmart does appear to be aware that shoppers like self-checkout: earlier this month, the company announced that it would be adding more self-checkout lanes to its Canadian stores, while scaling back a "scan-and-go" program – which allowed customers to scan products as they shopped – from 20 locations to three.

What consumers do seem to prioritize, according to this survey, is fairly traditional: quality, price and convenience. The three biggest drivers of food purchases were the quality of the food, its price and its freshness. Factors important in deciding store choice were location (with 86% saying they either strongly or somewhat agree) and having everything a consumer needs in one place (83.1% saying they either strongly or somewhat agree).

Canadians seem to be lukewarm on the importance of store design, with 42% saying they "somewhat agree" that the design of the store and their experience there is important, with 33.6% saying they were neutral (only 14.6% said they strongly agreed). What is important to them is the ability to get help as they shop: 41.8% strongly agreed and 39.9% somewhat agreed that it was important to be able to ask for assistance in-store.

Most Canadians shop at multiple stores for their groceries, with 42.3% regularly visiting two stores and 43.9% visiting three or more. Visits happen once a week or more for 76% of respondents, with the average Canadian doing an average of 5.5 visits every month. However, that is a trend less prominent with younger Canadians, who tend to visit grocery stores less frequently. The average Canadian spends 32 minutes in the store per visit, though women tend to spend more time shopping than men.

When it comes to food preferences, nearly 20% of respondents were either vegetarian, vegan or stuck to some other diet that limited their meat intake. And 80% of respondents reported having some kind of allergy or food intolerance that impacted what they could eat. Roughly 70% of survey respondents also say they like spicy foods, with 59% eating it once a week or more.