Sleep Country to acquire Endy
The mattress retailer buys one of its direct-to-consumer competitors to bolster its online offering.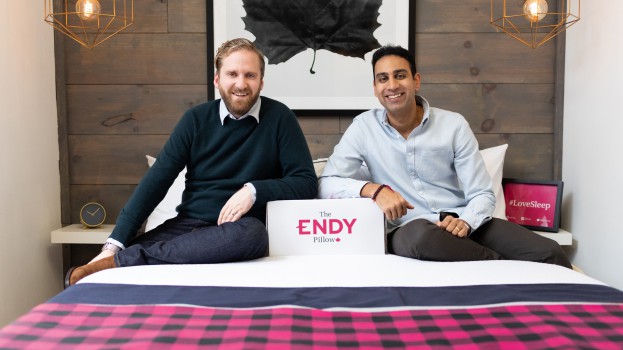 Endy's founders Mike Gettis (left) and Rajen Ruparell.

Mattress retailer Sleep Country Canada has agreed to acquire direct-to-consumer startup Endy.

The deal is valued at $88.7 million, comprised of $63.7 million in cash at closing and up to $25 million to be paid in early 2021 based on the achievement of certain growth and profitability targets.

Endy was launched in 2015 as a Canadian player in the burgeoning online, mattress-in-a-box category that was kickstarted by U.S. companies like Casper and Leesa. It has also expanded its product selection to include things like pillows, sheets and mattress protectors. Sleep Country, for its part, has attempted to compete in the space by launching its own mattress-in-a-box brand, called Bloom, last year. It expanded the selection to four different mattresses in June.

The Sleep Country and Endy businesses will be run separately. Company founders Mike Gettis and Rajen Ruparell will remain with the company in their respective CEO and chairman roles. Oversight of the Endy business will be provided by a board comprised of the senior management at Sleep Country and Endy, with Ruparell as the chair.

While the companies will remain separate, Ruparell said in a press release that the acquisition will help Endy "continue to grow rapidly and exceed customer expectations in a rapidly evolving retail climate."

David Friesema, CEO of Sleep Country, said in a separate release that the acquisition is in line with the company's strategic growth objectives, helping to accelerate its online business and addressing changing consumer shopping habits. He added that the combination of online offerings from both Sleep Country and Endy complement the retailer's network of 264 stores across Canada.

A spokesperson for Endy said there are currently no plans to make the brand's products available through Sleep Country's stores or online channels, or vice versa.

"Both companies are focused on growing separately while exploring potential synergies to come, though those conversations have not happened and will not happen for a bit," the spokesperson said.

Sleep Country also plans to continue selling and growing its Bloom brand.

Another reason cited for keeping the companies separate is so they are able to maintain their respective momentum. Endy has consistently grown in the three years since it launched, and landed on the top spot in this year's list of fastest-growing Canadian startups compiled by Maclean's and Canadian Business. Sleep Country's Q3 results, released earlier this month, showed a same-store sales growth for the  21st consecutive quarter.