H&M Canada taps Chinese social media
Fashion retailer announces partnership with app giant Wechat with mall events.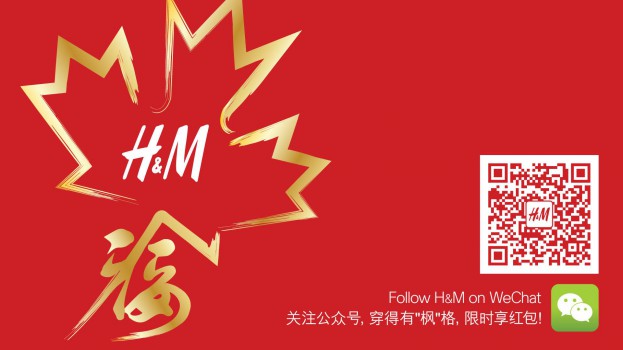 It's difficult to appreciate just how ubiquitous and entrenched WeChat is in China. One of the world's largest standalone apps, it has a whopping one billion monthly active users and lets consumers buy movie tickets, book medical appointments, pay for groceries, order taxis – in short, pretty much everything. In summer 2018, WeChat, called Weixin in China, even rolled out trial divorce functionality in a few cities.
Now, users of the popular platform can follow H&M Canada.
H&M Canada, the Canadian arm of the Swedish multinational retailer, launched the WeChat partnership March 28 at four H&M shopping mall locations, three in the Greater Toronto Area and one in Richmond, BC, regions with large Chinese-Canadian populations. The event featured DJs as well as English/Mandarin bilingual Instagram influencers with followings in the combined hundreds of thousands.
Frédéric Tavoukdjian, President H&M Canada, tells strategy that the brand wanted to extend H&M's presence on the popular and growing platform, which has more than 1 million active users in Canada. He says H&M was "very happy with the results" with respect to follower numbers, but would not get into the specifics and says the WeChat move was to adapt to "rapid transformations" occurring in the retail fashion industry.
H&M's global teams are currently creating app content that the brand can adapt to make locally relevant for Canada – including local initiatives with influencers, special offers, and other customer events.
Tavoukdjian calls H&M "pioneers in WeChat Canada," as it is the first fast fashion retailer to open an official account, and the only retailer with bilingual English Mandarin content.
H&M Canada worked with AV Communications to handle the launch, a multicultural advertising agency in Toronto that has worked with BMW Canada and Elizabeth Arden to gain better access to the Chinese Canadian market (For example, AV created "The Beauty Channel," an unbranded microsite that became the new sandbox for beauty, skincare and lifestyle content for Chinese Canadian women).
The latest Canadian government data shows that there are more than 1.2 million people in the country who report speaking a Chinese language as a mother tongue. And according to crown corporation, Destination Canada, in 2018, 737,000 Chinese tourists visited Canada, up 6% over 2017.
With growing numbers Tavoukdjian sees the platform as one of the most important social media channels in the country and he cites inclusiveness as a driver for communicating with customers on their preferred platforms. When it comes to the WeChat presence, according to Tavoukdjian, H&M's "competitors are going to be learning from us."
As reported in strategy, H&M was a little bit late when it launched its e-commerce site in 2016. And Tavoukdjian says that while a user cannot pay for H&M goods yet using a WeChat account in Canada, there is a "potential commerce opportunity the retailer is looking at" (in late 2018, 7-Eleven claimed it was the "first convenience retailer chain in Canada" to accept WeChat Pay as well as Alipay, another Chinese third-party mobile and online payment platform).
"This is still a very new project for us, but we feel there is so much potential," Tavoukdjian says. He adds that the brand is continuing to adapt its approach to maximizing customer engagement.
The fashion industry is part of a broader WeChat-inspired shakeup. As reported in February's Eater NY, restaurateurs in Manhattan are targeting a growing Mandarin-speaking population through the app, whose users publish Chinese-language restaurant recommendations in New York and play a critical role in the Big Apple's Chinese food ecosystem. There's a similar phenomenon happening in Toronto's food scene, where a handful of WeChat influencers are drawing attention to the latest dining spots in downtown Toronto, Markham, and Scarborough.