Muskoka asks urbanites to disconnect
In a campaign for its Detour IPA, the craft brewer moves away from talking about processes and ingredients.
Muskoka Brewery is pairing its beer with not having phone service, rather than food, in an effort to tie its Detour IPA to cottage country and urge urban commuters to escape the rat race.
"What's unique about the Muskoka region is that people are not on their phones as often as everyone in the city," says Sarah Au, Muskoka Brewery's director of marketing. "People connect Muskoka to the cottage life, and to disconnecting."
She tells strategy the craft brewery wanted to continue to emphasize the off-the-beaten path experience and translate a Muskoka mindset to an urban commuter (included in the campaign is OOH creative in TTC stations and streetcar wraps).
Previous Muskoka campaigns have focused on promoting things like the freshness of the brewery's beer. With this new campaign, however, Au says the brand is emphasizing the "digital detox" because the average consumer is becoming more aware of craft brewing methods, ingredients and ethos, making it less of a differentiating factor from other breweries. Au says that Detour IPA was chosen as the focus of the campaign this time instead of its craft lager (which it made the focus last year) because it is a bit of a "gateway beer" that can attract fans of more mainstream products to an accessible craft IPA.
Au says many elements of the integrated campaign are based around the tiny, bearded figure from the stylized map on the packaging for Detour (designed by 123W). In some of the creative material, he is shown discarding his phone over his shoulder to emphasize the social disconnect.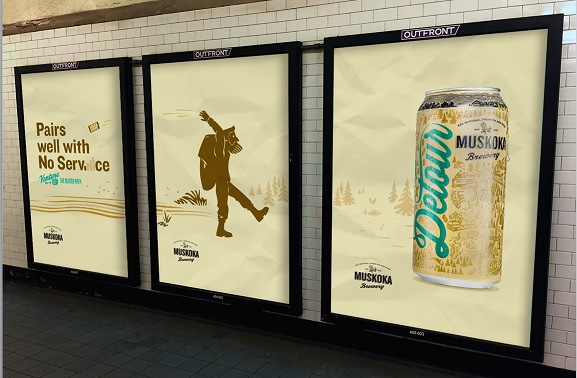 Muskoka is also offering codes across its four and 12- packs to win a "glamping" adventure for six. The on-pack promotion, Au says, is to generate loyalty (and revenue) from its packaged products, rather than single cans. Muskoka is also running on-premises promotions, with glamping scratch-and-win cards available in select bars and restaurants, helping the brand extend its reach beyond the LCBO and grocery stores and include people drinking pints on patios this summer. The glamping adventure (which includes chef-cooked beer-centred meals as well as kayaking) is meant to appeal to a demographic that is gender-inclusive rather than the typical male craft beer enthusiast. It will be advertised on TV through a partnership with Corus.
An associated influencer campaign includes a contest of "24 for a 24," where influencers will be given a case of beer in exchange for a 24-hour dark period, after which they will share what they did during their social time out.
The campaign is by Blackjet, with True Media handling media components.