What work made the 2022 AToMiC Awards shortlist?
By this time next week, the winners will have been revealed during a virtual show featuring special guests.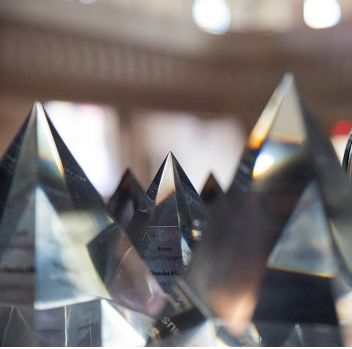 Start chilling the bubbly: in exactly one week, some of the agencies in the AToMiC Awards shortlist announced today will be a celebrating a win (or two).
The list below represents the 47 campaigns that made it to the final live judging round, where many of them went on to medal a Gold, Silver, Bronze, and/or a coveted Grand Prix.
The shortlisted work was reviewed by a panel of advertising, marketing and media industry execs, led by Performance Art's Ian MacKenzie and Kraft Heinz's Nina Patel.
They included Paula Amos at Aboriginal Tourism Association of BC; Bunmi Adeoye at Proof; Alyssa Buetikofer at McDonald's; Jeffrey Da Silva at Sid Lee; Glen D'Souza at Forsman & Bodenfors; Sherry Feng at Canopy Growth; Ishan Ghosh at Barrett and Welsh; Robert Jenkyn at Media Experts; Allison Litzinger at The Bay; Amir Sahba at Thinkingbox; Carol Shmygol at ATB; and Stephanie Yung at Zulu Alpha Kilo.
To find out who won what, you can watch the virtual awards show (which will feature some special guests) next week Tuesday at 12:30 p.m. EST here.
2022 AToMiC Awards shortlist
| | | |
| --- | --- | --- |
| #BlackedOutHistory | OBHS (Ontario Black History Society) | DDB |
| #UnsilenceTheConversation | Sunnybrook Hospital | No Fixed Address |
| ActToo | MeToo | FCB/Six |
| Artificially Intelligent Creative | AutoTrader | Jungle Media |
| Ballsy Ribbon | BC Cancer Foundation | Rethink |
| Bruised Fruit | Interval House | DonerNorth |
| UnderPlayed | AB InBEV – Bud Light | Anomaly |
| Colours of Pride | Fondation Émergence | Rethink |
| Come & Glow | Consonant Skin+Care | Zulu Alpha Kilo |
| Cristiano Ronaldo Water Bottle | IKEA | Rethink |
| Draw Ketchup | Kraft Heinz | Rethink |
| Everyday Voice | Ricola | Fuse Create |
| Fire Songs | Girl Guides of Canada | Zulu Alpha Kilo |
| Green Screen Shirt | Harry Rosen | Zulu Alpha Kilo |
| Happy Birthday Twitter | Canadian Centre for Child Protection | No Fixed Address |
| Heinz Bottleneck | Kraft Heinz | Rethink |
| Heinz Hot Dog Pact | Kraft Heinz | Rethink |
| Here to Win | World Wheelchair Rugby | Cossette |
| Irreversible | WWF | Performance Art |
| Last Dish | Toronto Restaurant Workers Relief Fund (TRWRF) | lg2 |
| Mindsets | Canadian Down Syndrome Society | FCB |
| Molson Hockey Night In Canada, Multilingual Edition | Molson Canadian | Rethink |
| Naming Rights | Little Caesars | No Fixed Address |
| Nature Friendly Token | David Suzuki Foundation | Camp Jefferson |
| NFPs | Pizza Hut | Ogilvy |
| Nothing to Hide | Flowr | Zerotrillion |
| Our Little World | IKEA | Rethink |
| Receats | Good Fortune | Bensimon Byrne / Narrative / OneMethod |
| Repurposeful Instructions | IKEA | Rethink |
| Say What We Can't | Flowr | Zerotrillion |
| Shaw Tree Spree | Shaw | Rethink |
| SickKids Lottery | SickKids Foundation | Cossette |
| SickKids VS: Monument to the Brave | SickKids Foundation | Citizen Relations |
| SingleCut Notes IPA | SingleCut Beersmiths | Zulu Alpha Kilo |
| Tablecloth | Sobeys | FCB |
| The Carbon-Neutral Net | Volkswagen | TYPE1 / Taxi / Wunderman Thompson |
| The Lost Tapes of the 27 Club | Over The Bridge | Rethink |
| The ScrapsBook | IKEA | Rethink |
| The Stanley Cup Batch | Molson Canadian | Rethink |
| Tough Turban | Pfaff Harley-Davidson | Zulu Alpha Kilo |
| The Reunion | Uber Eats | Mosaic |
| Wait for Heinz | Kraft Heinz | Rethink |
| Wall for Women | YWCA Metro Vancouver | Rethink |
| Day After Day | White Ribbon | Bensimon Byrne / Narrative / OneMethod |
| World's Oldest e-Sports Team | HomeEquity Bank / Royal Canadian Legion | Zulu Alpha Kilo |
| Year of Subaru | Subaru | Zulu Alpha Kilo |
| Your Cheers Their Ears | Kraft Peanut Butter | Rethink |