Taxi adds 11 across departments
The hires include a new national design lead and senior roles in production and strategy.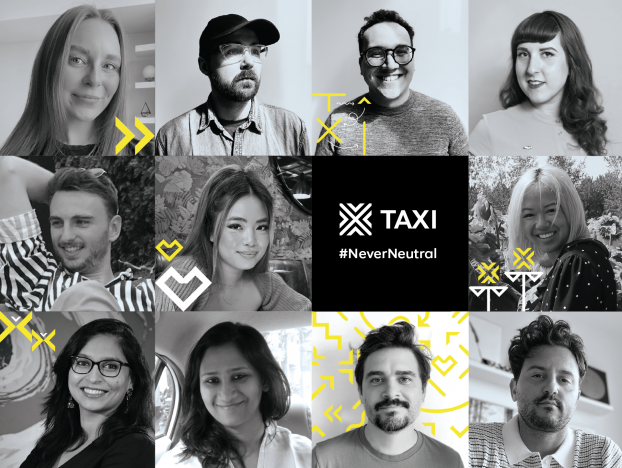 Taxi's new hires include, left to right, top to bottom: Heather Hyland, Dylan Thompson, Carlos Veras, Sam Bullis, Liam Norris, Jennifer Yoon, Catherine Forand, Manasie Tiwari, Aparna Moody, Dylan Verwey and John Ricciardella.
Taxi is staffing up, including senior roles in its design, production and strategy, as well more new faces in creative and client service.
"We recognized an opportunity to invest in new, emerging talent and to secure industry leaders with proven track records," says Emma Toth, president of Taxi Canada. "Our clients have diverse needs and they know Taxi is a diverse agency."
More than 60% of the new hires are women, Toth highlights, while more than 30% come from diverse backgrounds. "Diversity is a key strategic pillar in Taxi's growth plan as it keeps evolving," she says.
The first of the new hires is Sam Bullis, who joins the agency to lead its national design practice. Bullis has more than a decade of experience in design roles with Le Parc, Projektor Brand Image and Institute Without Boundaries, among others. She is joined by Jennifer Yoon, who will work as her second in command. Yoon most recently worked at Forsman & Bodenfors.
The agency has also hired a pair of creative duos, adding ACD team John Ricciardella and Dylan Verwey, as well as art director Carlos Veras and copywriter Dylan Thompson. Ricciardella and Verwey had been working as a pair at Anomaly (and Juniper Park\TBWA before that), while Thompson and Veras previously worked together at DonerNorth.
Liam Norris, meanwhile, has been hired as a senior strategist. Norris is relocating from New Zealand where he worked at both Colenso BBDO and DDB New Zealand on their social practices. He brings deep digital and social expertise to the new role.
Heather Hyland, meanwhile, has moved from Zulu Alpha Kilo to take the role of senior broadcast producer at Taxi, reporting to Tim Pelz, who has been newly promoted into the role of national head of production.
On the business leadership side, Aparna Moody has joined as an account director, with Manasie Tiwari and Catherine Forand joining as account supervisors. They will work on clients including Canada Life, Colgate, GSK, Circle K and Fido.
In the spring, Taxi hired Graham Lang from Juniper Park\TBWA as its new CCO, which came following a number of internal promotions to begin the year. New business for the agency this year includes OLG and Koho.