Chicken Farmers of Canada hones in on versatility
The organization's new campaign tries to get consumers to go beyond their tried-and-true recipes.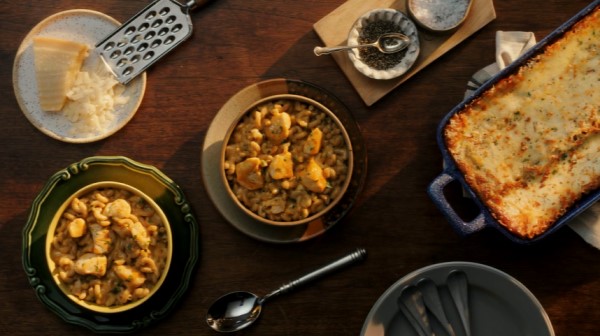 The Chicken Farmers of Canada is highlighting the versatility of the protein in its latest creative.
The "Different Day, Different Dish" campaign, created by Toronto agency Bob's Your Uncle, showcases a myriad of options, playing on seasonal habits like beer-can chicken on the BBQ and oven roasts in the winter, as well as introducing a new tagline for the organization.
The campaign is anchored by a national TV campaign with five commercials in English and French showcasing different dishes, with six-second cutdowns created for social and digital media, with a call to action to visit the chicken.ca microsite.
The campaign was based on the insight that while consumers have go-to chicken recipes, they do not take advantage of the broad range of options chicken provides.
Bob Froese, founder and chief creative officer, Bob's Your Uncle, which won the organization's business late last year, tells strategy that despite the universal love of chicken, people often rely on the same dishes, over and over, often with specific dishes tied to a day, like Taco Tuesday. Hence, the recent campaign positioning that Canadians can have chicken every day, exploiting the bird's versatility.
Spots are timed around seasonal occasions, in five flights to coincide with changing weather.
According to Froese, some of the organization's earlier messaging was around the benefits of Canadian chicken and its reputation. The current campaign ties back to that somewhat, especially with the anthem in the spots, but goes beyond to showcase chicken in a variety of iterations.
Froese says that while people are interested in plant-based food, chicken remains an important, popular choice and that the vast majority of consumers don't want to give it up, particularly because of its health benefits.
According to the latest Agriculture Canada figures, per capita consumption of poultry by Canadian consumers was 35.8 kilograms in 2021, up from 33.4 kilograms in 2017, and it is projected to increase to 37.0 kilograms by 2026.
Chicken Farmers of Canada represents over 2,800 chicken farmers in every province nationally.
True Media is the agency behind the buy, and Froese says campaign spend is in line with past efforts.