Plenty of Fish tackles a hard topic with its refreshed look
The dating service has launched its brand refresh with a campaign full of "Dick pics." And yes, that capital "D" is important.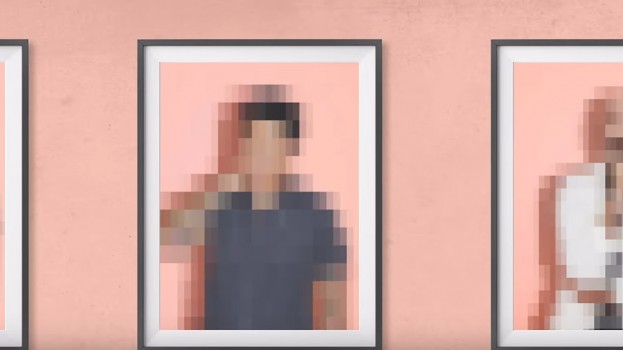 Dating service Plenty of Fish is trying to put a friendly foot forward by discouraging unsolicited nudes in its latest creative campaign.
The campaign, developed by creative agency 123w, is called "The Gallery of Dick Pics." But rather than featuring a collection of not-safe-for-work images of male genitalia, the dating service is taking the opportunity to showcase a variety of men with variations of the name Richard in a digital gallery. All of the Richards are, as the ad says, nice and wholesome guys who are welcomed to the platform, while unsolicited nudes (including so-called "dick pics") are not.
The campaign supports a total brand refresh for Plenty of Fish, which features a new logo, updated app and new in-app features likes games that are meant to facilitate connections between users. The rebrand was led by New York creative agency Mrs&Mr.
Though Plenty of Fish, founded in Vancouver in 2003, is more seasoned than other dating services, its popularity has waned against competitors like Tinder, Hinge and OKCupid (all of which are, like Plenty of Fish, owned by Match Group), as well as Bumble. Plenty of Fish's new brand not only comes with a more modern look, but an identity based around being more friendly and giving users multiple ways to meet with potential partners to differentiate it from other options. "The Gallery of Dick Pics" is an effort to show would-be users the kind of environment Plenty of Fish is championing.
"At Plenty of Fish, we want a dating community that is respected and respectful," said Christina Kozloff, chief marketing officer for Plenty of Fish. "Sending unsolicited nudes is offensive and categorically wrong. While we ban photo sharing on our app and encourage members to report anyone who violates our policies off-app, we want to address this issue directly. As a result, we are launching this campaign to promote healthier ways for daters to interact so that unwanted photos are never sent in the first place."
The message is a particularly powerful one for the dating service to advance, because unsolicited nudes are a common hazard in the online dating world: 56% of singles say they have received an unsolicited nude despite viewing them as disrespectful.
At the heart of the campaign is its microsite, which features images of a collection of men under various, evocative labels. Well coiffed men are showcased in the "Hairy Dicks" section, for example, while men taller than six feet are featured in the "Big Dicks" section. The microsite is supported by connective TV, social and digital advertising, while influencers are promoting the gallery by hosting discussions about how online dating can be improved.