Media
Up to the Minute: Zulu Alpha Kilo names four group CDs
Plus, Camden continues to grow and 1Milk2Sugars renews with Nivea and Pfizer brands.
Up to the Minute: Denise Rossetto named NABS chair
Plus, Raptors draw record NBA viewership and BPR will lead public relations ahead of Eataly Toronto opening.
Up to the Minute: Agnostic appoints new president
Plus, Cohn & Wolfe names new general manager and three Canadian shops win at OBIE Awards.
Up to the Minute: Stephen Thomas names director of digital strategy
Plus, U92 and Alice & Smith get a new GM and Mint announces several new clients.
Up to the Minute: Three staff join Bleublancrouge
Plus, Fuse Live continues to grow and Montreal shop CanspanBMG wins 'tween' lifestyle brand Iscream.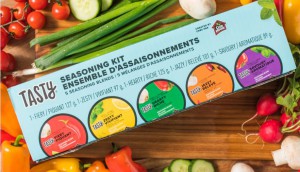 McCormick partners with Tasty on millennial-friendly spice blends
The brand has launched the line based on insights from BuzzFeed's food vertical.
Up to the Minute: Camden gets a new partner
Plus, Le French Bureau launches in Quebec and Ottawa's InMotion adds four to its ranks.
Up to the Minute: NFA beefs up strategy team
Plus, ICA expands training offering and National makes senior appointments in Atlantic Canada.
Up to the Minute: The Mark continues to grow
Plus, V7 launches mar tech consultancy and Shine Influencers opens shop in Montreal.
Up to the Minute: Conversion Digital makes three senior appointments
Plus, BLVD names director of operations and DentsuBos expands in Montreal.
Up to the Minute: M5 appoints new VPs
Plus, Tank's Montreal office continues to grow and The Clio Awards announces Canadian jurors for its 60th annual awards.