Media
Up to the Minute: Ireland+Hall reopens as Hall+Co.
Plus, Bell's George Cope set to retire next year and Noise Digital wins BC Hydro.
Up to the Minute: Cult opens U.S. hub in Las Vegas
Plus, Havas named media AOR for Metro, Food Basics in Ontario and Craft PR wins the Royal Agricultural Winter Fair.
Up to the Minute: Zulu Alpha Kilo names four group CDs
Plus, Camden continues to grow and 1Milk2Sugars renews with Nivea and Pfizer brands.
Up to the Minute: Denise Rossetto named NABS chair
Plus, Raptors draw record NBA viewership and BPR will lead public relations ahead of Eataly Toronto opening.
Up to the Minute: Agnostic appoints new president
Plus, Cohn & Wolfe names new general manager and three Canadian shops win at OBIE Awards.
Up to the Minute: Stephen Thomas names director of digital strategy
Plus, U92 and Alice & Smith get a new GM and Mint announces several new clients.
Up to the Minute: Three staff join Bleublancrouge
Plus, Fuse Live continues to grow and Montreal shop CanspanBMG wins 'tween' lifestyle brand Iscream.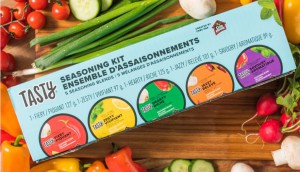 McCormick partners with Tasty on millennial-friendly spice blends
The brand has launched the line based on insights from BuzzFeed's food vertical.
Up to the Minute: Camden gets a new partner
Plus, Le French Bureau launches in Quebec and Ottawa's InMotion adds four to its ranks.
Up to the Minute: NFA beefs up strategy team
Plus, ICA expands training offering and National makes senior appointments in Atlantic Canada.
Up to the Minute: The Mark continues to grow
Plus, V7 launches mar tech consultancy and Shine Influencers opens shop in Montreal.