Online Direct piggy-backs on popular sites
Why build an audience when someone's already gone to the trouble for you? That seems to be the thinking behind Online Direct, a Toronto company that identifies small to medium-sized vertical-interest Web sites, gives them a leg up in the interactive...
Why build an audience when someone's already gone to the trouble for you?
That seems to be the thinking behind Online Direct, a Toronto company that identifies small to medium-sized vertical-interest Web sites, gives them a leg up in the interactive department, and then promotes them to advertisers willing to pay for the chance to get closer to a loyal, targeted audience.
'We don't go cold turkey and say, 'This is a nice topic, let's create a Web site and hope people come," says David Cravit, sales and marketing director for Online Direct. 'We want to piggy-back on an already established audience.'
It's a model that Cravit is confident will appeal to advertisers who are fed up with paying for general interest banner ads that typically generate clickthrough rates of less than one per cent.
To that end, Online Direct recently announced the first two of its 'private brand' Internet communities with the launch of WellnessWeb – a Philadelphia-based site that has been offering health information over the Net since 1995 – and the Ben Wicks children's literacy site.
More than a dozen other sites are in the works, says Cravit, six of which are in Canada, including that of a major Canadian retail chain, a large financial services company and a major paint manufacturer sponsoring a home décor and improvement community.
As the subject matter of the first two sites suggest, they are the embodiment of 'vertically oriented' Web vehicles, with features pertaining to very specific audiences. In many respects, they are typical of the small to medium-sized, information-based Web sites on the Net that draw a considerable amount of traffic but are without the wherewithal to generate their own revenues. Online Direct converts those sites into fully interactive and transactional communities by attracting advertisers craving the opportunity to target their Web advertising directly toward a specific audience.
At no cost to the partner, Online Direct supplies the site with a salesforce, as well as chat, messaging, forum, virtual greeting, home-page creator and cybermall tools. Proprietary tools include an online catalogue for vendors, polling and surveying software, and database tracking software. Revenue is generated through several different streams, including banner advertising, opt-in e-mail, couponing, promotions, sponsorships and e-commerce/shopping. A portion of the revenue generated is shared with the partner site.
The key to the no-fee model, according to Cravit, is that the partner site has an existing audience that is valuable to a certain population of advertisers.
As an example, WellnessWeb currently records about 200,000 unique visitors per month. Earlier this year, in a bid to become self-supporting, Lenore Howe, executive editor with the organization, struck up discussions with Online Direct and together the duo launched a bigger, better site in early November.
'This was a perfect match up between an old, large Web site that didn't have a clue how to do all this, and a young, new company with all the software and ideas,' she says.
While it's a little early for specific results, she says, the community established about 12 online forums on different health topics and reached roughly 1,200 to 1,500 registered members in the first month after its metamorphosis.
'We can communicate with members in many ways – we still have the e-mail option, but now I can direct the e-mail queries back into the community to post messages on the forum boards. It creates a much more interactive atmosphere among the visitors,' says Howe.
She says she is now able to tell advertisers exactly who the typical visitor is based on simple registration forms and tracking software. The site currently touts a community centre for members to stay abreast of relevant events, a personal organizer for scheduling appointments and events, a medical directory that lists doctors, hospitals and clinics, and a wellness shop that offers health-oriented products and services. Further opportunities for national and specialty health vendors and advertisers to sponsor live chats or educational programs, or even conduct focus groups online, are in the works.
'So far we've kept things like our polling feature very general with a question about health concerns, but we can well imagine working with companies in the future to formulate survey questions about specific topics, areas, and products, for example. It's the perfect medium for that,' Howe says.
Zulu grows its team and makes a slate of promotions
A director of interactive production for Zulubot is among dozens of new faces and roles at the agency, in response to recent wins.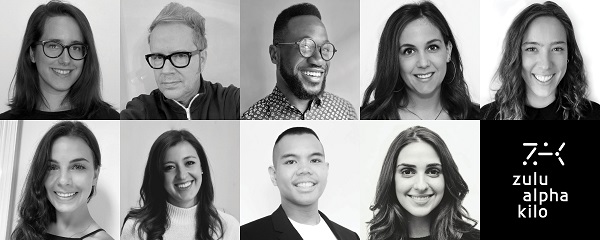 Toronto indie shop Zulu Alpha Kilo had made several new hires and promotions on the heels of new business and also organic growth from existing clients.

Zulu could not officially announce the account wins at this time.

However, it can report that Ece Inan, most recently at Toronto design and tech shop Array of Stars, has been named the agency's new director of interactive production for Zulubot, the agency's production arm. In the new role, Inan will lead AR, VR, voice and other digital innovation projects.

Also on the production side, James Graham, who has spent the last 17 years with Grip, has joined the agency as its studio director.

Zulu has also made numerous additions on the client services side, led by Michael Brathwaite, also from Grip, as account director.

It's also announced a spate of new account supervisors, including Hayley Blackmore (from G Adventures), Risa Kastelic (from BT/A), Kara Oddi (also from BT/A), Emily Anzarouth (also from Grip), Chris Rosario (from FCB/Six) and Sarah Shiff (from Rethink).

In addition to the new hires (pictured above), the agency has also announced several promotions: Alyssa Guttman moves from account director to group account director, while Nina Bhayana, Michelle Fournier, Jenn Gaidola-Sobral and Erin McManus have all been promoted to account director, and Haley Holm to account supervisor. On the strategy team, strategists Carly Miller and Spencer MacEachern have both been promoted to strategy director, while Shaunagh Farrelly, who has been with Zulu for two years in a client service role, moves into a new role as a digital strategist.

In December, the shop also announced that Stephanie Yung would be returning to the agency after a stint in New York as its head of design. Recent wins the agency has been able to announce including work as AOR for the Ottawa Senators, as well as a new arrangement with existing client Consonant Skincare, setting up an in-house team to support growth after taking an equity stake in the company.

Zulu president Mike Sutton says it's wonderful, in a new year, to welcome new faces and energy to the team and says the agency is fortunate to have had so many people across the agency step up to support its clients.

"Simply put, they were rock stars, and the promotions are very well deserved," Sutton says.