TD Canada Trust taking client focus
The newly formed TD Canada Trust has an opportunity to raise the bar on customer service in the Canadian retail banking industry if it can live up to Canada Trust's envied position as a first-class customer service provider, say financial industry...
The newly formed TD Canada Trust has an opportunity to raise the bar on customer service in the Canadian retail banking industry if it can live up to Canada Trust's envied position as a first-class customer service provider, say financial industry analysts.
But if the organization formed in the wake of the merger of the TD Bank and Canada Trust fails to stick to its marketing promises, the floodgates could be opened to competitors looking to cash in on Canadians' love-hate relationship with their banks.
Since the merger of the two financial institutions was approved by the federal government late last month, retail customers have been promised that the merged organization will maintain CT's high service standards, with the entire branch network adopting extended opening hours.
To ensure its message is consistent, TD Canada Trust has named former Canada Trust executive vice-president of marketing, Chris Armstrong, to lead the marketing charge for the whole organization. The new bank's retail operations will be headed by former CT CEO Ed Clark.
The appointments signal TD's commitment to maintaining the customer service positioning that Canada Trust has developed, says Bill Currie, senior manager in Deloitte & Touche's competitive strategy group.
'It's certainly been a formula that's proven successful for Canada Trust in getting market share,' Currie says. 'TD's been a very good retail bank, but in the last couple of years they've been very aggressive in taking costs out of their branch system.'
With the merger, however, parent company TD Financial Group is realigning into three functional 'silos', says Tom Hill, associate vice-president of national advertising for TD Canada Trust. Hill will not say what the silos are, but a TD spokesperson confirms the organization will break down into a retail banking group under TD Canada Trust, a commercial unit under TD Commercial Banking, and wealth management unit under the Corporate Investment Bank (which includes TD Securities) and TD Waterhouse.
Currie says banks typically divide their organizations along product lines, such as mortgages and insurance, but a structure based on customer segments should give TD Canada Trust an edge over its competitors. The new set-up will also allow the bank to carry forward Canada Trust's legacy of high-touch customer service, while maintaining TD's strengths on the investment side, he says.
'The commercial guys have a different customer segment. They have a different focus. Their customers have a different set of requirements, and demand different stuff,' says Currie. 'There's not a lot of value in integrating that with the retail customer base.'
Aside from service, which will be a big bonus to TD customers, Canada Trust's customers can look forward to an improved product selection, says Charles Stuart, senior vice-president with Ernst & Young.
If TD Canada Trust is successful in building a service-based retail operation, both Stuart and Currie say other banks will move in the same direction, and an industry-wide service improvement could result.
If they fail, however, other players will be vying for Canada Trust's position as an alternative to the big banks.
'When you buy a trust company, you can't assume you've bought the staff, you cannot assume you've bought the customers. You must continue to earn that,' says Professor Allan Middleton of York University's Schulich School of Business in Toronto. If the merged company doesn't keep up the Canada Trust level of service, there are other competitors to which customers will migrate, he says.
'In my mind, (TD Canada Trust) is extremely exposed and we'll go after them aggressively because of our platform of being relationship-based and customer focused,' says Brent Cuthbertson, vice-president of marketing at Richmond Savings, the B.C.-based credit union known throughout Canada for its award-winning 'Humungous Bank' ad campaign.
'We'll obviously be picking up on this as it relates to our future advertising and become a bit more aggressive in trying to coax a Canada Trust customer to give Richmond Savings a try,' Cuthbertson says.
Professor Middleton, meanwhile, gives the new customer-service marketing focus a 50-50 chance of survival. 'One of the realities of any kind of merger or acquisition,' he points out, 'is that what goes first is the culture of the acquired.'
Zulu grows its team and makes a slate of promotions
A director of interactive production for Zulubot is among dozens of new faces and roles at the agency, in response to recent wins.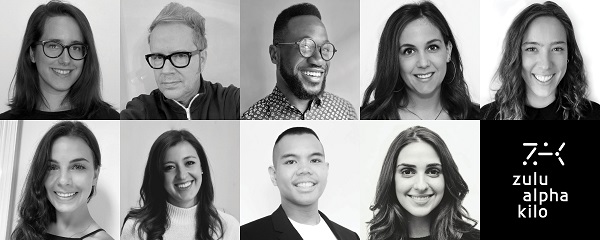 Toronto indie shop Zulu Alpha Kilo had made several new hires and promotions on the heels of new business and also organic growth from existing clients.

Zulu could not officially announce the account wins at this time.

However, it can report that Ece Inan, most recently at Toronto design and tech shop Array of Stars, has been named the agency's new director of interactive production for Zulubot, the agency's production arm. In the new role, Inan will lead AR, VR, voice and other digital innovation projects.

Also on the production side, James Graham, who has spent the last 17 years with Grip, has joined the agency as its studio director.

Zulu has also made numerous additions on the client services side, led by Michael Brathwaite, also from Grip, as account director.

It's also announced a spate of new account supervisors, including Hayley Blackmore (from G Adventures), Risa Kastelic (from BT/A), Kara Oddi (also from BT/A), Emily Anzarouth (also from Grip), Chris Rosario (from FCB/Six) and Sarah Shiff (from Rethink).

In addition to the new hires (pictured above), the agency has also announced several promotions: Alyssa Guttman moves from account director to group account director, while Nina Bhayana, Michelle Fournier, Jenn Gaidola-Sobral and Erin McManus have all been promoted to account director, and Haley Holm to account supervisor. On the strategy team, strategists Carly Miller and Spencer MacEachern have both been promoted to strategy director, while Shaunagh Farrelly, who has been with Zulu for two years in a client service role, moves into a new role as a digital strategist.

In December, the shop also announced that Stephanie Yung would be returning to the agency after a stint in New York as its head of design. Recent wins the agency has been able to announce including work as AOR for the Ottawa Senators, as well as a new arrangement with existing client Consonant Skincare, setting up an in-house team to support growth after taking an equity stake in the company.

Zulu president Mike Sutton says it's wonderful, in a new year, to welcome new faces and energy to the team and says the agency is fortunate to have had so many people across the agency step up to support its clients.

"Simply put, they were rock stars, and the promotions are very well deserved," Sutton says.