Awards shows address issue of 'pseudo-clients'
A series of television spots for Vancouver pet supply store Canine Equipment, featuring an elderly man and his homicidal dog, caused quite a stir at last year's Lotus Awards. But it wasn't the sight of splattering blood that got everyone all...
A series of television spots for Vancouver pet supply store Canine Equipment, featuring an elderly man and his homicidal dog, caused quite a stir at last year's Lotus Awards. But it wasn't the sight of splattering blood that got everyone all steamed up. It was the fact that most people had never seen the ads before.
The spots – in which the dog variously electrocutes and mutilates his master – did run in the Vancouver market, but in such low weights as to be virtually undetectable. For many in the agency community, the Canine Equipment 'bad dog' campaign was yet another example of work being done for what are pejoratively called 'pseudo-clients.'
Pseudo-clients are those with little or no marketing budget and who have little or no say in the creative direction of the campaign. The agencies that are behind such controversial and low-weight campaigns, many in the industry charge, are less interested in selling the client's product or building brand awareness than they are in qualifying to win an advertising award.
The issue has caused so much concern that members of the Lotus Award committee are planning to meet this month to discuss whether they should tighten the entry guidelines to prevent such work being submitted.
'There has been some concern expressed about whether the inclusion of this kind of work takes away from the credibility of the show,' says Lotus Award chairman Richard Fisher.
It's an issue with which organizers of awards shows across Canada are grappling. Last year's Advertising & Design Club Awards book included a denunciation of so-called pseudo-clients by Jamie Way, ADC chairman and creative director of TBWA Chiat/Day. 'It seems increasingly that only small and trivial accounts are privy to our talents and passions,' he said at the time. 'At the end of the day, does an award-winning ad for a tattoo parlour really affect Canada's reputation and presence in the world (advertising) scene?'
For many in the creative community, work for pseudo-clients is seen as a legitimate way to interest larger clients in the creative possibilities of advertising as well as to promote the creative muscle of the agency. Others, however, see it as merely a convenient way to grab awards.
'Our clients put us in a box,' says Alvin Wasserman, president of Vancouver-based Wasserman & Partners Advertising, which has a policy of not courting so-called pseudo-clients. 'The box includes (the client's) budget, their positioning, and the demands of the market. The real art of advertising is creating compelling and effective work that breaks out of that box while still respecting the client's limitations.'
But work for pseudo-clients, or 'Robin Hood clients' as Rethink's Chris Staples prefers to call them, can help to raise the creative bar for every client in an ad agency's stable. Staples points to his former employer Palmer Jarvis DDB's award-winning and edgy work for McDonald's Restaurants of Canada as an example.
'A lot of the McDonald's advertising elsewhere is boring, but by seeing the work we were doing for smaller 'Robin Hood' clients, McDonald's got a lot more comfortable with a different kind of ad,' he says.
While agencies should always be looking for new and unusual ways to help their clients move away from the pack, it's even more important to do so for small clients who have little or no media budget, Staples says. A campaign for the tiny Kelowna, B.C.-based Tree Brewing Co. featuring a search for the 'G-spot' did not even run after it was banned by the B.C. Liquor Control Board, but Staples estimates the campaign received about $200,000 worth of media coverage.
Drafting rules that eliminate pseudo or Robin Hood work from award shows will be difficult, if not impossible, without punishing small clients who cannot afford large media buys, says Fisher.
For Phil Brown, the creator of the Canine Equipment 'bad dog' spots, the grumbling is merely a matter of sour grapes.
'I don't see the problem,' he says. 'We did work for a real client, they do sell pet supplies and the commercials ran.'
Zulu grows its team and makes a slate of promotions
A director of interactive production for Zulubot is among dozens of new faces and roles at the agency, in response to recent wins.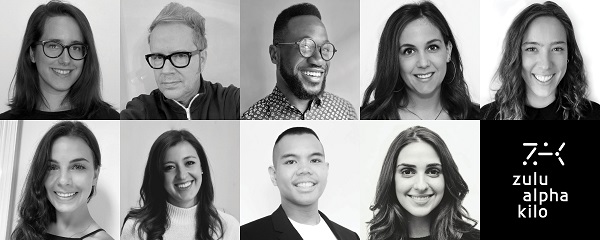 Toronto indie shop Zulu Alpha Kilo had made several new hires and promotions on the heels of new business and also organic growth from existing clients.

Zulu could not officially announce the account wins at this time.

However, it can report that Ece Inan, most recently at Toronto design and tech shop Array of Stars, has been named the agency's new director of interactive production for Zulubot, the agency's production arm. In the new role, Inan will lead AR, VR, voice and other digital innovation projects.

Also on the production side, James Graham, who has spent the last 17 years with Grip, has joined the agency as its studio director.

Zulu has also made numerous additions on the client services side, led by Michael Brathwaite, also from Grip, as account director.

It's also announced a spate of new account supervisors, including Hayley Blackmore (from G Adventures), Risa Kastelic (from BT/A), Kara Oddi (also from BT/A), Emily Anzarouth (also from Grip), Chris Rosario (from FCB/Six) and Sarah Shiff (from Rethink).

In addition to the new hires (pictured above), the agency has also announced several promotions: Alyssa Guttman moves from account director to group account director, while Nina Bhayana, Michelle Fournier, Jenn Gaidola-Sobral and Erin McManus have all been promoted to account director, and Haley Holm to account supervisor. On the strategy team, strategists Carly Miller and Spencer MacEachern have both been promoted to strategy director, while Shaunagh Farrelly, who has been with Zulu for two years in a client service role, moves into a new role as a digital strategist.

In December, the shop also announced that Stephanie Yung would be returning to the agency after a stint in New York as its head of design. Recent wins the agency has been able to announce including work as AOR for the Ottawa Senators, as well as a new arrangement with existing client Consonant Skincare, setting up an in-house team to support growth after taking an equity stake in the company.

Zulu president Mike Sutton says it's wonderful, in a new year, to welcome new faces and energy to the team and says the agency is fortunate to have had so many people across the agency step up to support its clients.

"Simply put, they were rock stars, and the promotions are very well deserved," Sutton says.