What's Hot
CHINESE CANADIANS TUNE INTO ETHNIC MEDIA Chinese Canadians in Toronto are tuning into Chinese radio and television more than ever before, according to a study by Markham, Ont.-based ACNielsen. According to the Chinese Media Index, an annual study of Chinese media...
CHINESE CANADIANS TUNE INTO ETHNIC MEDIA
Chinese Canadians in Toronto are tuning into Chinese radio and television more than ever before, according to a study by Markham, Ont.-based ACNielsen. According to the Chinese Media Index, an annual study of Chinese media consumption, Chinese Canadians are consuming about 12 hours of Chinese-language TV and 8.5 hours of Chinese-language radio per week. Those figures have increased by 27% and 21%, respectively, since 1996. The results are music to the ears of advertisers looking to reach the lucrative Chinese demographic. The study found almost 70% of Chinese Canadian car buyers in Toronto paid cash for their automobiles and more than 40% own a single family home.
CANADIAN E-COMMERCE SITES POPULAR ABROAD
Canadian e-commerce sites are internationally popular, with more than half the sales at Canadian online retail sites coming from outside the country, according to a survey jointly sponsored by the Retail Council of Canada and Visa Canada. About 47% of the sales volume on Canadian sites was generated by Americans – almost on par with the 48% generated by domestic shoppers – with a further five per cent coming from other international buyers, according to the survey. Additionally, the survey of more than 220 Canadian online retailers revealed that the vast majority advertise – 61% online, 59% via print, 44% in their bricks-and-mortar locations, 36% via direct mail, 16% through radio and 11% on television.
WOMEN WIRED DIFFERENTLY THAN MEN
Marketers looking to reach Canadian women on the Internet should not make the mistake of lumping them into the same category as men, says a survey from ACNielsen. For while Canadian women are logging onto the Net in record numbers, they are often looking for very different kinds of information. About 36% of women surveyed log on to the Internet regularly looking for health-related information, as opposed to 23% of men. Similarly, about 30% of women report looking for recipes online, while only 13% of men do the same. Both men and women, however, are turning to the Web to research future purchases.
RBC, TD and Lululemon among most valuable brands
Once again, the financial institutions and apparel brand landed in Kantar's top 10 lists for their sectors.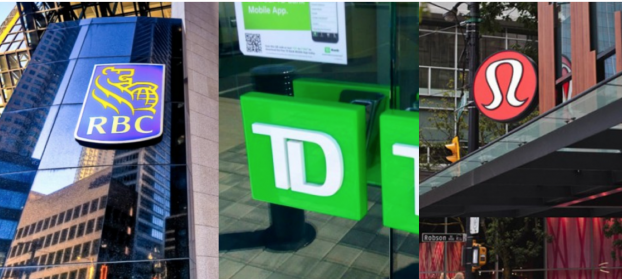 In the recently released 2022 edition of the Kantar BrandZ Top 100 Most Valuable Global Brands survey, several Canadian companies landed in the top rankings, namely in the financial institutions and apparel categories.
Two Canadian brands made an appearance in the survey's global banks rankings: RBC holds second position (57th overall), while TD ranks eighth (72nd overall), with brand values worth US$39.5 billion (up 43% from last year) and US$29.7 billion (up 47%), respectively. TD was among the fastest risers in the overall Top 100 survey, climbing 18 positions.
Lululemon takes fourth place as the most valuable apparel brand, behind Nike, Zara and Adidas. The Canadian athletic-wear company is valued at US$20.4 billion.
"Our 2022 rankings demonstrate both the resilience of our Canadian banking brands and their ability to create brand value by connecting with consumers to outperform other brands on the world stage," said Scott Megginson, president of Kantar Canada in a release. "They are leaders among brands in the global financial services sector and the number one position is coming within reach for RBC.
"It is also encouraging to see how Lululemon has continued to build brand value as people return to work," adds Megginson. "Its reputation for innovation, quality and reliability allows them to command a premium in the market."
Overall, Apple has landed in the #1 position and is projected to become the first trillion-dollar brand. It's brand value sits at US$947.1 billion, and is commended in the survey for its ongoing diversification strategy across its hardware, software and services portfolio. Apple moved up from second position in 2021.
Google has taken the second top spot, up one from the previous year, increasing its brand value by 79% to US$819.6 billion. In third place, Amazon dropped down two spots from last year's #1 position, and this year its brand value equates to US$705.6 billion.
In 2022, more than three quarters of brand value originated from U.S. companies, with media and entertainment, business solutions and technology providers and retail categories contributing to over half the total value of the Top 100.
According to Kantar, sector leaders emerged from a variety of industries, with technology and luxury brands growing the fastest – 46% for consumer technology and 45% for luxury. Automotive growth grew by 34%, and banks by 30%, compared to other sectors such as apparel at 20% and personal care by 17%.
Combined, the value of the world's Top 100 most valuable brands has increased by 23% to US$8.7 trillion in the last year. Set for release in October 2022, Kantar will rank Canada's top 40 most valuable brands, along with reports and insights for its market.