Tim Hortons issues wakeup call
Everyone's heard the clichés before. 'We're living today in a world without borders.' 'There is no such thing as a Canadian company anymore.' 'The whole world is our marketplace now.' But what, exactly, does all of this mean in terms of...
Everyone's heard the clichés before.
'We're living today in a world without borders.' 'There is no such thing as a Canadian company anymore.' 'The whole world is our marketplace now.'
But what, exactly, does all of this mean in terms of concrete, day-to-day reality? What do Canadian firms go through in the effort to market their products and services internationally? How do they build brands on a global basis? What are the challenges – and the rewards?
For this special report, Strategy's writers profile the global marketing activities of several noteworthy Canadian companies.
No list of Canadian institutions would be complete without some mention of Tim Hortons. Survey folks on the streets of Red Deer, Alta. or Yarmouth, N.S., and you'd be hard-pressed to find anyone who's never ever stopped at Tim's for coffee and an old-fashioned glazed.
Mention Tim Hortons to most Americans, however, and all you'll get is a blank look – except from those middle-aged hockey obsessives with a vague recollection of the rugged defenceman who lent the doughnut chain its name.
A morning pit stop at Tim Hortons just isn't an integral part of the American experience – yet. But there are plans afoot to change that. The Oakville, Ont.-based retailer first moved into the States in 1985, and has expanded its U.S. presence rapidly over the last three years.
'The breakfast category is underdeveloped in the U.S., so we saw it as an opportunity to create a category,' says Cathy Whelan-Molloy, director of U.S. advertising for Tim Hortons. 'No one else is really doing everyday morning coffee and baked goods very well.'
The essential elements of the brand positioning – fresh, convenient and less expensive than specialty coffee shops like Starbucks – are the same as in Canada, but the advertising is, by necessity, quite different. Americans just aren't familiar with Tim Hortons, Whelan-Molloy explains, so they need to be educated.
Two television spots are currently running in key U.S. markets. They depict 'morning people' – a sunshiny drill sergeant and a twinkly schoolteacher – whose unbounded good cheer has clearly been produced by Tim Hortons coffee.
Both spots were created by Toronto-based Enterprise Creative Selling, where Whelan-Molloy worked before joining Tim Hortons. Enterprise produces all creative for the Canadian and U.S. markets, and handles media buying for the chain in collaboration with J. Walter Thompson.
Expansion into the U.S. has been a relatively painless process for Tim Hortons, thanks in part to its 1995 merger with Wendy's International. The two organizations now share an office in Dublin, Ohio, and TDL Group (parent company of Tim Hortons) also maintains an office near Detroit, Mich.
The company currently has 127 U.S. stores, concentrated mainly in the vicinity of Detroit, Buffalo, N.Y. and Columbus, Ohio. (By contrast, Tim Hortons operates approximately 1,800 stores in Canada.) Growth in the Columbus area was facilitated by the decision to buy out a local fast-food chain called Rax, and convert the locations.
'What that allowed us to do was open 30 stores very quickly,' Whelan-Molloy says. 'We wanted the market penetration, because that's what's going to help us. And it also gave us the store base that we needed to be able to advertise on television.'
In the immediate term, the chain will focus on building its existing markets, adding some 15 new locations in the year ahead. TDL is also considering the possibility of establishing some combined Tim Hortons-Wendy's locations in the Detroit area, now that the consumer base is sufficiently familiar with the brand name.
Also in this report:
- Faces adapts to local market: Cosmetics retailer leverages awareness of cultural differences p.25
- Honeydew pegs future on U.S. sales p.26
- Buckley's takes bad taste message abroad: Cough syrup marketer making steady inroads in U.S. and overseas p.27
- Great Canadian Bagel makes slow but sure gains in Moscow p.27
- Southbrook Farms and Winery proves its worth abroad: Ontario winemaker uses foreign success to boost sales at home p.28
- Seagull Pewter sells at shows: Family-run giftware operation does business in over 20 territories p.28
- Clearly Canadian launches in U.S. first p.28
Zulu grows its team and makes a slate of promotions
A director of interactive production for Zulubot is among dozens of new faces and roles at the agency, in response to recent wins.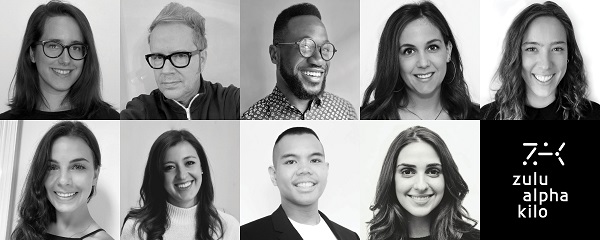 Toronto indie shop Zulu Alpha Kilo had made several new hires and promotions on the heels of new business and also organic growth from existing clients.

Zulu could not officially announce the account wins at this time.

However, it can report that Ece Inan, most recently at Toronto design and tech shop Array of Stars, has been named the agency's new director of interactive production for Zulubot, the agency's production arm. In the new role, Inan will lead AR, VR, voice and other digital innovation projects.

Also on the production side, James Graham, who has spent the last 17 years with Grip, has joined the agency as its studio director.

Zulu has also made numerous additions on the client services side, led by Michael Brathwaite, also from Grip, as account director.

It's also announced a spate of new account supervisors, including Hayley Blackmore (from G Adventures), Risa Kastelic (from BT/A), Kara Oddi (also from BT/A), Emily Anzarouth (also from Grip), Chris Rosario (from FCB/Six) and Sarah Shiff (from Rethink).

In addition to the new hires (pictured above), the agency has also announced several promotions: Alyssa Guttman moves from account director to group account director, while Nina Bhayana, Michelle Fournier, Jenn Gaidola-Sobral and Erin McManus have all been promoted to account director, and Haley Holm to account supervisor. On the strategy team, strategists Carly Miller and Spencer MacEachern have both been promoted to strategy director, while Shaunagh Farrelly, who has been with Zulu for two years in a client service role, moves into a new role as a digital strategist.

In December, the shop also announced that Stephanie Yung would be returning to the agency after a stint in New York as its head of design. Recent wins the agency has been able to announce including work as AOR for the Ottawa Senators, as well as a new arrangement with existing client Consonant Skincare, setting up an in-house team to support growth after taking an equity stake in the company.

Zulu president Mike Sutton says it's wonderful, in a new year, to welcome new faces and energy to the team and says the agency is fortunate to have had so many people across the agency step up to support its clients.

"Simply put, they were rock stars, and the promotions are very well deserved," Sutton says.