Clearly Canadian launches in U.S. first
Everyone's heard the clichés before. 'We're living today in a world without borders.' 'There is no such thing as a Canadian company anymore.' 'The whole world is our marketplace now.' But what, exactly, does all of this mean in terms of...
Everyone's heard the clichés before.
'We're living today in a world without borders.' 'There is no such thing as a Canadian company anymore.' 'The whole world is our marketplace now.'
But what, exactly, does all of this mean in terms of concrete, day-to-day reality? What do Canadian firms go through in the effort to market their products and services internationally? How do they build brands on a global basis? What are the challenges – and the rewards?
For this special report, Strategy's writers profile the global marketing activities of several noteworthy Canadian companies.
Canada. When you get right down to it, that's what Clearly Canadian Beverage Corp. is really selling.
In marketing its Clearly Canadian brand of flavoured sparkling water in the U.S. and abroad, the Vancouver-based company has always leveraged Canada's international image as a land of clear waters and pristine scenery.
'We're using the cachet of Canadian water and Canadian imagery,' says Jonathan Cronin, vice-president, marketing for Clearly Canadian. 'That's been the foundation of the brand's success since the beginning.'
Canadian heritage may well be a major selling point for the brand, but it's the pursuit of the good old Yankee dollar that keeps the company flourishing. While Clearly Canadian sells its products in a number of international markets, including the U.K., Ireland, Germany, Sweden, France, Turkey and the Middle East, more than 70% of its worldwide sales are in the U.S.
Indeed, when Clearly Canadian started up in 1988, it began selling in the U.S. market even before rolling out its products in Canada. And with the launch of each new brand extension, it continues to follow the same pattern. Why? Because the major centres of the U.S. are where trends are set, Cronin explains. 'If you're successful there you draw attention to yourself, and that's the best advertising you can do.'
Given the dollar volumes generated south of the border, Cronin says it gradually became clear that a U.S. office was necessary. So in 1998, the company acquired Cascade Clear Water Company of Burlington, Wash., and promptly moved several divisions, including its marketing department, from Vancouver into the latter's facilities.
With new brands continually entering the $7-billion 'alternative beverages' category, Clearly Canadian has been compelled to adopt an aggressive product development strategy in the past several years.
The first extension of its core line was Natural Artesian Water, a non-carbonated, sodium-free product. That was followed by Clearly Canadian's Quencher, and then Orbitz, a fruit beverage containing suspended 'flavour gel' globs (not one of the company's most successful entries). More recent additions include Clearly Canadian O+2, an 'oxygen-enhanced' beverage, and Battery, a high-caffeine energy drink sold in Finland.
Cronin says Clearly Canadian does not advertise heavily, relying instead upon local and regional public relations efforts, product placements, sampling, special events and sponsorships.
Vancouver-based Palmer Jarvis DDB handles all promotions and advertising for Clearly Canadian, both in North America and abroad. In overseas markets, distributors are provided with marketing materials developed in Canada, which they then customize accordingly.
'The creative is essentially translated for specific executions,' Cronin says. 'They are not free to re-execute the creative. This is the Canadian image and message we want to communicate.'
As for new media, Cronin says Clearly Canadian is approaching the whole area with caution. The company employed the Web aggressively for the launch of Orbitz, but has since backed off somewhat.
At present, he says, Clearly Canadian is trying to figure out how to manage local distributor relations online. An e-commerce trial is planned for the first quarter of 2000, but Cronin doesn't envision this as a large piece of the company's business.
For the moment, a much higher priority is the relaunch of its core Clearly Canadian brand, with the forthcoming introduction of 'revolutionary' new packaging and a new look.
The initiative, scheduled for this spring, is intended to refresh the now mature brand. The U.S. will see the 'new' Clearly Canadian first, followed by Canada and, eventually, the international markets.
Also in this report:
- Tim Hortons issues wakeup call: Builds underdeveloped breakfast category p.25
- Faces adapts to local market: Cosmetics retailer leverages awareness of cultural differences p.25
- Honeydew pegs future on U.S. sales p.26
- Buckley's takes bad taste message abroad: Cough syrup marketer making steady inroads in U.S. and overseas p.27
- Great Canadian Bagel makes slow but sure gains in Moscow p.27
- Southbrook Farms and Winery proves its worth abroad: Ontario winemaker uses foreign success to boost sales at home p.28
- Seagull Pewter sells at shows: Family-run giftware operation does business in over 20 territories p.28
Kraft Heinz beats the street, but reports slight sales slide
The company's Q2 net sales, while down slightly, reveal continued demand for snacks and pre-packaged meals.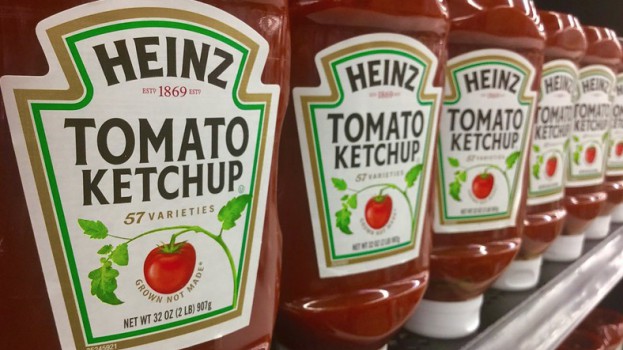 Kraft Heinz is reporting earnings of 78 cents a share, beating Wall Street's estimate of 72 cents a share, thanks to continued demand for snacks and pre-packaged meals. However, the company also reported a net sales decline of 0.5% compared with the same period last year, to $6.6 billion, according to its latest Q2 earnings report, released Tuesday.

The company experienced a favourable 2.3 percentage point impact from currency and a negative 0.7 percentage point impact from its February divestiture of Hormel Foods – including the Planters peanut brand – which closed in the second quarter of 2021.

Its cheese divestiture – which included the sale of its natural cheese division to Lactalis – is expected to close in the second half of 2021, says Kraft Heinz Global CEO Miguel Patricio in this morning's conference call.

Adjusted EBITDA slumped 5.2% versus the year-ago period to $1.7 billion and increased 6.6% versus the comparable 2019 period. Higher transportation and inflation-related goods costs continue to affect the company's bottom line.

Kraft Heinz' organic net sales declined 3.6% in Canada over the last three months compared with a comparable period last year, this as total net sales rose 8.8% year over year. 

However, its overall organic net sales slipped 2.1% compared with 2020 figures. This includes the negative impact stemming from exiting its McCafé licensing agreement. However, this decline was partly offset, Kraft Heinz reports, by "partial recovery in foodservice channels and retail consumption trends."

"Food service is recovering, and recovering fast," Patricio stressed in today's earnings call. He said "the bet to support QSR" early in the pandemic, with individual packets of ketchups and sauces, is paying off.

Channel trends are still normalizing, he warns, and it's too early to see how at home or away from home, will net out. "We have big ambitions for away from home business," he said. Consumers continue to evolve how they eat, with Patricio saying that Kraft Heinz is collaborating with a popular DTC brand for its Philadelphia cream cheese.

Accrued marketing costs, the company reports, rose to $968 million from $946 million in December 2020.

"We are investing more in our brands, and better as well, building a much more creative company," Patricio reported.

Kraft Heinz is also strengthening and diversifying its media presence, he said, driving repeat rates for those discovering and rediscovering the brand. Patricio added that the company is continuing to drive its transformation program forward, modernizing its brands and better connecting with its consumers.