Quebec portal drawing users at home, abroad
After a painfully slow four-year period of development, a Quebec-based Web portal that features an abundance of French-language content is finally starting to attract enough visitors to interest a growing number of international advertisers. While French-language consumers in Quebec and Europe...
After a painfully slow four-year period of development, a Quebec-based Web portal that features an abundance of French-language content is finally starting to attract enough visitors to interest a growing number of international advertisers.
While French-language consumers in Quebec and Europe have been relatively slow to take to the Net – only 10% of French citizens and 29% of Quebecers have home Internet access, compared to 43% in the U.S. and Canada as a whole, according to PricewaterhouseCoopers – i3d Internet Communications has no complaints about its online experience thus far. The St-Georges, Que.-based company's portal, www.francite.com, recently yielded over three million unique visitors in a single month.
Although it may be less well known among Quebec Web surfers than La Toile du Quebec or
infiniT.com, which are owned by a company controlled by TVA and Le Groupe Vidéotron, respectively, francite.com draws Francophone Web surfers from around the world, with about 40% originating in Europe and another 40% from North America, predominantly Quebec.
Perhaps not surprisingly, the majority of francite.com's advertisers are based in Europe, according to Michel Begin, a spokesman for i3d, who adds that the look and feel of the site is decidedly European. Among the Canadian advertisers currently on the site are Remax, and Quebec-based hardware chain Rona.
'There are 80 million French-speaking people in Europe, so it's more natural to go that way. But we will not neglect the North American market,' Begin says, pointing out that i3d will soon be reworking the design of its site to appeal to audiences on both sides of the Atlantic.
Faced with a lack of hard numbers about who's on the Web, Canadian advertisers still don't entirely trust the Internet, but Begin says he's confident that as more detailed demographic information becomes available, more advertisers will take a look at what francite.com has to offer.
Although he won't disclose details, Begin says i3d will soon be beefing up its own on- and offline advertising efforts to boost awareness of and traffic to its site. So far, it has mainly targeted the European market with modest marketing efforts that include banner exchanges with other sites, outbound e-mail campaigns, listings on search engines and word of mouth.
In future, though, 75% of its advertising will be placed in Europe, with the remaining 25% in North America, Begin says. The company also plans to continue adding new features to its site, like travel guides, weekly contests and event ticket sales. It may also launch a Spanish-language site in the not-too-distant future.
Begin says the company plans to hire an advertising agency in the next few months.
RBC, TD and Lululemon among most valuable brands
Once again, the financial institutions and apparel brand landed in Kantar's top 10 lists for their sectors.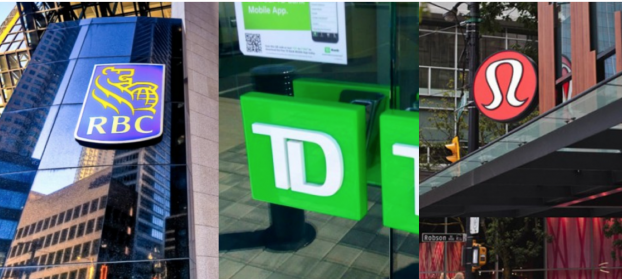 In the recently released 2022 edition of the Kantar BrandZ Top 100 Most Valuable Global Brands survey, several Canadian companies landed in the top rankings, namely in the financial institutions and apparel categories.
Two Canadian brands made an appearance in the survey's global banks rankings: RBC holds second position (57th overall), while TD ranks eighth (72nd overall), with brand values worth US$39.5 billion (up 43% from last year) and US$29.7 billion (up 47%), respectively. TD was among the fastest risers in the overall Top 100 survey, climbing 18 positions.
Lululemon takes fourth place as the most valuable apparel brand, behind Nike, Zara and Adidas. The Canadian athletic-wear company is valued at US$20.4 billion.
"Our 2022 rankings demonstrate both the resilience of our Canadian banking brands and their ability to create brand value by connecting with consumers to outperform other brands on the world stage," said Scott Megginson, president of Kantar Canada in a release. "They are leaders among brands in the global financial services sector and the number one position is coming within reach for RBC.
"It is also encouraging to see how Lululemon has continued to build brand value as people return to work," adds Megginson. "Its reputation for innovation, quality and reliability allows them to command a premium in the market."
Overall, Apple has landed in the #1 position and is projected to become the first trillion-dollar brand. It's brand value sits at US$947.1 billion, and is commended in the survey for its ongoing diversification strategy across its hardware, software and services portfolio. Apple moved up from second position in 2021.
Google has taken the second top spot, up one from the previous year, increasing its brand value by 79% to US$819.6 billion. In third place, Amazon dropped down two spots from last year's #1 position, and this year its brand value equates to US$705.6 billion.
In 2022, more than three quarters of brand value originated from U.S. companies, with media and entertainment, business solutions and technology providers and retail categories contributing to over half the total value of the Top 100.
According to Kantar, sector leaders emerged from a variety of industries, with technology and luxury brands growing the fastest – 46% for consumer technology and 45% for luxury. Automotive growth grew by 34%, and banks by 30%, compared to other sectors such as apparel at 20% and personal care by 17%.
Combined, the value of the world's Top 100 most valuable brands has increased by 23% to US$8.7 trillion in the last year. Set for release in October 2022, Kantar will rank Canada's top 40 most valuable brands, along with reports and insights for its market.