Sympatico-Lycos goes local
Ten years ago, Bell Canada gave Marc Tellier a summer job. Today, the telco giant is giving him command of its recently formed Sympatico-Lycos portal, and counting on him to produce $100 million in annual advertising and e-commerce revenue by the...
Ten years ago, Bell Canada gave Marc Tellier a summer job. Today, the telco giant is giving him command of its recently formed Sympatico-Lycos portal, and counting on him to produce $100 million in annual advertising and e-commerce revenue by the end of 2001.
Bell will commence a teaser advertising campaign in April to promote the revamped site, which is slated to launch in May, although it has yet to determine which agency will handle creative duties. But instead of marketing Sympatico-Lycos as a strictly national portal, Tellier plans to create a network of local sites that will deliver more specific audiences to advertisers, and at the same time encourage regional businesses to develop e-commerce offerings.
Bell is already a partner in Toronto.com and MontrealPlus.ca, and Tellier says the company will unveil a dozen more online city guides beginning with QuebecPlus.ca this month. Community-themed sites like Toronto.com, which is already one of the leading Canadian originating Web sites according to Media Metrix Canada, provide a range of local entertainment, weather, and business news, making them popular properties among merchants and advertisers who want to reach regional audiences.
'The approach we have, which I think is unique in the global marketplace, is to not only offer that national play, but the strong local play combined with the directory component,' says Tellier, president and CEO of Sympatico-Lycos, which is 71% owned by Bell. 'Having a multiple brand strategy, a federation of sites, will clearly bring a much better value proposition to the advertisers than a generic national portal.'
Not everyone, however, is enamoured of the local portal strategy, much less the initial deal with Lycos. In early February, Bell invested $37 million to form Sympatico-Lycos, although Bell chairman and CEO Jean Monty indicated the total investment could climb as high as $125 million over the next few years.
The deal will essentially create a Canadian version of the popular Lycos network, thereby enabling Bell to stem the flow of Canadian Web traffic and ad dollars to the U.S.
But some industry watchers, who expected to see Bell unload its estimated $7-billion war chest on a major acquisition, were less than impressed with the Lycos joint venture, which essentially provides a Canadian conduit for a host of Lycos-branded products and services. Such components include the Angelfire and Tripod Web sites, where surfers can build free home pages, Quote.com, a finance and investment site, and Sonique, a music-themed site where users can download audio files and MP3 players.
'I'm not a big believer in what Bell is trying to do in its recent localizations of its so-called Internet strategy,' says Iain Grant, an analyst at Brockville, Ont.-based Yankee Group who is highly dubious of both the cost and value of the Lycos deal to Bell.
'Paying $100 million to not talk about your products on Lycos I think shows a great victory for Lycos salesmanship,' he says.
Jordan Worth, an Internet analyst at International Data Corporation (Canada) in Toronto, says, 'It's basically the same as cable companies adding more American channels.'
But despite, or perhaps because of, his youth, the 31-year-old Tellier seems remarkably undaunted by skeptics, and is confident the model that Bell is using will make Sympatico-Lycos the most popular online destination for consumers and advertisers alike.
'At the end of the day, a winning Internet strategy comes down to three things – innovative business models, powerful distribution channels, and great marketing,' he says knowingly.
Tellier, however, boasts no formal marketing experience, although he has held enough positions within the BCE family of companies to bring a singular perspective to the job. He took a summer job as a financial analyst at Bell in 1990, three years through his economics degree at the University of Ottawa. After finishing his studies in 1991, he joined the company full time as a customer systems engineer, before moving on to co-found the company's investor relations department.
By the time he was 29, Tellier was already vice-president, business development at BCE Emergis, and was busy forging corporate alliances and partnerships. The next year, he moved to Bell ActiMedia as vice-president, new media and alliances, where he oversaw all of Bell's Internet properties (with the exception of Sympatico), such as Yellowpages.ca and Canada 411.
ActiMedia, which publishes both conventional and online directories, will play a pivotal role in luring advertisers to Sympatico-Lycos, and in helping Bell to meet its $100-million target, explains Tellier, who concedes that Canada still lags about 18 months behind the U.S. in e-commerce development.
'Our relationship with Bell Actimedia is so important to us. The fact that we actually talk to every single small and medium business out there in the context of their print yellow pages – there's a huge opportunity there.'
While many industry observers are still atwitter about the possibility of major content deals, Tellier says his most pressing goal is to stanch the flow of Internet traffic to U.S. sites, where approximately 80% of Canadian surfers – and thereby ad dollars and e-commerce transactions – terminate.
In addition to providing Lycos services with the .ca suffix, Bell has purchased a substantial chunk of advertising inventory on the Lycos network in the U.S. in an effort to repatriate Canadian surfers.
According to Media Metrix Canada, Sympatico, the eighth-most visited site among Canadians, received 2.4 million unique visitors in December, compared to just a shade under two million unique Canadian visitors for Lycos. Bell hopes the ads can convince the majority of Canadians who visit Lycos.com to access these products within the Sympatico-Lycos network, and bring precious advertisers with them.
Zulu grows its team and makes a slate of promotions
A director of interactive production for Zulubot is among dozens of new faces and roles at the agency, in response to recent wins.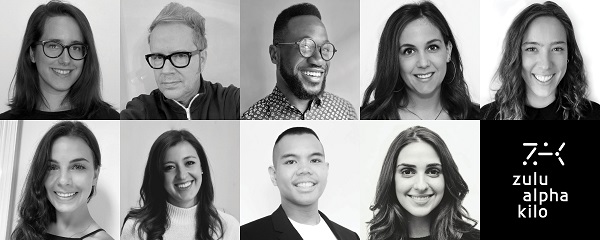 Toronto indie shop Zulu Alpha Kilo had made several new hires and promotions on the heels of new business and also organic growth from existing clients.

Zulu could not officially announce the account wins at this time.

However, it can report that Ece Inan, most recently at Toronto design and tech shop Array of Stars, has been named the agency's new director of interactive production for Zulubot, the agency's production arm. In the new role, Inan will lead AR, VR, voice and other digital innovation projects.

Also on the production side, James Graham, who has spent the last 17 years with Grip, has joined the agency as its studio director.

Zulu has also made numerous additions on the client services side, led by Michael Brathwaite, also from Grip, as account director.

It's also announced a spate of new account supervisors, including Hayley Blackmore (from G Adventures), Risa Kastelic (from BT/A), Kara Oddi (also from BT/A), Emily Anzarouth (also from Grip), Chris Rosario (from FCB/Six) and Sarah Shiff (from Rethink).

In addition to the new hires (pictured above), the agency has also announced several promotions: Alyssa Guttman moves from account director to group account director, while Nina Bhayana, Michelle Fournier, Jenn Gaidola-Sobral and Erin McManus have all been promoted to account director, and Haley Holm to account supervisor. On the strategy team, strategists Carly Miller and Spencer MacEachern have both been promoted to strategy director, while Shaunagh Farrelly, who has been with Zulu for two years in a client service role, moves into a new role as a digital strategist.

In December, the shop also announced that Stephanie Yung would be returning to the agency after a stint in New York as its head of design. Recent wins the agency has been able to announce including work as AOR for the Ottawa Senators, as well as a new arrangement with existing client Consonant Skincare, setting up an in-house team to support growth after taking an equity stake in the company.

Zulu president Mike Sutton says it's wonderful, in a new year, to welcome new faces and energy to the team and says the agency is fortunate to have had so many people across the agency step up to support its clients.

"Simply put, they were rock stars, and the promotions are very well deserved," Sutton says.