Movers & Shakers
CLIENTS: Rogers Video has promoted Hubert Wat to director of marketing. Wat was previously manager of advertising and promotions for the Vancouver-based company, which has 230 stores. Small Fry Snack Foods, the Kitchener, Ont.-based maker of Humpty Dumpty potato chips,...
CLIENTS:
Rogers Video has promoted Hubert Wat to director of marketing. Wat was previously manager of advertising and promotions for the Vancouver-based company, which has 230 stores.
Small Fry Snack Foods, the Kitchener, Ont.-based maker of Humpty Dumpty potato chips, has promoted Lynda Murray to VP marketing. She joined the company in 1998 as director of marketing.
Points.com has announced that Rob MacLean is taking the reins as president. Points.com is a subsidiary of Toronto-based Exclamation Inc., an Internet-focused venture capital firm. MacLean joins Points.com from Canadian Airlines International, where he was VP of North American sales.
AGENCIES:
David Leonard is returning to Palmer Jarvis DDB. Formerly director of marketing and communications at Canadian Airlines International, he has been appointed PJDDB's senior VP, group account director. He'll be heading up the Vancouver-based agency's work with McDonald's in Western Canada. Prior to joining Canadian, Leonard spent five years at Palmer Jarvis.
Bruce Claassen, chair of the Genesis Group, is assuming the role of CEO of Genesis Media, following the recent departure of David Stanger, who worked in the company's Vancouver office. Tom Batho, the company's COO in Toronto, also left the company. Batho and Stanger haven't announced their landing pad yet.
Howard Alstad has joined Lanyon Phillips Communications as VP, executive art director. He comes to the Vancouver agency from Toronto-based Avion Films, where he was a director.
Richard Groves, Kim Koster and Karen Tilley have each been promoted from VP, group head to senior VP, group head at Toronto-based Leo Burnett. Groves heads the Maytag, Allstate, FHP/Atlantic and Hallmark accounts. Koster is in charge of Procter & Gamble and Walt Disney World, while Tilley handles Visa and Star Choice.
Annette Warring has been promoted to VP, associate media director from associate media director at Vickers & Benson's Toronto subsidiary, Maxx Media. Joanna Jorgensen Wisniewski, meanwhile, has been hired as media supervisor on the McDonald's account. Wisniewski comes from MBS/The Media Company.
Kenneth Wong has joined Hamazaki Wong Marketing Group of Vancouver as director of client services. Wong was previously manager of the business program at the Asia Pacific Foundation of Canada.
Deborah Kudzman and Jean-Daniel Rohrer have started a new agency in Montreal, called Publicité Piranha. Kudzman, formerly in the marketing department at Talvest Fund Management, will handle the business side, while Rohrer, formerly with Publicis, will run the creative side. The agency will specialize in adapting national campaigns for the Quebec market.
MEDIA:
KVOS TV of Bellingham, Wash. (channel 12 in the B.C. Lower Mainland) has appointed John Gibson to the post of president of KVOS TV Ltd., the company's Canadian marketing and sales subsidiary in Vancouver. Gibson came to KVOS as national sales manager in 1980, and was promoted to VP, general sales manager in 1985.
Tom Cummings has been appointed VP, market manager for Toronto-based TDI Canada. The company recently won the $75-million contract to sell transit advertising on behalf of the Toronto Transit Commission. Cummings has been transferred from TDI's office in Minneapolis, Minn.
Zulu grows its team and makes a slate of promotions
A director of interactive production for Zulubot is among dozens of new faces and roles at the agency, in response to recent wins.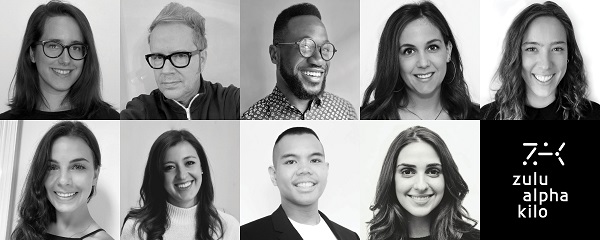 Toronto indie shop Zulu Alpha Kilo had made several new hires and promotions on the heels of new business and also organic growth from existing clients.

Zulu could not officially announce the account wins at this time.

However, it can report that Ece Inan, most recently at Toronto design and tech shop Array of Stars, has been named the agency's new director of interactive production for Zulubot, the agency's production arm. In the new role, Inan will lead AR, VR, voice and other digital innovation projects.

Also on the production side, James Graham, who has spent the last 17 years with Grip, has joined the agency as its studio director.

Zulu has also made numerous additions on the client services side, led by Michael Brathwaite, also from Grip, as account director.

It's also announced a spate of new account supervisors, including Hayley Blackmore (from G Adventures), Risa Kastelic (from BT/A), Kara Oddi (also from BT/A), Emily Anzarouth (also from Grip), Chris Rosario (from FCB/Six) and Sarah Shiff (from Rethink).

In addition to the new hires (pictured above), the agency has also announced several promotions: Alyssa Guttman moves from account director to group account director, while Nina Bhayana, Michelle Fournier, Jenn Gaidola-Sobral and Erin McManus have all been promoted to account director, and Haley Holm to account supervisor. On the strategy team, strategists Carly Miller and Spencer MacEachern have both been promoted to strategy director, while Shaunagh Farrelly, who has been with Zulu for two years in a client service role, moves into a new role as a digital strategist.

In December, the shop also announced that Stephanie Yung would be returning to the agency after a stint in New York as its head of design. Recent wins the agency has been able to announce including work as AOR for the Ottawa Senators, as well as a new arrangement with existing client Consonant Skincare, setting up an in-house team to support growth after taking an equity stake in the company.

Zulu president Mike Sutton says it's wonderful, in a new year, to welcome new faces and energy to the team and says the agency is fortunate to have had so many people across the agency step up to support its clients.

"Simply put, they were rock stars, and the promotions are very well deserved," Sutton says.