Cundari Integrated Advertising: Head, heart and gut
Today, Cundari is a dynamic, Toronto-based 40 person shop boasting a roster of blue chip clients including BMW, Land Rover, Best Foods (Bovril), Electrohome, and Siemens, is now poised to scale even greater heights with the recent infusion of a new...
Today, Cundari is a dynamic, Toronto-based 40 person shop boasting a roster of blue chip clients including BMW, Land Rover, Best Foods (Bovril), Electrohome, and Siemens, is now poised to scale even greater heights with the recent infusion of a new president, seasoned creative director and top-flight, senior strategic thinkers.
Over the past five years, Cundari has been fine-tuning his integrated advertising philosophy to the point where it has reached a defined stage, using a simple, visual approach to explain a complicated, versatile process. 'The whole problem with integration is that you don't stand for anything; in effect, you do a lot of different things. You have to stand for something, so we stand for understanding of the consumer and integrating the brand so that it effects behavioural change. Our objectives as an agency have now shifted away from ensuring our clients understand the concept of integration, which is now commonplace. Some agencies do it well, others don't.'
Cundari believes there are only three ways an agency can influence the consumer: through the rational 'Head', the emotional 'Heart', and a combination of the two – an instinctive 'Gut' response based on socio-cultural factors. 'You must understand the brand, how it fits inside the consumer's head, and what kind of reaction you're trying to trigger, whether it's general awareness or actual 'shelf off-take' he says.
Armed with this knowledge, Cundari's team then builds the most appropriate communication. 'Sometimes you need various tactics to push those buttons' he says. 'Most agencies offer template solutions, but we use no pre-determined tactic. Sometimes our solutions look exactly like an ad, but it's only part of the layered strategy that we've built.'
Cundari is a big believer in generating measurable and accountable results for his clients: 'We don't mind working with clients who challenge us, cover our costs plus fees, make it a pre-requisite that we deliver against our promise, and tie a bonus into it. That shows we truly believe in accountability. It's sometimes a difficult line to walk, but if a client wants to move the needle, where each party has a risk in the relationship, it can be a powerful, mutual motivator.'
Because nearly three-quarters of the agency are now comprised of senior people, it means a lower return on investment for Cundari. 'But we believe in providing a superior product in the planning and delivery of good strategic thinking. We'd much rather not be weighted towards 50% juniors who have strong creative talent but no real sense of where to go with it. One-hit wonders can cause a lot of client dissatisfaction.'
Peter Day, a veteran, awarding-winning creative director who has worked for several European and Canadian agencies, notably Deacon Day, joined Cundari last fall to seize on the opportunity to work at a smaller agency that controls it own destiny.
'Small shops often lose their identities when they're swallowed up by the black holes of huge conglomerates' he observes. 'This agency has a wonderful, risk-taking entrepreneurial spirit that many companies preach but often don't practice. It's a mistake to feel you've got to emulate what the big boys look and feel and sound like. I prefer small agencies that service their clients with senior strategic thinkers. Strong ideas is what this business is all about.'
Day is enthused by the emerging dot-com advertising campaigns, which he sees as refreshing, intelligent, and risk-taking: 'They are making traditional advertising look bland and passé. And the results are immediate and measurable – either it works or not.'
Over the past three years, Cundari has earned its stripes with BMW by contributing to the doubling of the car manufacturer's Canadian sales, largely through successful programs that include advertising, direct mail, event support, dealer advertising and collateral… Last year, they were rewarded when BMW asked the agency to strategically re-position its Land Rover brand in Canada; an outdoor campaign will appear soon.
Cundari also recently developed a highly successful integrated direct response campaign for Siemens' high end, state-of-the-art hearing aids. Addressing hearing impairment in a positive, humorous manner, the program featured outbound advertising to lifestyle newspapers and magazines to targeted demographics, response vehicles such as 800 numbers, BRCs, fax, and call centre fulfilment to complete the loop. 'It was a simple program but it delivered big numbers, out-pulling the U.S. program by three to one. Siemens wants to repeat program next year. Ultimately, we derive our rewards from keeping our clients and knowing we made their cash registers ring.'
For a packaged goods client Best Foods (Bovril), Cundari negotiated for the Quebec market a promotional partnership with TVA to allow celebrity spokesperson Gaston L'Heureux deliver Bovril recipes and cooking tips on 60 second spots on two popular Quebec morning shows. This year, Cundari added the twist of L'Heureux touring grocery stores and rewarding shoppers with Bovril in their carts, linking the program back to the retailer. 'It doesn't look like a glamorous program, but it really moves the product' notes Cundari. 'We gained great share % during the promotional period and Bovril is the leading Brand in the Quebec market.'
In the near future, Cundari believes there will be virtually no limits to what marketers can send down the media pipelines and the degree of interaction possible with consumers: 'Customer segmentation, profiling, and interaction are going to be integral to any business. If you don't have a real dialogue with consumers on a massive scale, customise programs and products for individual needs and anticipate them in advance, the brand will die.
'The smart agencies will learn all of the back end, know how to drive traffic, and convert that traffic into ideas that generate revenue. A lot of the other stuff will happen automatically. Expanding the communications channels to ensure there's enough room for information to traffic back and forth will make all the difference; that's where all the dollars are being invested now. So the question remains: how do we take advantage of it?'
Also in this sponsored supplement:
- Overview p.S13
- Rapp Collins Worldwide: Taking its heritage in knowledge and customer-centric marketing to higher ground p.S14
- Campaign House Worldwide: The hardest thing in advertising is saying OK to an ad somebody else has created p.S16
RBC, TD and Lululemon among most valuable brands
Once again, the financial institutions and apparel brand landed in Kantar's top 10 lists for their sectors.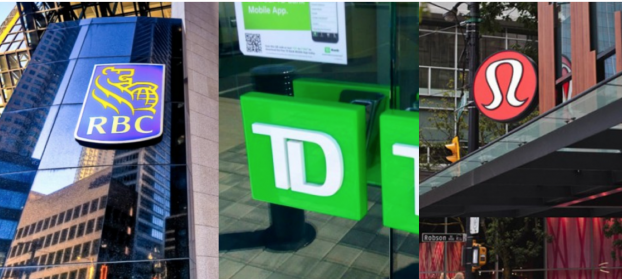 In the recently released 2022 edition of the Kantar BrandZ Top 100 Most Valuable Global Brands survey, several Canadian companies landed in the top rankings, namely in the financial institutions and apparel categories.
Two Canadian brands made an appearance in the survey's global banks rankings: RBC holds second position (57th overall), while TD ranks eighth (72nd overall), with brand values worth US$39.5 billion (up 43% from last year) and US$29.7 billion (up 47%), respectively. TD was among the fastest risers in the overall Top 100 survey, climbing 18 positions.
Lululemon takes fourth place as the most valuable apparel brand, behind Nike, Zara and Adidas. The Canadian athletic-wear company is valued at US$20.4 billion.
"Our 2022 rankings demonstrate both the resilience of our Canadian banking brands and their ability to create brand value by connecting with consumers to outperform other brands on the world stage," said Scott Megginson, president of Kantar Canada in a release. "They are leaders among brands in the global financial services sector and the number one position is coming within reach for RBC.
"It is also encouraging to see how Lululemon has continued to build brand value as people return to work," adds Megginson. "Its reputation for innovation, quality and reliability allows them to command a premium in the market."
Overall, Apple has landed in the #1 position and is projected to become the first trillion-dollar brand. It's brand value sits at US$947.1 billion, and is commended in the survey for its ongoing diversification strategy across its hardware, software and services portfolio. Apple moved up from second position in 2021.
Google has taken the second top spot, up one from the previous year, increasing its brand value by 79% to US$819.6 billion. In third place, Amazon dropped down two spots from last year's #1 position, and this year its brand value equates to US$705.6 billion.
In 2022, more than three quarters of brand value originated from U.S. companies, with media and entertainment, business solutions and technology providers and retail categories contributing to over half the total value of the Top 100.
According to Kantar, sector leaders emerged from a variety of industries, with technology and luxury brands growing the fastest – 46% for consumer technology and 45% for luxury. Automotive growth grew by 34%, and banks by 30%, compared to other sectors such as apparel at 20% and personal care by 17%.
Combined, the value of the world's Top 100 most valuable brands has increased by 23% to US$8.7 trillion in the last year. Set for release in October 2022, Kantar will rank Canada's top 40 most valuable brands, along with reports and insights for its market.