End of an era
It's a regular occurrence at Strategy to publish news of the comings and goings of various marketing industry personnel. Occasionally, such news focuses on staffing changes within Brunico Communications itself, the company that publishes this periodical. This issue, we're sorry to...
It's a regular occurrence at Strategy to publish news of the comings and goings of various marketing industry personnel. Occasionally, such news focuses on staffing changes within Brunico Communications itself, the company that publishes this periodical. This issue, we're sorry to say, marks the last in which Strategy's founding editor, Mark Smyka, will be listed on the masthead as a senior vice-president within the company, as he has made a personal decision to embark on a new direction in his career and his life.
Here, Mark shares his thoughts behind his decision:
I suppose that most people carry around in their heads meaningful phrases and aphorisms that pop up, like guideposts, to help them through difficult moments in life. When I began contemplating what for me was to become the toughest decision in my professional career, the one thought that helped me through was a comment that appeared in a story that ran in KidScreen three years ago.
It was a tribute to Joe Bacal and his partner Tom Griffin, who together built the New York ad agency Griffin Bacal into one of the world's leading specialists in kids advertising.
I had asked the reporter to make sure to explore, with Joe in particular, how he had found the courage to leave his comfortable agency surroundings (he was at Benton and Bowles at the time) and start something new. His answer appeared in the opening sentence. It read:
'I met Ray Bradbury at a dinner a couple of years ago and we got to talking about creative courage,' remembers Joe Bacal. 'And he said, 'If you get to the edge of the cliff, don't be afraid to jump off. Have faith that you'll grow wings on the way down."Well, I never met Ray Bradbury, but I did meet Joe Bacal and got to know him well when we launched the Golden Marble Awards almost two years ago. Joe doesn't even know how he's influenced me with that wonderful anecdote. But it was that thought – of finding the faith in oneself – that helped me muster up the resolve to leave this company, which I have loved and helped build and will so miss.
In particular I will miss my partnership with Jim Shenkman, a unique individual, who has been my greatest inspiration and the foundation of whatever creative accomplishments I've achieved at Brunico.
Mark Smyka
Missed, but not forgotten
Almost 14 years ago, someone suggested to me that a young associate editor at Marketing magazine might be a perfect choice to help launch a newspaper about the film, TV, and radio business in Canada. A few days later, I met Mark Smyka and learned that not only was he eager for a new opportunity, but that he had his own dream of launching a magazine about commercial production in Canada.
Mark and I immediately clicked and within just a few days, he had agreed to leave Maclean Hunter after eight years to join me, someone who knew nothing about either publishing or the film, TV, and commercial production business. We combined our ideas and Mark became an investor and founding shareholder. Together we moved very fast. Within five weeks of meeting, we had named Playback (our first publication), developed a business plan, assembled the investors, commissioned a design, and incorporated the company.
Almost from the day we began working together, Mark wanted to launch a business publication that was really about marketing and not just the advertising and services business. Hence, Strategy was born three years after Brunico began and, under Mark's editorship, it quickly became one of Canada's largest trade papers.
In 1995, we decided that it was time to go international and Mark became the founding editor of KidScreen, probably the first truly international trade magazine to be published out of Canada. In 1998, Mark realized another long-held dream, but on a much larger and more successful scale than he had previously imagined. Organizing an advertising award show was something he had long wanted to do. But to put one on in New York City, the centre of the advertising universe, and attract a huge audience right off the bat, was a remarkable accomplishment. And so with Mark as the champion, the first ever Golden Marble Awards were born.
The publication of Boards last Fall was Mark's fifth product launch. Almost ironically, this launch brought Mark full circle back to when we first met in 1986 and he described his idea for a commercial production magazine for Canada – only with Boards, we are doing it on a global scale.
Mark is now ready for his next challenges, but he is looking for something very different. And so here I am today, almost 14 years and five amazing product launches later and I find myself announcing that Mark is leaving Brunico Communications, the company he very much helped to conceive and build.
Mark will be very much missed. He has been an editorial inspiration, not only in shaping the content we distribute, but also in recognizing and fostering so much talent over the years. His combination of patience, insight, and caring has been invaluable to not only the success of this business, but also to so many careers he has fostered. I know this was a very difficult decision for Mark to make, because he is leaving behind a family that means so much to him. But his legacy shall long remain and ever be appreciated. I certainly wouldn't be where I am today without his guidance and support. I shall miss him as a partner. I shall always value his friendship.
James Shenkman
President, Brunico Communications Inc.
Executive Publisher, Strategy
Meat and plant-based sales are both strong at Maple Leaf
Both priority areas performed well in the company's full-year results, helped by a boost in marketing for new products.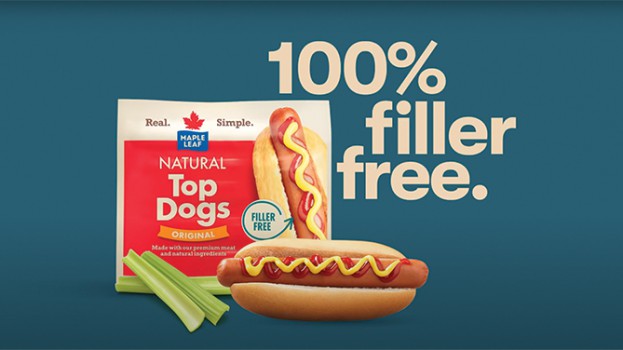 Maple Leaf Foods reported higher Q4 and full-year 2020 sales, driven by its sustainable meats and plant-based proteins. 

The CPG co. reported quarterly sales of $1.13 billion, up from $1.02 billion for Q4 2019, as well as net earnings of $25.4 million, compared to $17.5 million for the same period the year prior (an increase of 45.2%).

For full fiscal 2020, the company reported a total increase of 9.2% in sales, driven by what it says is "strong growth in both the meat and plant protein groups."

"We have repositioned our portfolio towards two high-growth categories now representing 20% of our annual sales generating a compounded growth rate in excess of 25% over the last three years," says Michael McCain, the company's president and CEO.

Meat protein group sales – comprised of prepared meats, ready-to-cook and ready-to-serve meals, snack kits, value-added fresh pork and poultry products that are sold to retail, foodservice and industrial channels, and agricultural operations – grew 11.3% for the quarter. 

Meanwhile, sales of plant protein products – refrigerated plant protein brands such as Lightlife and Field Roast, premium grain-based protein, and vegan cheese products sold to retail, foodservice and industrial channels – was up 5.5% over the same period. 

Sales growth for its meat portfolio was driven by "a favourable mix-shift towards sustainable meats and branded products," but also growth in exports to Asian markets, and pricing actions implemented to mitigate inflation and other structural cost increases, according to the company. Strong demand in the retail channel was offset by lower volume in foodservice as a result of COVID-19.

For its plant-based offerings, sales for 2020 were $210.8 million compared to $176.4 million last year, representing a growth of 19.5%, or 18.1% after excluding the impacts of foreign exchange. The segment was driven by expanded distribution of new products, continued volume increases in its existing portfolio, and pricing actions implemented to mitigate inflation and other structural cost increases.

SG&A expenses totalled $144 million for the plant group alone in 2020, with investments focused on advertising, promotion and marketing to build awareness, as well as supporting brand renovation and new product innovation. SG&A for meat proteins were $346.6 million for the full year, and the company says it expects SG&A levels and marketing investment in 2021 to be largely in line with where they were in 2020.

The company, which in 2019 announced it had gone carbon neutral, says it's amplifying this commitment while "focusing on eliminating waste in any resources it consumes, including food, energy, water, packaging, and time."