Canadians condemn DoubleClick profiling plans
Canadian reaction to the conundrum of DoubleClick - the New York-based Internet advertising firm that was forced to backtrack on its plans to provide marketers with the names of anonymous Web surfers - has been swift and unequivocal. What the company...
Canadian reaction to the conundrum of DoubleClick – the New York-based Internet advertising firm that was forced to backtrack on its plans to provide marketers with the names of anonymous Web surfers – has been swift and unequivocal. What the company was proposing was wrong, say industry representatives, and would have backfired eventually.
John Gustavson, president of the Canadian Marketing Association, says Canadian consumers are already concerned about their privacy and security on the Net, and DoubleClick's proposal to link online movements to a massive consumer database only exacerbates the problem.
'It's the sort of thing that does nothing to help e-commerce, acts as an impediment to its growth, and can lead to restrictive legislation.
'If you want to sell somebody something, you have to make them feel comfortable,' he adds. 'And that means it is in your own best interest to make your privacy policy highly visible.'
Nancy Lee Jobin, president of Graffiti Direct & Promotion in Toronto, adds that profiling itself is a useful and respected business practice – provided the consumer understands it's being done.
'Profiling goes on in many industries, and if people know they are being profiled, it's OK,' she says. 'But opting in (giving permission) has to be the way to go.'
David Jones, president of Electronic Frontier Canada in Kitchener, Ont., says that what made DoubleClick's practice especially dubious is that it went on without the consumer being aware of it. 'There is not the usual knowledge and consent you should have when someone is collecting personal information,' he says. 'This is one of the reasons why the Canadian government is going to pass Bill C-6 (privacy legislation designed to protect personal information collected during the course of e-commerce activities).'
George Gonzo, sales and marketing manager for Calgary-based CyberSurf – one of a handful of Internet service providers (ISPs) that offer free Internet access to their subscribers in return for the customer's permission to market to them – took a dim view of DoubleClick's practices.
'We believe an individual's privacy is sacrosanct,' he says.
CyberSurf's customers register by filling out a 30-question survey. The data is aggregated according to demographics. Marketers send messages on that basis – not based on individual responses.
'We think that's a pretty fair trade-off,' adds Gonzo. 'If [the consumer doesn't] agree with someone's practices, eventually the clock will run out on them. People will cancel their accounts or move their business elsewhere.'
In a keynote address at Strategy's recent Online to Profit conference, Nathan Estruth of Procter & Gamble's I-Ventures unit said all marketers should take DoubleClick's recent comeuppance as a warning.
'The consumer is in charge,' he said. 'They dictate how and where we use their data. That is not the mind-set we are used to dealing with. We need to build a new kind of trust with consumers and regulators where the consumer allows us to enter their world and remember information for them, not about them.
'If we don't go there, the week that (DoubleClick CEO) Kevin O'Connor had last week is soon coming upon us.'
In the face of mounting pressure from privacy advocates and legal experts, O'Connor last week issued a public statement, saying: 'It is clear…that I made a mistake by planning to merge names with anonymous user activity across Web sites in the absence of government and industry privacy standards.'
Zulu grows its team and makes a slate of promotions
A director of interactive production for Zulubot is among dozens of new faces and roles at the agency, in response to recent wins.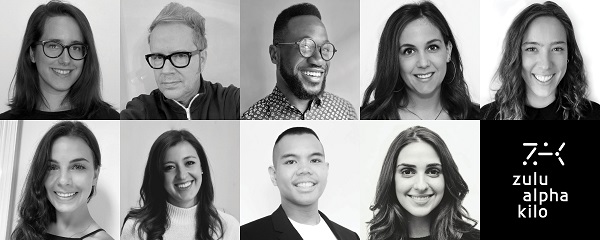 Toronto indie shop Zulu Alpha Kilo had made several new hires and promotions on the heels of new business and also organic growth from existing clients.

Zulu could not officially announce the account wins at this time.

However, it can report that Ece Inan, most recently at Toronto design and tech shop Array of Stars, has been named the agency's new director of interactive production for Zulubot, the agency's production arm. In the new role, Inan will lead AR, VR, voice and other digital innovation projects.

Also on the production side, James Graham, who has spent the last 17 years with Grip, has joined the agency as its studio director.

Zulu has also made numerous additions on the client services side, led by Michael Brathwaite, also from Grip, as account director.

It's also announced a spate of new account supervisors, including Hayley Blackmore (from G Adventures), Risa Kastelic (from BT/A), Kara Oddi (also from BT/A), Emily Anzarouth (also from Grip), Chris Rosario (from FCB/Six) and Sarah Shiff (from Rethink).

In addition to the new hires (pictured above), the agency has also announced several promotions: Alyssa Guttman moves from account director to group account director, while Nina Bhayana, Michelle Fournier, Jenn Gaidola-Sobral and Erin McManus have all been promoted to account director, and Haley Holm to account supervisor. On the strategy team, strategists Carly Miller and Spencer MacEachern have both been promoted to strategy director, while Shaunagh Farrelly, who has been with Zulu for two years in a client service role, moves into a new role as a digital strategist.

In December, the shop also announced that Stephanie Yung would be returning to the agency after a stint in New York as its head of design. Recent wins the agency has been able to announce including work as AOR for the Ottawa Senators, as well as a new arrangement with existing client Consonant Skincare, setting up an in-house team to support growth after taking an equity stake in the company.

Zulu president Mike Sutton says it's wonderful, in a new year, to welcome new faces and energy to the team and says the agency is fortunate to have had so many people across the agency step up to support its clients.

"Simply put, they were rock stars, and the promotions are very well deserved," Sutton says.