Playdium creates order from chaos
When is a video arcade not a video arcade? When it's a 'location-based entertainment centre.' Such is the designation that Toronto-based Playdium Entertainment has given to the 29 locations it currently operates across Canada. Essentially, these are electronic gaming destinations -...
When is a video arcade not a video arcade? When it's a 'location-based entertainment centre.'
Such is the designation that Toronto-based Playdium Entertainment has given to the 29 locations it currently operates across Canada. Essentially, these are electronic gaming destinations – but Playdium's ambitious goal is to make game-playing a rich and engaging experience, not just an addictive pastime.
Much of the distinction between arcade and 'entertainment centre,' of course, comes down to the way in which the experience is packaged. So the creative team at Kramer Design Associates (KDA) discovered when they assumed the task of developing signage and other interior display graphics for Playdium's new flagship location in downtown Toronto.
'We wanted to create an immersive environment,' says Jeremy Kramer, vice-president and creative director with KDA. The firm's design work for the Toronto location, which opened in November, has since been replicated at Playdium centres in Burlington, Ont. and at the West Edmonton Mall.
Playdium, which opened its first location in Mississauga, Ont. in 1996, aims to deliver a unique experience. Even if a game is offered at other arcades, the company will work with the game manufacturer to put its own stamp on it, and ensure that the Playdium visitor experiences it differently.
Walking into a Playdium centre is a visual experience, Kramer says. From the moment they enter the venue, visitors are surrounded on all sides by merchandising for the games. Graphic display is by far one of the most important elements of the environment, serving to heighten the energy and excitement of the place.
'The fun of the game should start long before people start playing,' Kramer says.
A kind of visual hierarchy is at work in the downtown Toronto location. Overarching all is the Playdium brand itself, which defines the general look of the place – unique, unusual and irregular. 'Its consistency is its inconsistency,' Kramer says. 'All of it is done with a twist.'
At the same time, however, the graphics need to create some sense of logical order, to help visitors find their way around. Hence the various zones that have been created: 'Speed,' 'Sports,' 'Music,' 'Kids' and so on.
Kramer describes the zones as 'communities' – each showcases a particular game genre, and has its own distinct visual theming, created through various means, including theatrical lighting. (The 'Contact' zone, for example, is devoted to martial arts games and features Chinese lanterns, as well as dragons and other Oriental images splashed on the walls and floors.)
The challenge, he says, was to develop graphics that would be unique to each zone, but would also integrate well with one another.
In addition to creating excitement and defining themes, the graphics also had to communicate more detailed information about certain games.
Take the Virtual Coaster, which allows players to take a simulated roller coaster ride that they themselves have programmed. Since there's frequently a queue for this popular game, KDA created a display that serves multiple purposes: it keeps people entertained while they're awaiting their turn, gets them charged up about the game and provides instructions for programming their own ride. Video screens show roller coasters from around the world in action, while the graphics provide explanations for such roller coaster terminology as 'helix' and 'airtime.'
Playdium locations are constantly evolving to maintain the excitement level – and that creates unique design challenges. KDA's ongoing task, Kramer says, is to keep the visuals fresh, and to update displays as newer games are introduced.
While Playdium's core target, obviously, consists of Nintendo-obsessed teens and young adults, Kramer says the audience extends far beyond that narrow segment – a point that KDA needed to keep in mind when designing the interior graphics. With two bars on-site, the Toronto location attracts a significant adult audience; in fact, it markets itself as a prime venue for corporate functions.
Accordingly, the graphics must have a sophisticated adult appeal, while remaining sufficiently cutting-edge to interest the younger generation.
'One of the keys was creating something that would be visually interesting and challenging for all ages,' Kramer says.
Also in this report:
- Resistance is futile: Whether the trade show industry likes it or not, the Internet is changing the exhibition business p.19
- Sex show to target mainstream audience: Everything To Do With Sex event will offer a walk on the mild side p.22
Indigo opens 'shop-in-a-shop' for small kids businesses
The retailer has focused on serving consumer needs by identifying on-trend brands, and it's bringing that to another of its core offerings.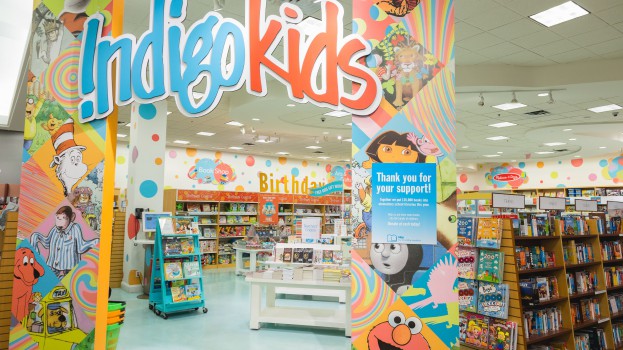 Indigo plans to give national scale to its own "support small businesses" effort, looking for the next big brands that will be of interest to some of its smaller customers.

Mini Marché will be a "store within a store" dedicated to small and local brands that would fit with the retailer's kids and baby assortments.

To identify the brands it'll be stocking and showcasing, Indigo is making a public call for applications. Priority will be given to brands that are owned and managed by Canadians, BIPOC, women and/or LGBTQ people, as well as to those that are environmentally friendly or some way purpose-driven.

Applications will be accepted until mid-February, with a pitching process beginning in March. Final candidates will be selected in early spring in time to be on store shelves as part of the Fall selection.

In addition to fitting with Indigo's well-received efforts to be more purpose-driven in both its marketing and the brands it carries, Mini Marché is also bringing the retailer's focus on finding on-trend brands to its kids assortment. The retailer has expanded its assortment beyond books in recent years, and it has prioritized finding out how to best meet consumer needs and trends. Exclusivity and finding unique brands have also been priorities, be it through partnerships with the likes of Casper or launching Oui, its own private label home brand.

"We are committed to inspiring creativity, sparking imagination and encouraging learning with our thoughtfully curated assortment," says Gail Banack, VP of the Indigo's kids division. "We know there are so many amazing brands out there with products our customers will love. We are looking forward to learning more about each of their unique stories and offering them a platform to shine."

Indigo is also no stranger to trying new retail methods to identify those next big brands. In 2019, it launched Thoughtfull, a platform that was meant to be a stand-alone ecommerce site to help consumers find the best gift ideas, but also feed insights back into the organization to identify new needs consumers wanted to serve, considerations that were going into purchase decisions and on-trend brands and product categories.

Despite its expansion, the retailer has also been careful to not stray too far to what it is best known for. According to its most recent financial results, what Indigo considers to be its core product offerings – books, kid's entertainment and wellness – have been among the best performers during the pandemic, reflected by Mini Marché's focus on kids and this year's holiday campaign.